Amazon and Twitter have created a partnership to allow Twitter users with an Amazon account to automatically add a product to their shopping cart through simply including the hashtag #AmazonCart in their tweet. Find out more about this new purchase system.
This new service demonstrates Amazon's belief in Twitter's potential to generate sales. Amazon, who has more than 200 million customers worldwide, will offer Twitter users the possibility of adding products to their Amazon basket without leaving the social network.  After joining their Twitter and Amazon accounts, a user need only respond to a tweet with the hashtag # AmazonCart for the corresponding product to be automatically added to their Amazon shopping cart.
When can you use #AmazonCart?
Many believe that Amazon Cart will have a limited short-term impact, as there are not many users who tweet about Amazon products. However, Amazon and Twitter hope to change this and encourage e-commerce and social networks to interact more closely in the coming months. For example with the launch of Twitter Product Cards, which allow online merchants to sell their products on Twitter.
However, this new purchasing system remains restricted to products with little or no variations; otherwise, you can expect a significant increase in parcel returns due to errors, for example relating to size.  Fashion, decoration and shoe sectors are much more prone to these kind of errors than the high-tech sector.
Next step: Buy with a tweet?
The question also remains as to why Amazon has not used this partnership to enable the purchases to take place from directly within the tweet in question. It is technically possible and Twitter Cards demonstrate how tweets can be enhanced to describe the product and its attributes, however, purchases made in one click remain tricky for the reasons mentioned above, and are not yet possible.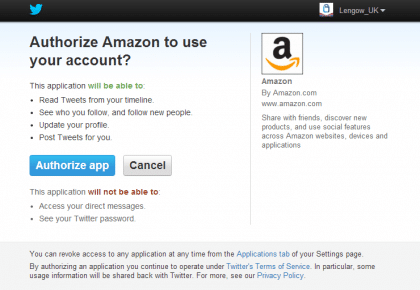 Amazon is constantly seeking ways to reduce friction in the purchase tunnel, and owns a patent for its 1 click purchase technology. However, social networks are evolving towards a model where e-commerce is an integral part of the growth strategy (think of the potential of sites like Pinterest or Instagram, for example), which is a threat to Amazon's current position as the e-commerce hub for excellence. Therefore it is doing everything possible to work with these social networks that focus more and more on e-commerce.
Using the Amazon Cart
Using the Amazon Cart is extremely simple:
Go to www.amazon.com/amazoncart and connect your Twitter and Amazon accounts
Find a tweet mentionning a product you would like to buy
Reply to this tweet citing the hashtag #AmazonCart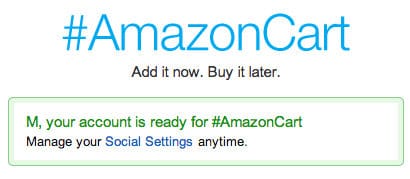 That's it! From this stage, the product is automatically added to your shopping cart and you can buy it from your Amazon account.