Trends, buying habits, forecasts, here is everything you need to know about German e-commerce which is positioned in the top three of the B2C e-commerce markets in Europe.
In one of its reports, Ecommerce Foundation revealed that e-commerce in Germany will pass the 90 billion euros mark by the end of 2018. With a growth of 9.5% in 2017 against 11.7% in 2016, German e-commerce is experiencing a slight slowdown, also signaling that the market is stabilising and reaching a phase of maturity – and the market is expected to grow by 9.03% in 2018.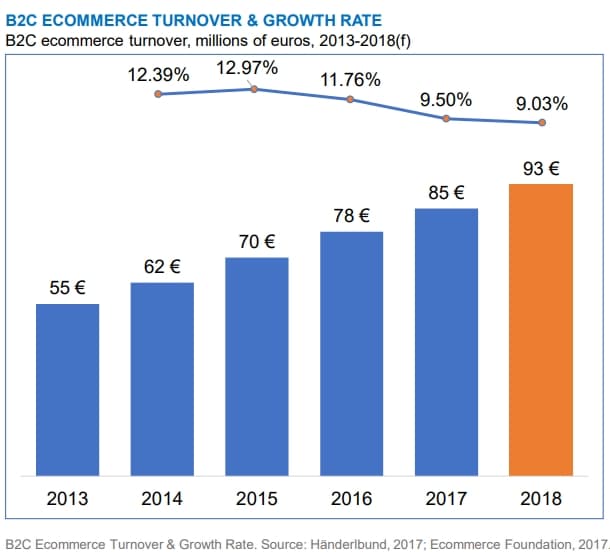 What is German buying behaviour like?
Germans are already conquering the Internet (91% of the country were Internet users in 2017), with many people going online to shop. Last year, 79% of them ordered online, with the frequency and expense of these purchases constantly increasing (now 1,515 euros on average). Going online is therefore a key step in the shopping journey of German consumers, with 70% of them searching online before a big purchase.
In addition to e-commerce sites, many of them also use marketplaces, like Amazon, Otto, Zalando, Notebooksbilliger or Bonprix.
Whether you are selling in Germany via your e-commerce site or a marketplace, providing as much information as possible is essential to convince German consumers to buy your products/services. This requires a clear presentation of what you're offering on your homepage, as well as your shipping/delivery conditions. However, the most important part is the descriptions. These were ranked among the most important criteria for German shoppers, as well as reviews, which 57% of people found useful.
As for the most popular products/services in German e-commerce, the "apps" (42.5%), "books" (39.2%) and "ticket" (36.1%) categories are at the top of the list.
Note: 75% of the German population has actively used social media in 2017.
A quarter of online shoppers buy abroad
German trade is doing well, with 94% of online purchases made in the country. This trend is also on the rise for cross-border e-commerce. In search of low prices and products that can't be found in Germany, online shoppers place 24% of their orders from Europe, as well as the rest of the world (18%). German online shoppers mostly buy in the United Kingdom, United States and China – in fact, 7 million German shoppers have ordered products in China.
If you want to go global with your e-commerce, contact our teams!