Reviews are one of the most important types of user generated content. They help bridge the gap between the real and digital world, and facilitate trust and credibility. Many studies have shown a strong positive correlation between reviews and conversion. For example, a recent study by Bazaarvoice found that products with reviews have a 12.5% higher conversion rate than those without. Through reviews, you allow customers to sell to each other. According to the 1.10.89 rule, 1% of site visitors will contribute to the content, 10% will vote on the content and 89% will quietly consume the content. Furthermore, customer reviews are significantly more trusted than product desriptions.
SEO
Reviews can also have benefits for your ranking in search results. When customers write reviews they use a different language to what you use in the product description. Therefore if someone is looking for a "comfy pair of skinny jeans" and another customer has used this terminology in their review of a particular pair of jeans, this could lead to your product being displayed higher in their search results.
Negative reviews
Negative reviews are a fear of many online businesses, but unless they're obscene, it is better to approve them. If all reviews are glowing, it can make customer suspicious, therefore, if you have a couple of negative reviews it reasures customers that the comments left are genuine. Plus negative reviews can give you insights on what to improve on. Make sure you respond to these type of reviews ASAP with a personalised response, avoid a form response, as they are recognised immediately.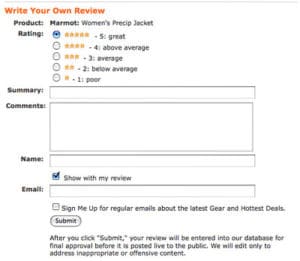 How to get reviews
So, the important question is: how can you get reviews?
Ask for them: Empower the customer and let them customer know that their opinion is important to you. A simple follow up email asking them about their purchase and inviting them to leave a public review is a great way to start.
Make it easy: Make the process for leaving a review as simple as possible. If you invite users to review via email include a clear link to the review section on your website. You could even offer tips on what makes a great review.
Google and Yelp do not advise offering cash incentives, as this could lead to poor quality reviews being submitted for the sake of having a discount.
Publish testimonals on your website to encourage people to get involved. You can also use social networks to educate people on how to write a review for your site.
Also, check out Yotpo, a social review system for your website.
Finally, don't be tempted to submit a fake review! They can be easily spotted and lead to heavy penalties from Google.