As the new year kicks off, one of the most interesting things to look forward to in the near future is the innovation taking place in ecommerce. What it so notable about these new contributions is they can come from anywhere, including from people who are relatively new in the field.
As Lengow prepares to showcase ecommerce startups at its Startup Spotlight events in Paris and London (during Lengow Ecommerce Day) in just a few months, now is a perfect time to review some recent ecommerce innovations in Paris.
One of France's most popular ecommerce sites, Cdiscount, teamed up with global hackathon organizers BeMyApp to host an inaugural Shop Against The Clock hackathon in Paris from November 21-23. 6,000 euros—and bragging rights—were up for grabs during this 48-hour hackathon: the first place team won 3,000 euros, second place pocketed 2,000 euros and third place took home 1,000 euros.
The star-studded jury included Lengow's France Country Manager Adeline Follea and also awarded a 500 euro Cdiscount gift card to a team that won the special mention award. The hackathon was also discussed on Twitter with its official hashtag #ShopAgainstTheClock.
Retail Renewal
BeMyApp's Paris team brought together some of the city's best designers, marketers and developers to create prototypes of a new "connected ecommerce" experience while using Cdiscount's API (Application Program Interface) at the university ESGI Paris.
Some of the creations exhibited at the hackathon included smartphone applications that blended e-commerce and physical shopping, such as one that allowed users to take photos of items in stores and proceed instantly to an online checkout page.
What was interesting about this hackathon was that almost all of the participants were university students or young professionals: proof that innovation in ecommerce doesn't necessarily have to come from industry veterans.
16 groups competed in the hackathon overall. The top three groups and another that won the hackathon's special mention award are described below.
The first place winner Boom is an app allowing for users to find Cdiscount's flash sales easily. It focused on making mobile shopping (which was discussed on the Lengow Blog last month) fun: it revolved around simply swiping on a smartphone screen to look for special promotions on items.
Second place was C KDO, which plays on the French word for gift (cadeau) by spelling it in shorthand (KDO) and allows friends to create jackpots that offer gifts to their friends. The gifts are chosen based on a price range and theme selected by the user.
Third place went to Shake Shake Check. As the fun name implies, this mobile app lets users check for Cdiscount's price of an item that they see on other shopping sites by shaking their smartphones.
The special mention award went to Buzz Game. It was an effort to "gamify" shopping by letting smartphone users play a game that had incentives like finding flash sales and other special offers on Cdiscount.
Ecommerce Evolution
Even though BeMyApp and others have organized many hackathons in recent years, ecommerce has rarely been in the spotlight. Rui-Manuel Meireles, a member of the BeMyApp team that organized Shop Against The Clock, appreciated the rare opportunity to hack ecommerce.
"What's the best way to understand what people want and/or need? Just ask them. Cdiscount quickly realized this and decided to let hackers, developers, designers or even simple customers with ideas imagine how they'd like to see the future of connected ecommerce," said Meireles.
Follea, who has gained a deep understanding of ecommerce in countries like Brazil, Spain, Italy, Portugal and France over the years by collaborating with merchants and organizing industry discussions at key events like eShow Madrid, also believes that there is plenty of room for disruptive ideas in ecommerce.
"Innovation is one of the quintessential aspects of ecommerce because the latter needs to keep recreating itself constantly. Nevertheless, we don't always have the means to do so. Through Shop Against The Clock, CDiscount facilitated the emergence of new ideas and turned them into products thanks to the talented hackathon participants," said Follea.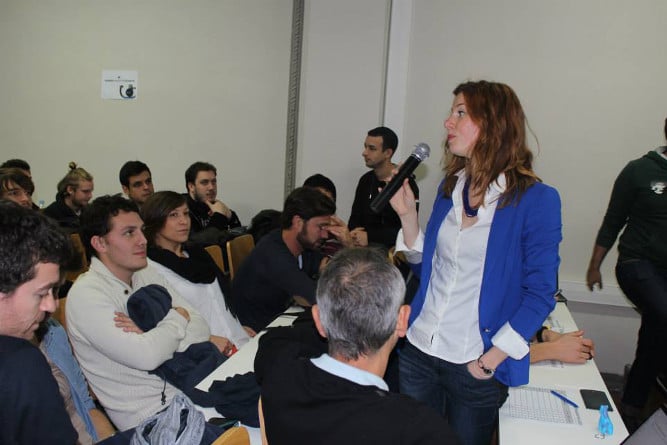 "On top of the creative aspect of a hackathon, the fact that a locally and globally respected e-commerce leader like Cdiscount (which is currently expanding its global reach) organized it made it even more special. In fact, I have noted a large number of international merchants who are Lengow clients are using Cdiscount to sell cross-border."
Additional photos of this hackathon can be found online, courtesy of BeMyApp.
If you are planning an ecommerce hackathon this year, please let us know in the comments section below so that we can promote it on the Lengow Hub.