Currently ranked as the third best social network for generating sales on ecommerce sites, Pinterest has become an essential channel for online retailers. With over 70 million active users worldwide, the social network based on sharing images offers a range of possibilities. Whether you're a small newly opened online store or a known ecommerce giant, Pinterest allows you to develop or strengthen your brand around a community through uploading photos of your products, thus enabling you to expand the visibility and boost your sales.

Why create a Pinterest page for your online store?
The average member spends 73 minutes a day on the site, so take advantage of this and showcase your entire product catalogue on your Pinterest page. Make sure you add a link back to the product page of your online store to each pin, and don't forget to add a description to give extra information and encourage more clicks and pins. Similarly, don't forget to add a Pinterest button to your site and on the images of your product pages. This enables users to have direct access to your pictures, and the opportunity to pin your products to their Pinterest page. Note that product images broadcast on Pinterest generate nearly 80% more purchasing intentions and that 21% of users buy a product after seeing or pinned on Pinterest.
Pinterest for ecommerce professionals
As a merchant, create a professional account on the platform in order to take advantage of Pinterest Analytics. If you have a personal account and want to upgrade to a professional account it is possible to do so in a few clicks.
This tool provides access to three types of statistics:
Statistics on your Pinterest profile

Statistics on your audience

Statistics on your ecommerce site
Pinterest Analytics offers the opportunity to know the pins and boards members prefer (number of views for each pin, number of re-pins, clicks …), plus info concerning the gender and geographical location of your audience. This tool will also give you the opportunity to know the traffic generated to your site from Pinterest, and the device used by members to pin your content. All this data on your audience will give you the opportunity to better meet their expectations.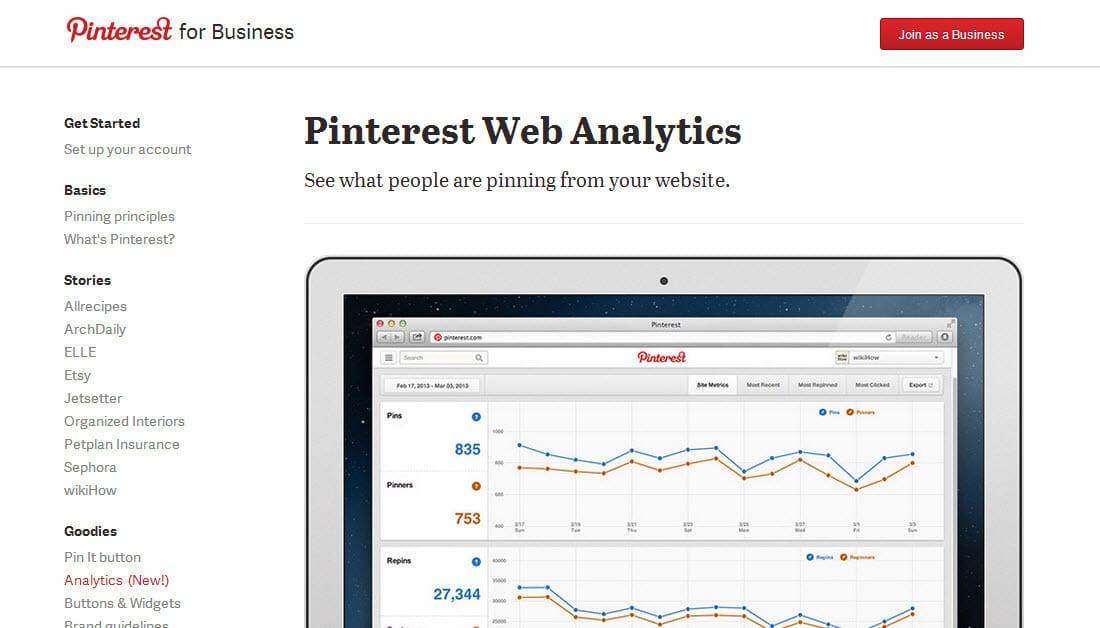 Pinterest User Guide
Be sure to use suitable keywords and descriptions when creating your pins and boards, not only to showcase your offer, but also to inspire members and reflect your brand identity. The pinning peak is around 9pm, so do not hesitate to pin your pictures regularly in the evening. Favour images in portrait rather than landscape because they are more adapted to Pinterest's layout. Finally, make sure the images are well shot and appealing, in order to encourage clicks, pins and (hopefully) purchases.