Elodie Vigneron joined the Lengow team in 2011.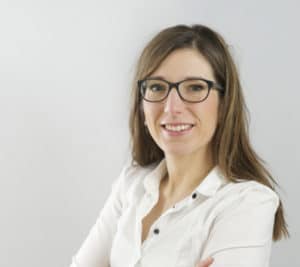 Hello Elodie, could you introduce yourself in a few words?
Hi Lucy! I would just like to start by saying that I am really pleased to be answering the questions, as I am normally the interviewer 🙂 So, I am Elodie Vigneron Dervé, Head of Communications at Lengow. To sum up my role, I develop Lengow's brand awareness around the world. I have been at Lengow since April 2011, so I have just celebrated my 5 year work anniversary! I guess you could say I am now part of the furniture…
What is your professional background?
Before joining the Lengow adventure, I worked in the IT services industry and managed communications for 8 agencies in the region. Prior to that, I worked for the UCPA (a non-profit French organisation) for over two years, where I was head of Communications for northwestern France. These two stints were both very enriching, and taught me a lot.
What made you want to join Lengow ?
When I arrived, there were only 8 of us at Lengow. What I liked was the incredible motivation which pushed the teams, and especially the ambition of our co-founder, Mickael Froger, to take Lengow as far as possible. As a result, I knew that from day one, communications would always be challenging and interesting. The fact it was a start-up also played a role: I liked the young and dynamic atmosphere as well as the working environment, which is totally different to that of corporate companies.
Tell us about your position.
My role at Lengow is to plan the company's global communications strategy, as well as defining the brand identity and positioning, both externally and internally.
I am the overall manager for Lengow's communications department. I am in good company, because I work with a talented team of 14 split between the four sub-teams: domestic, international, internal and creative. It is very important to be surrounded by a team you can count on!
My missions have evolved considerably over the five years, and today I spend a lot of time managing the different teams and developing Lengow's strategy in terms of image, visibility and brand message. At the moment, Lengow is really focusing on developing internationally, so I work with the international team everyday, to improve Lengow's visibility both in Europe and elsewhere, such as the Asian market. The work is extensive because we have to adapt our strategy and brand message to suit each target country.
My work is not purely managerial, but I also do operational tasks, because it is interesting to work alongside the teams so I can understand the needs and challenges… That is why I am working on the Lengow Ecommerce Day, an unmissable event for the e-commerce ecosystem, which is now in its 4th year.
This year, Lengow Ecommerce Day has a entirely crossborder stance. Could you tell us a bit more about it?
Yes, this year, the event will be dedicated to cross-border e-commerce, which is one of our clients' main challenges. We want to help retailers as much as possible with their cross-border strategy, and there is a lot to say about this topic!
This year, the event is strictly international, and we are inviting clients from all over Europe. For example, this year, you could meet Liu Jo, Mango, Biglight… And lots more, but that's all you will get from me now ;).
This year, we have created a European editorial committee to help us organise the programme. The committee will suggest diverse themes which affect different European countries. We will also address more strategic issues with a range of case studies from retailers who have deployed a successful cross-border strategy and also keynote sessions and roundtables. I can already tell you that there will be 4 main subject matters: cross-border, cross-channel, cross-device and cross-data…
3 reasons to come to Lengow Ecommerce Day Paris
As I said beforehand, our goal is to host a totally international event where e-commerce players can come share and exchange expertise with the whole European ecosystem.
Numerous international speakers will come and explain the key steps to succeed internationally and we will also have the pleasure to welcome European e-commerce organisations for an exclusive roundtable: IMRG, BEVH, Adigital, Netcomm and Fevad will talk about the trends and consumer habits of their respective countries.
And of course, we have plenty of surprises and announcements to come… But I shall say no more! 🙂 We will meet you on the 27th September!
How have you found your time at Lengow?
It's difficult to mention everything that I have learnt over the 5 years… My time at Lengow has been an extremely rewarding experience, both on a professional and personal level. I was lucky to join at the beginning, when Lengow was a start-up with 8 employees, and I am proud to have taken part in Lengow's expansion domestically and internationally. On a personal level, I have met lots of interesting people through Lengow, be it in the company itself, in the e-commerce ecosystem and from other startups. So, to sum up, at Lengow I have had many rewarding meetings, helped with a range of great projects, had some difficult moments, but above all I have had lots of laughs and created lifelong memories.
Any last words?
Lengow rocks!