As consumer demands in the ecommerce world continue to develop, online retailers are tasked with coming up with solutions to meet evolving customer expectations for delivery methods.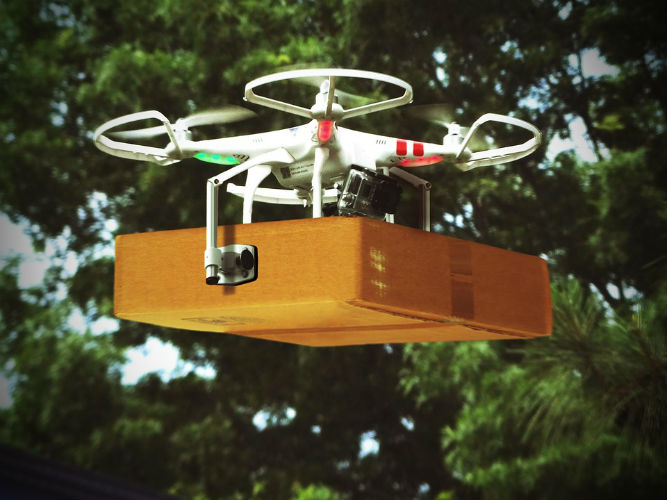 According to metapack, nearly 50% of consumers have paid more for better or more convenient delivery options, while 66% of consumers chose one retailer over another because it provided more delivery options. The final hurdle that retailers face in the buying process is ensuring that the product reaches the consumer in the quickest and most convenient manner possible, while remaining in pristine condition. Metapack revealed that in 2015, 55% of UK consumers valued free delivery the most, followed by fast delivery and the ability to choose a timeslot. Click and Collect proved to be a popular trend in the UK with 63% of consumers opting for this option compared to 10% who used a Locker in the same timeframe. Delivery methods therefore play a big role in creating a seamless and efficient customer buying journey.
Read Again > Delivery : "The perfect marketing tool for inspiring loyalty"
Game Changers in Ecommerce Delivery Methods
From delivery drones, to last minute delivery times, companies are introducing innovative delivery methods into the ecommerce industry that could transform the way that consumers receive their products. We're going to take a look at how some companies are changing the face of delivery through new and exciting delivery options that aim to improve the buyer path to purchase.
Parachuting Packages and Delivery Drones
Why take to the road for deliveries when you can make them fly? In 2016, Amazon successfully launched drone deliveries in the UK through Amazon Prime Air, with the first flight taking just 13 minutes from customer click to the customer receiving the package. As the retail giant continues to explore their delivery options with drones, Amazon has also recently patented a shipping label with an inbuilt parachute which allows for deliveries by unpiloted drones. Delivery drones could be the answer to last minute orders that require quick turnover time from click to delivery, giving customers more flexibility and greater incentive to make last minute online orders. However, adverse weather conditions could pose a threat to this delivery method, as delivery drone flights are weather-dependent. Although we are far from seeing widespread use of delivery drones, it is definitely a delivery method to watch out for in the future.
Delivery Robots
IMRG revealed that in March 2017, 35.1% of UK deliveries had a specified delivery day, showing that customers want to control when their products are delivered to them. Tesco recently teamed up with Starship deliveries to conduct a robot delivery trial in London.  An alternative to delivery drones, the self-driving delivery robots allow consumers to receive their purchases at any time and to any location, while monitoring the journey on a smartphone app. The pros? The delivery robot is an environmentally friendly option that, according to the company, "costs 10-15 times less than current last-mile delivery alternatives". The future of delivery could lie in driverless robots and technology that allow consumers to make last minute purchases and receive them within a short period of time.
Evolving Customer Expectations
While delivery robots and parachuting packages may take a while to become mainstream delivery methods, retailers need to continue developing faster, more efficient delivery options. Nowadays, home delivery, Click and Collect, relay points and lockers are commonplace methods, so retailers need to think outside the box in order to inspire customer loyalty through delivery. According to a survey by Shutl and Retail Week, 42% of respondents in a survey of 2000 UK consumers said that their delivery expectations were higher compared to two years prior. 74% of respondents claimed that having more control over delivery would encourage them to shop online more often, while 91% also value time slot delivery. Consumers now want delivery to be tailored to their schedule, rather than adjusting their plans to make room for deliveries. More and more companies such as Amazon are investing in quick last minute delivery options, with consumers receiving their products less than two hours after completing an order. According to IMRG, further delivery enhancements that consumers value include real time tracking, real time "divert to neighbour" options and the ability to provide last minute delivery instructions. Our free guide on Delivery methods provides an overview of preferred delivery methods according to countries and tips on how to increase ecommerce conversions with delivery options.
Download the Delivery Methods Guide!