On 20th June 2017, we kicked off our new "Lengow Connect" series with our first event in Munich. Speakers, partners and online retailers came together to share their expertise, discuss future industry trends, and learn more about the latest developments in the ecommerce industry. We would like to say a huge thank you to all the partners, speakers and participants, who all contributed to the success of this event.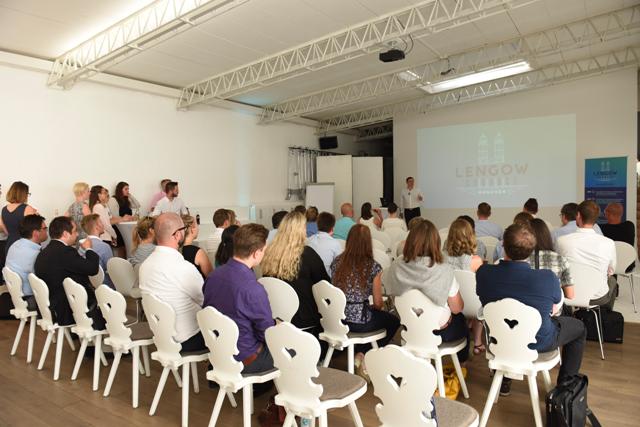 As cross-border transactions have seen a rapid increase globally, we decided to put cross-border ecommerce at the forefront of discussion at Lengow Connect. In this article, we're looking back at some of the event highlights.
Cross-border: From Marketplaces to Translations
Cross-border stole the limelight as the main theme of our first Lengow Connect event. Through a variety of keynote presentations, industry experts from Lengow and TextMaster shared tips and tricks for how online retailers could successfully expand on the international market.
Jim Knopf, Managing Director at Lengow, highlighted how over 200 European marketplaces offer retailers great potential for growth in their cross-border sales. He also gave an insight on how German online retailers can successfully sell their products worldwide. 84% of European online shoppers already make purchases on international websites, however only 31% of retailers that use online marketplaces also sell on foreign platforms. Our tip: Before embarking on their cross-border journey, retailers need to first have a solid understanding of which products sell well abroad.
Presentation of Jim Knopf @lengow #lengowconnect about cross-border e-commerce on market places pic.twitter.com/AkMHHSWSwM

— Corinna Merbitz (@corinna_merbitz) June 20, 2017
Judith Jegodowski and Victoria Weidemann from TextMaster provided an outlook on why translation is vital for cross-border sales. As of 2017, approximately only 24% of German online shops offer content in languages other than German. Looking at current forecasts (ecommerce is expected to grow by 60 percent by 2020), cross-border sales provide retailers with great potential for growth.The session revealed that localisation is vital and the prerequisite for international growth, as language barriers pose as the greatest obstacle for internationalisation.
TextMasterDE present their Success story with #laybag #ecommerce at #LengowConnect pic.twitter.com/DiMqosied1 #in

— Côme Piona (@comepiona) June 20, 2017
Cross-channel and Cross-border Strategies
André Patrzek, Marketing Director at Keller Sports, presented the brands Crosschannel-Cross-Border 360° marketing concept, in which the brand regularly organises exclusive launch events in the Keller Sports Brand Experience Store in Munich to present their seasonal product highlights. In addition to this, Keller Sports creates continuity between its TV campaigns and its online shop by presenting the products from its TV ads directly on the online site's landing page. The brand's homepage incorporates a premium aesthetic with selected "Best Products" put on display, and the retailer's strategy includes precise customer targeting and personalisation. Keller Sports have already seen great success in cross-border sales: They have 12 international online shops and 50% of their orders are already cross-border.
#LengowConnect : Andre Patrzek from @kellersportsde presents #crosschannel #crossborder and the Keller Sports premium offer #ecommerce pic.twitter.com/wbFHsHpKtR

— Lengow UK (@Lengow_UK) June 20, 2017
Consumer-Generated Content
Laura Reiser of Bazaarvoice, gave an insight on how consumer-generated content influences the costumer buying journey. Mobile plays an increasingly important role in ecommerce, as 70% of internet users surf the web on their smartphones and turnover for mobile commerce in Germany is expected to reach a staggering 24 billion euros in 2017. However, the path to purchase is more complex than ever as the modern day consumer has access to a vast amount of product information: 54% of online shoppers and 39% of in-store shoppers read online reviews before making a purchase.
Welche Produkte werden vor dem Offline-Kauf online recherchiert ? @Bazaarvoice #LengowConnect pic.twitter.com/tpEq8TCF0k

— Lengow D-A-CH (@Lengow_DACH) June 20, 2017
Affiliate Marketing and Idealo Direktkauf
Yannick Möller from Affilinet discussed product data in performance marketing. At 49%, product data is mostly used in online retail, presenting retailers with an attractive advertising opportunity in addition to classic banners. Using product data provides a higher visitor acceptance rate and lower shopping basket abandonment.
Yannick Moeller von @affilinet_news über die Voraussetzungen für ein Affiliate Programme und Produktdaten #LengowConnect #Ecommerce pic.twitter.com/a0GaQlpzAo

— Imke Müller-Wallraf (@IWallraf) June 20, 2017
Idealo's Thomas Ficht presented Idealo's new direct purchase marketplace and a retailer success story. With Idealo Direktkauf, the retailer was able to increase their monthly sales by 6.1% and gain 60% more visibility. Thomas Ficht also highlighted the importance of mobile commerce: between 2015 and 2016, time spent on smartphones increased by 69%. This is a trend that retailers cannot ignore.
Thomas Ficht von @idealo_de über die Erfolgsfaktoren von idealo Direktkauf #LengowConnect #Ecommerce pic.twitter.com/fOIw8Ey2bM

— Lengow D-A-CH (@Lengow_DACH) June 20, 2017
Networking
The event proved to be an excellent opportunity for networking. Our guests had the opportunity to exchange ideas and opinions with our partners, speakers and the Lengow team.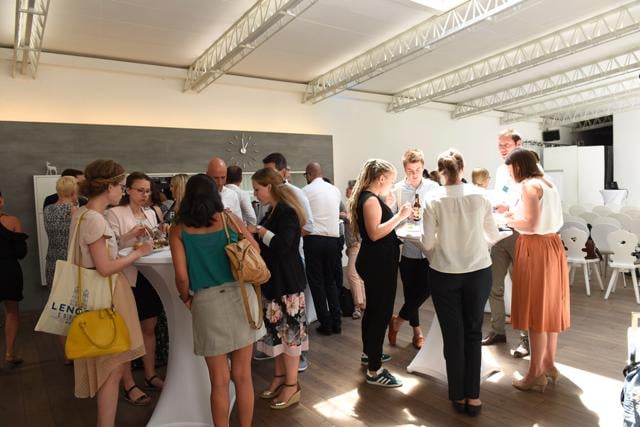 A huge thank you to our partners and speakers from Keller Sports, TextMaster, Bazaarvoice, Idealo and Affilinet. Thanks to everyone that attended! We are looking forward to our next Lengow Connect event!
Would you like to be kept up to date about future events? Follow us on Twitter: @Lengow_UK
The official Twitter event hashtag is #lengowconnect.