In 2016, £133 billion was spent online with British retailers, making the UK the leading ecommerce market in Europe, just ahead of France and Germany. Today we're presenting our latest report, which takes a look at the IRUK Top500 Retailers and how the fashion sector is dominating the UK retail world.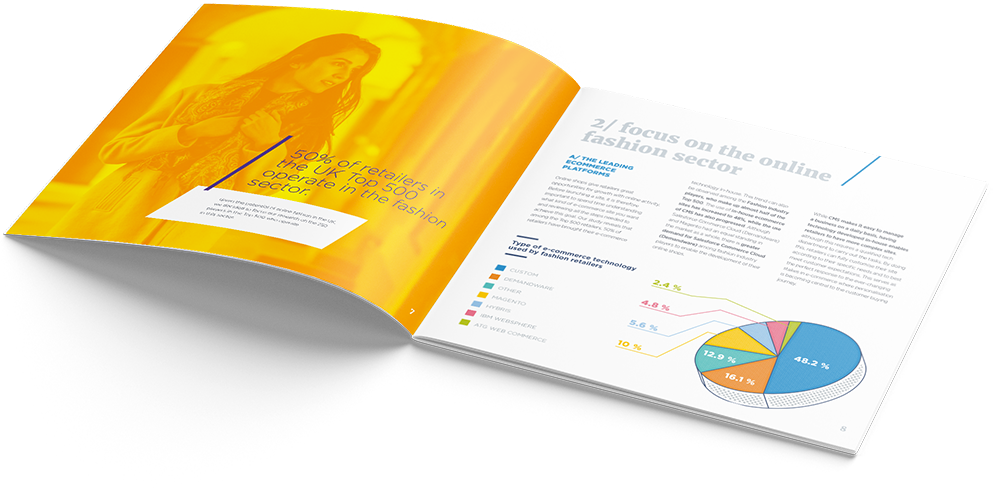 What is the IRUK Top500 Report?
Our new study uses the latest Internet Retailing Report, IRUK Top500 2017 Report  as a springboard for our research about the online fashion industry in the UK. Created by Internet Retailing, this report uses a range of metrics to rank the UK's top 500 retailers and is essentially the mecca of the retail word. With many online retailers striving to achieve a mention in this acclaimed report, it is worth analysing how the UK ecommerce market has developed and how the key market players are earning the top spots. The IRUK Top500 proves the ruthlessness of the ecommerce world as 20% of players were dropped from the list between 2015 and 2017. Meanwhile, in this same time period, the ever changing nature of the ecommerce market resulted in roughly 40% of retailers changing their position on the list. How can retailers achieve a place in the IRUK Top500 list? What are current top retailers doing to lead the way in British ecommerce? Our report dives into the details, giving online retailers the opportunity to benchmark their activities against the top ecommerce businesses in the UK.
Fashion Brands Embracing the Multichannel Experience
Ecommerce growth in the UK can be attributed to the rise of mcommerce as consumers are increasingly turning to their smartphones and tablets to make online purchases. Gone are the days of static desktop searches and distinctly separate online and offline buying journeys. According to IMRG, in December 2016, sales made using a smartphone saw a year on year growth of 47%. The British ecommerce market continues to evolve, and the fashion industry is leading the way as more fashion brands begin to expand their multichannel strategies and develop their smartphone applications. An analysis of the Internet Retailing UK Top500 Report reveals that half of the retailers who made the cut are in the fashion industry. So what do these top fashion retailers have in common? Inspired by our report, we came up with 5 tips for online retailers looking to mirror the success of IRUK Top500 retailers.
1. Maintain A Mobile Friendly Site
Consumer buying journeys are no longer simple paths, retailers have to consider the itinerant nature of the modern consumer, who no longer sticks to one device for their buying journey, but uses several devices to aid them in their purchasing decisions. The rise of the smartphone and tablet means that consumers are increasingly on the move, looking for instant gratification for their buying habits through a simple click of a button. Having a smartphone app quenches the consumers thirst for a seamless and mobile buying journey, with a survey conducted by UPS revealing that 64% of consumers use retailer apps on a monthly basis. Despite this, only a third of fashion retailers have a mobile app version of their site, however this figure is set to rise to over 70%, as retailers begin to realise the potential of mobile apps. Our report acknowledges the changing trends and demands for mobile friendly web formats. While apps have immense potential for online retailers, the cost of app development has led to an increasing number of retailers using mobile sites, Responsive Web design or Progressive Web Apps. 
2. Establish a Solid Online-to-Offline Strategy
Having an Online-to-Offline strategy is now paramount in the ecommerce industry. Our report shows that 70% of IRUK Top500 retailers have both a physical and online store, meaning that these retailers are tasked with creating complementary online and offline buying experiences. There are several marketing tools available to retailers to enhance their online-to-offline strategy, for example, Google Local Inventory Ads and Facebook Dynamic Ads for Retail which boost in-store traffic. Retailers are also opting for Click and Collect delivery options, which encourage consumers to visit physical stores, while also providing a sense of instant gratification as they are able to collect their products in their own time.
3. Establish An International Presence With Marketplaces
Top fashion retailers strive to make their brands international by promoting their products to an audience abroad. Embarking on cross-border activities proves to be a difficult journey as retailers have to consider delivery methods and translation of their product catalogues. Our report finds that to facilitate the transition to foreign lands, many retailers opt to sell their products on marketplaces abroad in order to test the waters and establish whether there is strong demand for their products.
4. Acknowledge The Power of Sharing
The success of an online retailer lies in the ability to reach the right audience. Our report found that players in the fashion industry use a range of marketing tools such as Retargeting, A/B testing and customer feedback. Over 70% of players in the fashion industry use retargeting, a method which allows online retailers to reach clients who have previously expressed an interest in their products. Meanwhile, 50% of players use A/B testing to create a personalised browsing experience for their customers. Customer reviews also play a big role in the decision making journey. Our report discusses the impact of customer reviews, showing that although nearly 60% of British consumers over 18 are influenced by reviews, less than 40% of retailers give customers the option to review their purchases. This is a missed opportunity for many retailers. According to Revoo stats, having over 50 product reviews can create a 4.6% increase in conversion rates, meanwhile reviews also produce an average 18% uplift in sales.
5. Make Use of The Big Names : Facebook And Google
Online retailers present in the IRUK Top500 list are not shy when it comes to advertising with the two internet giants, Facebook and Google. While the social network offers retailers a range of distribution methods such as Facebook Dynamic Ads, Canvas, Dynamic Ads for Travel and for Retail, Google also has a range of options for example, Shopping Ads and Local Inventory Ads. Our report explains further why online retailers should embrace the complementary nature of the platforms by using both Facebook and Google to further enhance their ecommerce businesses.
Download The Report!
Our latest  report reveals the importance of innovation in the fashion retail sector, particularly when it comes to the fashion industry. For online retailers, the ability to adapt with consumer trends and have a forward thinking strategy that incorporates multiple customer touch points is now a must. Download the report for an in-depth outlook on the development of the UK Top500 players and fashion sector including a focus on the leading ecommerce platforms, the importance of mobile and online-to-offline strategies, cross-border ecommerce and fundamental marketing tools.