Maxime Wynsberghe joined Team Lengow in March 2016.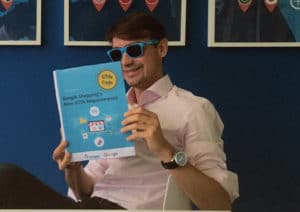 Hey Maxime, can you introduce yourself in several words?
Originally from the north of France, I studied at IAE (MSG) and ESC Lille (now SKEMA) where I specialised in direct marketing and e-commerce. I then came to Paris about ten years ago to work. In my free time, I like going to the cinema, reading, and above all backpacking, consequently discovering new countries and cultures. In terms of sports, after trying out a range of sports, I have now settled on fencing, having played it for 4 years.
What is your professional background?
I have always worked in the world of web, as an advertiser in an agency which dealt with both B2B and B2C. I entered the SaaS sector a few years ago at Oodrive, where I helped trap viruses in the world of software. Following that, I joined the incredible Team Lengow a couple of months ago!
What made you want to join Lengow?
What I liked about Lengow is that it is a fast-growing, ambitious, homegrown French company, with a young and international team. The company's general mindset is one that I agree with, and I was attracted to my challenging role: helping Lengow with its customer acquisition in a range of new markets.
Can you tell us a bit more about your role and what you do?
I am in charge of online acquisition and lead management at Lengow. Alongside the acquisition team, I set up various marketing campaigns to find new clients using different advertising channels (Adwords, Facebook, LinkedIn, Xing, etc.) and different marketing techniques (search, display, retargeting, prospecting, nurturing…). I also deal with the CRM aspect (customer relationship management) from a marketing point of view, working closely with commercial teams.
How have you found your time at Lengow?
All the reasons that attracted me to Lengow have proved to genuine. It is a very quick-paced environment, with lots of flexibility and the team is fantastic. All in all, it has been a great adventure which has only just begun.
Regarding acquisition, what advice would you give to online retailers?
Everything depends on their objectives, products and target markets. Ideally, try to be present on multiple channels to maximise visibility, do not have preconceived ideas about your target, and test, test and test again. If I only had one piece of advice to give, I would say that you should use Lengow to increase turnover and improve ROI.
Any last words?
Trust me, I'm the Doctor.