Sandrine Djelilate joined Team Lengow in October 2015 as a Human Resources Officer.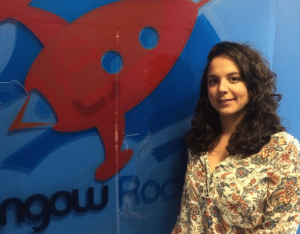 Hello Sandrine, could you introduce yourself in a few words?
I am 28, I have a twin brother and am originally from the Paris area. I love travelling, meeting new people, discovering new horizons and basketball!
What is your professional background?
I went to business school, during which I did a range of internships abroad (London, Madrid, Montréal and Mexico). My background is mainly in Human Resources and my first significant HR experience was for Alstom in Mexico, where I was an HR Officer. After my Mexican adventure I moved to Brittany in Northwest France, and continued to work in recruitment. I have now returned to my Parisian roots and feel very lucky to have joined the Lengow adventure.
What attracted you to Lengow?
What I really liked about Lengow was its international aspect. As it stands, our employees are from over 20 different nationalities, and the company is active in over 45 countries. Lengow is growing strongly, and as a result, each day brings a new challenge; something I find very enriching and motivating. What's more, the autonomy of the job teamed with the variety of challenges creates a fast-paced environment, where I learn new things every day.
What is your role at Lengow?
I am the Human Resources Officer for the Paris office. My HR missions are varied, which I like. I am essentially in charge of all commercial recruitment, but I also deal with the administration and the integration of new employees.
How would you describe your Lengow experience thus far?
It has all been very positive. I have a superb team and I learn a lot every day. It's been a true adventure – both professionally and personally!
Lengow is currently on the look-out for new talent. What advice would you give to people who want to apply?
If you're looking to join a stimulating, international and fun environment, where you can learn new things every day, don't think twice: send me your application! We are always on the look-out for new Lengowiens in both Paris and Nantes, for a range of jobs: commercial, developers, communication, client support, administration, marketing…
If you want to join the Lengow adventure,