Lengow Day will make its grand return with its fifth edition on 11th October, and promises to bring together the top international players in the ecommerce industry.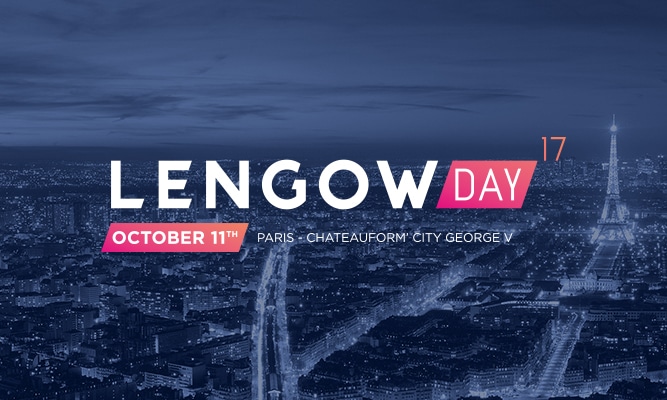 A Global Event
This year's event will welcome close to 350 key ecommerce decision makers looking to enhance their cross-border activity. A panel of international speakers will lead the day, sharing their ecommerce expertise and providing a market outlook. Looking back, the 2016 edition of Lengow Day brought together delegates from 15 different countries (including UK, Germany, Spain, Italy, India and China) and welcomed a variety speakers including Tony Qiu (JD.com), JayDeep Jadav (Flipkart) and Ben Greenway (Adidas) among others. It proved to be a great opportunity to discuss the developments and challenges in a market that evolves differently from one country to the next. 
As in previous years, the event will once again host a range of partners offering innovative technologies that are poised to disrupt the industrious ecommerce market. Last year, our partners included: Bing, iAdvize, Worldfirst, Cubyn, Cdiscount, Google, Aircall, Be2bill, Reelevant, Moebel.de, Mirakl, TextMaster, Payoneer, Spread, Akanoo, AvisVérifiés and Adyen. If want to become a partner for this year's event, click here.
Exciting Networking Opportunities
The fifth edition presents exciting new formats, including one-to-one business meetings that will be offered to retailers. With this format, retailers will have the opportunity to meet one-to-one with our partners and discover their technologies, discuss their business challenges and receive advice to help them develop their cross-border strategies.
Add It To Your Diary !
See you on the 11th October at Châteauform' City George V in Paris for the fifth edition of Lengow Day! To keep up to date with the latest Lengow Day news, head over to the event website, keep reading our blog and follow our updates on Twitter (@Lengow_UK) using the hashtag #LengowDay !
Here's a taste of what you can expect at Lengow Day this year !