Since their introduction in October 2012, Google Product Listing Ads have seen their popularity continually grow. PLAs expenditures have increased by 300% and this new visual advertising format displayed directly on the side of the Google search engine can generate a click through rate of over 20%.
Lengow has been working on Google Shopping since 2010 and has been continuously enhancing opportunities for merchants to monitor and manage their campaigns with more perspective and efficiency. The result: more than 50% of our clients found on price comparison sites have a Google Shopping flow before importing in the Merchant Center.
This extensive use has led us to work more closely with the teams at Google and keep up to date with new ad formats such as Product Listing Ads.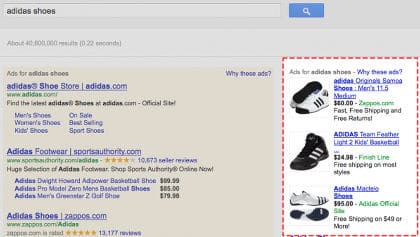 Since October 2013, Shopping Campaigns have been gradually replacing PLAs. This is an evolution that should be adopted by all the merchants by August 2014. Lengow has worked on this since its introduction in order to offer the most efficient tools.
PLA's potential :
PLA represents only 15-20% of Adwords budgets for e-tailers, but this share is bound to grow rapidly during this year and the future. The PLA ad format is rapidly growing since its introduction because it gives retailers the opportunity to stay competitive on bids and gain a good click-through rate thanks to attractive product images.
3 Shopping campaign advantages :
Optimised management interface :
Shopping campaigns allow you to visualise the content of your flow directly on Adwords  in order to segment your products by ad groups. This enables you to define the max CTR depending on the type of products you sell.
These groups can be made thanks to the products attributes created in your flow, as well as the category, the brand…
You can also use the Customs Labels to organise and structure your groups of products in your flow as soon as it has been imported correctly in the Google interface. This also allows you to distinguish between products that have a strong and weak margin.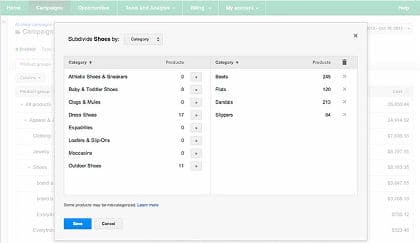 Advanced statistic reporting :
Shopping campaigns offer you the possibility to view the performance of your ads by group, attribute or product by product. Everything is classified according to the listing of the Google Shopping categories, the type of products, the brand, the packaging or the custom labels in order to allow e-merchants to easily identify sources of growth. In this way they can quickly adjust their budgets based on their most clicked products.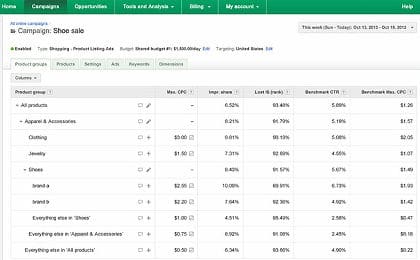 Data on the competition :
In order to help you optimise and develop your PLAs campaigns, Shopping campaigns give some information regarding the competitive intensity of each product (compared to the key words you used to position it). Thus, you can add a "Benchmark" column to visualise the average click-through rate and the max CTR of other companies with similar products. This information is collected from approximately ten e-merchants, who are of course completely anonymous. Soon you will have also access to the display shares, bids simulator and to an estimation of lost opportunities because of an insufficient budget.

Lengow and the Shopping campaigns:
Lengow is working with Google's PLA teams to develop its tool and create unique management features for Shopping campaigns in order for users to have even more control and profitability of acquisition costs. We are currently validating these solutions. The Lengow clients who wish to test the beta version can contact us now 😉