Teresa Harbeck joined the Lengow team in 2016 as an Online Acquisition Manager. We caught up with her to find out more about her job and her life before and after Lengow: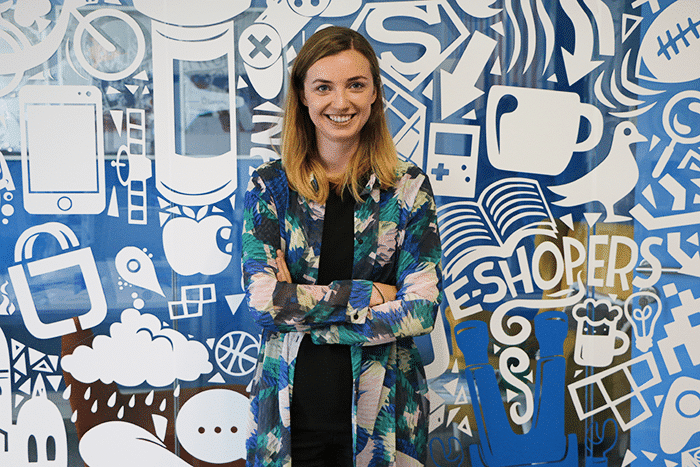 Hi Teresa, can you introduce yourself in a few words?
My name is Teresa, I'm 28 years old and originally from a tiny German town close to the Austrian border. Because there's not a lot to do there (except eating delicious Bavarian food and drinking beer), I decided to travel. I spent some years in Buenos Aires (eating steak all day long and learning Spanish) and Stockholm (trying to survive the Swedish winters) before moving to Paris. I have a couple of strange hobbies, like collecting royal plates and reading about physics. I can also lipsync every Seinfeld and Friends episode. If you were to ask my colleagues, they would probably describe me as a bit of a hipster.
What's your professional background?
When I was 8 years old I always wanted to be a writer or one of those adventurous investigative journalists. So after studying, I started as a freelance writer and later a fashion editor for STYLIGHT, an e-commerce start-up in Munich. That's when I fell in love with copywriting and marketing so I switched to their marketing department. In Sweden I worked for a marketing agency before heading more towards online acquisition. Now I investigate the best strategies for lead generation and optimisation and write copy for our ads and website – I tell myself that my eight year old self would approve.
What was it about Lengow that made you want to work here?
I like workplaces that are both challenging and at the same time very focused on teamwork. For me Lengow was the best combination of a great corporate culture and an interesting and promising product. I was sure that Lengow would grow and develop and I wanted to be part of that process.
Tell us about your position, what are your main jobs?
I'm working in the Online Acquisition team which supports our sales team in generating and nurturing leads. We are like Lengow's little lead growth engine. We try to generate as many business opportunities through online advertising channels (like Adwords, Facebook, Partnerships and Content Marketing), qualify the leads, and then help our sales team close the deal. In the Marketing team we don't really work by markets but by the topics that interest us the most – my favourite acquisition fields are Website Optimisation and SEM.
How would you rate your experience at Lengow so far?
I joined Lengow in September 2016 and so far it has been a great adventure. In only a couple of months I learned a lot about the ecommerce industry, and how to successfully operate a SaaS business.
What advice would you give to online retailers to succeed in their acquisition campaigns?
It doesn't matter if you've just started your first campaigns, or if you're an experienced advertiser, it's always important to look at the data before making a decision. When looking at incoming leads or sales, every advertiser should ask: how does quantity relate to quality? If I attract a lot of potential buyers at a high price but the basket size is low, the campaign might not be profitable, even if sales are flooding in. This seems logical, but once retailers have more than just one campaign running, and maybe without a big team to manage those campaigns, it's easy to lose focus of the business goal.
Any last words?
May the force be with you.
To learn more about Teresa and Online Acquisition, check out our video interview: