Everybody loves deals.
The good old two-for-one special is one of the most popular deals you can find in stores and on the web. Shoppers also like to benefit from mail-in rebates that they receive in stores and online.
With the wide range of international marktetplaces available out there nowadays, shoppers may have to spend precious hours to find a special item at a special price and read the reviews of it on several websites.
That is no longer an issue in France.
Who can be thanked for that?
The relatively new site is where francophone shoppers in France can find out what is hot on ecommerce sites and of course, what is not—even in other countries in Europe.
See the screenshot of Dealabs' homepage below which classifies whether a deal is really special or not by having very high temperatures (hot deal!) or frozen, sub-zero temperatures (avoid!). The deals also turn gray once they expire, such as when the stores run out of stock or the deadline for an offer has passed.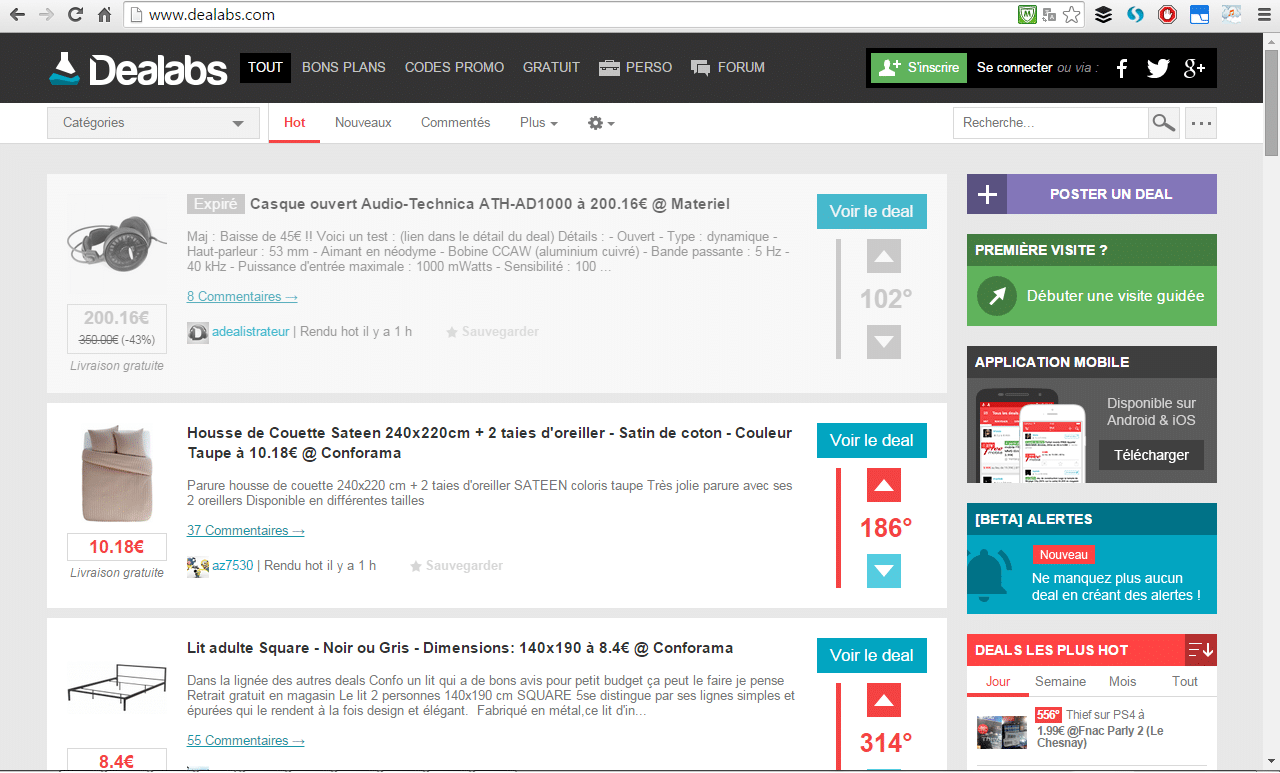 Users Unite
A recently-published Lengow Blog article featuring Lengow Ecommerce Day guest speaker Bazaarvoice discussed the importance of knowing shoppers' opinions on products and how this insight boosts profitability for merchants. The latter recently partnered with Lengow to help the many international merchants using the Lengow solution to manage their global product catalogs; merchants using Lengow can now access Bazaarvoice's gigantic database of shopper opinions from around the world.
Dealabs also understands the value of a community of people, so it built its site in a forum format, including all of the best aspects of forums nowadays (namely, emojis, such as the popular fire flame emoji used to represent hot deals and recently featured on the Lengow UK Twitter account several times this summer).
This community, which is thousands strong and usually has hundreds of users online at any given moment when one is exploring Dealabs during daytime hours in France, is at the heart of what makes Dealabs special.
It is the amount and type of feedback that Dealabs users give that makes a product hot or not.
Some of the hottest products are showcased on a column on the right-side of the homepage, which is easy to find (see screenshot below).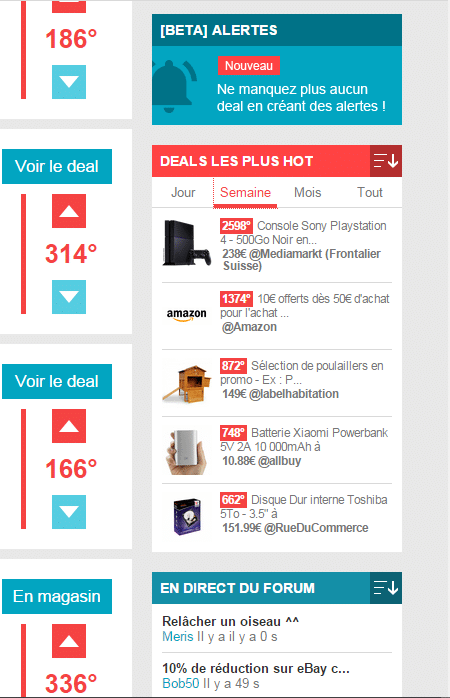 The usual comments about how a product is good can be expected, but one of the best things about Dealabs is the comments people leave that either 1) point out who exactly the product was used by and whether the product worked as expected or 2) recommend shoppers to avoid the product if they have certain expectations regarding how they can use it.
Additionally, users also point out when a product can be found for a cheaper price on another ecommerce website and notify others when a deal isn't new (they share links to previous identical deals on other ecommerce sites).
Users who post deals that are appreciated by other users are recognized by "badges" in different categories; a sort of gamification of the Dealabs user experience. An example of a user who contributes often to the Dealabs community is seen in the screenshot below. The statistic that stands out is the number of deals (193 total deals posted, or 0.24 per day).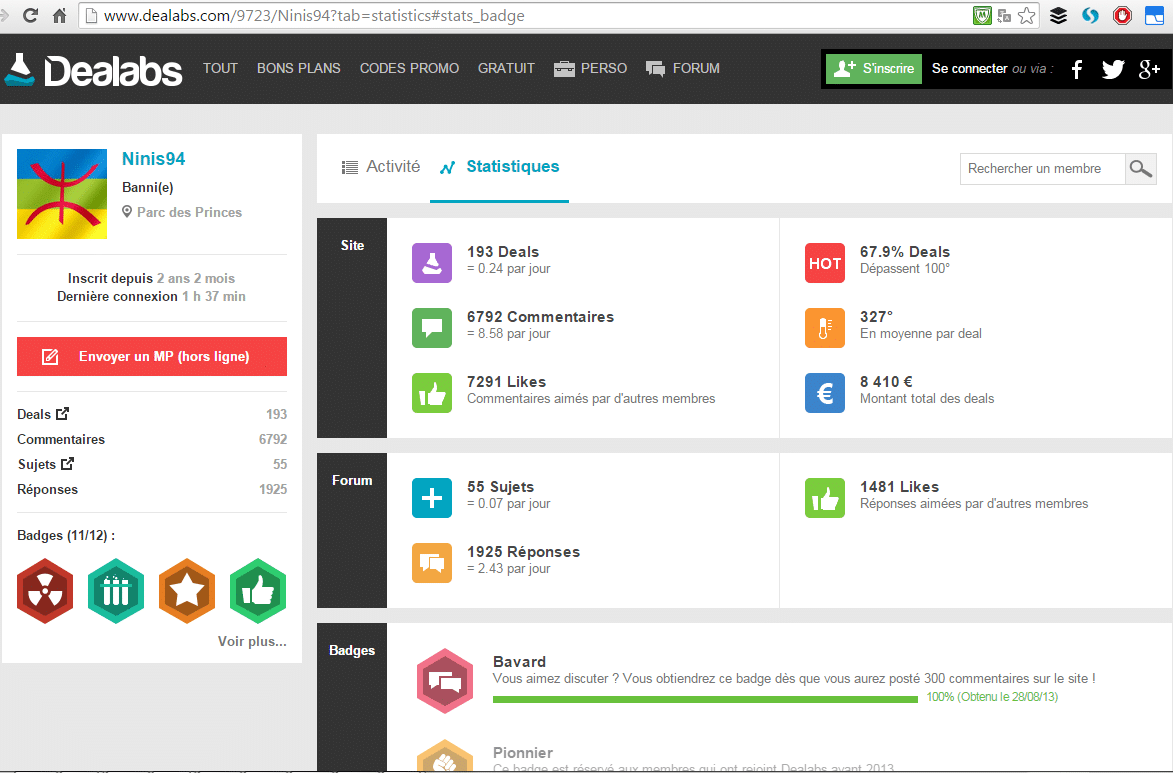 Dynamic Deals
The access to special in-store deals is also a huge strength of Dealabs, according to Idir Chami, a frequent user of Dealabs who is also a long-time IT specialist that has experience buying tech gadgets from ecommerce websites in several countries.
"Thanks to Dealabs, it is possible to find exclusive deals either in a town that is not far from Paris (reachable by train or car), in another city on the other side of the country or in neighboring countries like Switzerland.

When you keep in mind that your family members could be located in any of these nearby cities or countries where deals are located, it is now possible to find so many deals that otherwise could not be found before this centralized hub that Dealabs offers was created," said Chami.
Chami also credited Dealabs for its wide range of categories, including clothing and leisure items.
As the line between online retail shopping and in-store shopping continues to blur during this "phygital" era (recently analyzed on the Lengow Blog at bit.ly/LondonRetailStartups), Dealabs is standing out by connecting shoppers to deals both online and on the ground.
Dealabs makes profit thanks to commission on items that shoppers buy after finding them on deals posted by Dealabs users and for the moment the site has not launched in the United States of America.
But with a winning formula and a creative name that is in English; there's nothing stopping the Lyon-based website (launched by the French company Hume Network and hosted by OVH) from going global and launching in the world's largest ecommerce market.
Related: For a detailed look at ecommerce in the USA, see the article below: