Today, 1st July 2016, the whole Lengow team celebrates its 7th birthday! This is the time to look back at the stand-out features of this past year, especially our core challenge: conquering the international market!
A truly global year
Over the year, the Lengow teams have visited all four corners of the planet, to launch in new markets, meet our clients, and share our expertise. The team, made up of 20 nationalities, have attended 27 expos, conferences and roadshows around the world, with one particular focus: China.
The Chinese ecommerce market is challenging but offers immense business opportunities. We have been accelerating our entry into this country intensively, developing strategic partnerships and our business network there, and our ambition is to become one of the major ecommerce players in Asia.
In order to pursue its growth, Lengow raised €10 million in funding in September 2015 alongside Serena Capital, BPI and its previous investor, Alven Capital. This financial operation has let us continue our growth, improve our technological advancements and also continue our international expansion, which is Lengow's top objective for the next few months.
In order to further strengthen its European leadership and market share, Lengow will open offices in Germany and in the UK, the two largest markets in Europe. This will also bring us closer to our clients and partners in these countries. We will let you know more about these developments very soon!
International Lengow Team

This year, the Lengow team has grown considerably with more than 40 new talented members and it has become more international than ever before. The 20 different nationalities that make up the team all bring their expertise and experience to contribute to the understanding of their respective markets and its nuances. This diversity within the team promotes open-mindedness and new ideas and lets us work in a rewarding environment where all languages are spoken and where different cultures mix.
In February, Lengow headquarters in Nantes moved to new offices on the Ile de Nantes. Mirroring our international Paris office, the design of our new headquarters aims to create a working environment which emphasises the notions of togetherness, exchange and sharing. This provides the ideal context for our teams to thrive, as well as the well-being of our employees, which is one of the company's priorities. Alongside Team Lengow, we have created our Octopus incubator, which currently houses three young startups.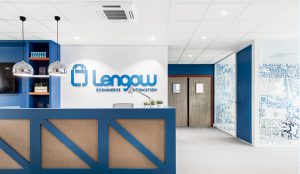 At the heart of an ecommerce ecosystem
Lengow is more than an ecommerce platform; it is at the heart of an ecommerce ecosystem, alongside different ecommerce experts and key players. This year, Lengow wants to strengthen this ecosystem further, on a European and global level. This ambition will come to life at Lengow Ecommerce Day 2016: Cross-Border Connected, which will take place on 27th September in Paris.
Furthermore, several clients have been trialling Lengow's new e-commerce automation platform over the last few months. Soon, all of our clients will get access to this new version of our intuitive and innovative platform, that will revolutionise the way you distribute your product catalogue. New features will let our partners and major key players create their own application within the Lengow platform, which will let our clients find services and partner solutions directly from there.
Clients and partnerships
Most of all, we would like to thank our 3,600 clients, whom we are proud to assist with their worldwide development. Thanks also to our 1,800 partners, who work with us everyday to provide our clients with the best possible service.
Today, Lengow is available in 45 countries. We work relentlessly to meet our clients' expectations and to tackle the e-commerce challenges of tomorrow by offering a flexible and innovative solution as well as easy access to a variety of complementary services and solutions provided by our partners.
The year ahead promises to be full of events, new projects, and new employees, which will help us to get even closer to online retailers around the world. Watch this space to see what new adventures are in store for Lengow…
Want to join the Lengow adventure? Click here to see our vacancies.