The global e-commerce market is on the up, and predictions suggest that it will be worth nearly 3 trillion dollars by 2018. Whilst many brands have already jumped on the e-commerce bandwagon, there are still a certain number of brands yet to get started.
35% of luxury brands still do not sell online, whilst most ready-to-wear brands have been active on the e-commerce landscape for several years. However, despite initial reluctance, more and more luxury brands are developing their online presence to deal with the growing e-commerce trend. In order to offer the best possible service, brands are being as imaginative as ever, ensuring that their brand is not damaged by selling online.
"[Luxury brands] could increase sales [with e-commerce], but a brand's goals aren't always to increase sales. It may be to preserve the quality of the brand so that it stays in business for another 100 years." Sucharita Mulpuru-Kodali, vice president of Forrester, highlights the importance of maintaining brand image.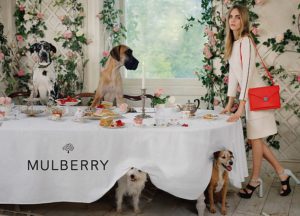 A digital buying experience
Luxury brands pride themselves on the personal, high-quality customer service that they provide in their brick-and-mortar stores, and assume it impossible to replicate this level of service online. However, selling online does not mean that the client has to suffer; rather, the brand has to ensure that the digital buying experience mirrors that of buying in store. Louis Vuitton was one of the luxury brand e-commerce pioneers, launching its e-commerce strategy back in 2011. Alongside each product, Louis Vuitton provides enhanced content, in the shape of videos, photos, guides and advice. Customers can also access the latest brand news on the website, and create a wish-list of products on their private online profile, called 'My LV'. The brand aims to offer an optimal online buying experience, whilst maintaining the interactive factor customers experience in store. Five years after going online, it is estimated that e-commerce represents 3% of Louis Vuitton's total turnover.
A quality online service
One obstacle e-commerce faces when it comes to emulating in-store service is delivery. Delivery options are still limited, so many brands prefer an omni-channel strategy to blur the boundaries between online and offline shopping.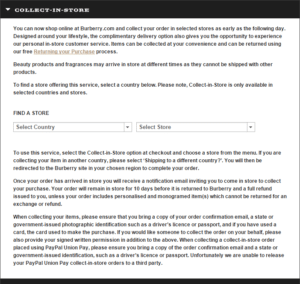 Burberry allows you to buy your item online and then pick it up the next day in store. Therefore, you not only have a relatively seamless purchasing process in the comfort of your own home, but you can test your product in store, and also benefit from the label's personal in-store customer service. That is not to say Burberry's online customer service is not up to scratch; they provide customers with a live chat, so you can discuss your potential purchases with an expert.
International
For some luxury brands, an online presence is not enough. Some want to go further, and expand their brand internationally, developing new foreign client bases. As it stands, consumers from the UK represent a rather large chunk of the online luxury market at 7%. However, look abroad, and this figure is considerably higher; notably, 15% of online luxury sales come from China. What's more, a recent study by McKinsey predicts luxury's share of online shares to double from 6 to 12 percent by 2020, and by 2025 the online share of total luxury sales will be 18%. E-commerce allows luxury brands to sell their products in countries where it perhaps would not be economically viable to open stores.
Even if luxury fashion doesn't have quite the online market share as other items today, it is clear that this will change in the future as more and more brand realise that they have to adopt an online strategy to target 'Generation Y'. Nonetheless, this e-commerce approach will only serve to complement existing brick-and-mortar stores, rather than replace them, as the two have different benefits.
To find out more about the UK e-commerce market as a whole,