For the 6th annual Lengow Day on September 27th, Lengow is holding a competition to give start-ups the opportunity to win a stand. How to participate? What are the entry requirements? When is the entry deadline? You can find the answers to all your questions below!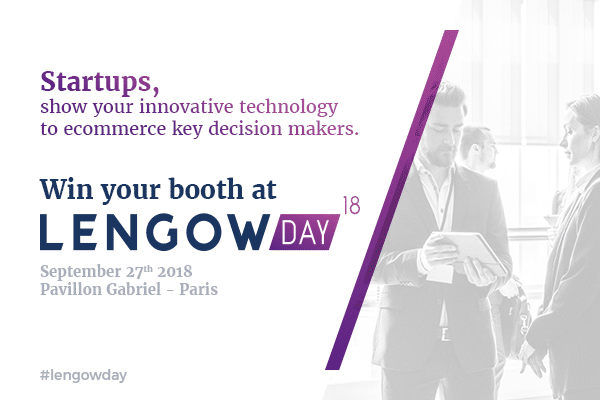 Lengow Day, an e-commerce event for companies of all sizes
This is not the first time that Lengow Day has included start-ups as part of the event. As young companies play such an important role in the evolution of the market, Lengow has long been working to showcase the e-commerce stars of tomorrow. Having launched the Startup Spotlight competition in 2014 (won by Azetone), followed by a start-up pitch event in 2017 (with Teeps, Dilit, Popsell, Shopopop and Shipup), this year we are back with a competition allowing two start-ups to win their stand for the 2018 conference.
An opportunity for start-ups to be at the heart of the e-commerce ecosystem, to present their technology/innovation to a targeted audience, and to benefit from partner visibility.
What are the requirements to enter the competition?
To take part in this competition, your start-up must meet the following three criteria:
offer a piece of technology/innovation directly tied to e-commerce,
have been created from 2016 onwards,
be available to come to Paris for 27 September 2018 😉
Entry deadline: 30 August 2018.
The start-ups selected by the 2018 editorial committee for the event will be contacted by our team in early September.
Why take part?
Lengow Day is the first European conference dedicated to e-commerce. The 2018 edition will welcome no fewer than 400 European retailers, speakers and experts to share their vision for the future of e-commerce, find growth drivers and develop their business on the international stage.
If you win this competition, you will experience life at the cutting edge alongside 30 e-commerce solutions in the heart of the Pavillon Gabriel exhibition space. Punctuated with networking opportunities, the conference will also be an opportunity to meet e-retailers with our Swapcard meeting platform.
Convinced? Send us your entry now 🙂