By Florian Cimetière, Co-founder & CMO of ITinSell (translated by Lucy Bayley)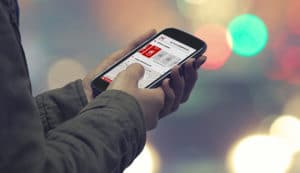 What is e-logistics? At first glance, people tend to consider it a boring subject. When one of thinks of logistics, one usually thinks of immense warehouses alongside motorways, loud lorries or containers gathered in their thousands, waiting in shipping bays to be transported to their next destination. However, there is so much more to logistics than this reductive and dated stereotype. The trade has transformed in recent years, and is now open to the general public.
E-commerce has been the main catalyst behind logistics comeback: the explosion of B2C shipping feeds created a need for new products, new tools and new infrastructure to deal with new demands. As a result, e-logistics was born.
These days, e-logistics is a crucial part of the shopping experience, transforming virtual orders (clicks) into tangible physical products. It also incorporates the supply of provisions, stock, preparation, shipping, delivery and consequently, requires countless internal and external operators.
Managing and centralising all of these steps, making sure there is no miscommunication between different parties, always putting the customer first…. These are just some of the exciting technical and organisational challenges of e-logistics.
Let's look at delivery: delivery options have increased significantly over the last few years. Once upon a time, the only option was simple home delivery. Nowadays, you can opt for your parcel to be delivered to a dedicated drop-off outlet or to the shop in question's physical store (Click & Collect), or even give specific delivery instructions of your choice. The method of delivery has changed as well. As well as the more traditional transport methods, you can now get delivery by courier, and in the near future, perhaps drones. However, this flourishing, omnichannel approach, created to suit consumer's need for flexibility, hides several technical challenges.
The challenges retailers face with delivery are the same that they would face if they were to sell on marketplaces and comparison shopping engines without Lengow's help. Today, online retailers have to manage shipping feeds across 3,4 or even 5 transporters, and this number grows considerably when dealing with cross-border sales. When you add the issue of monitoring, incident management or invoicing, the industry's next priority is obvious: centralise the management of all these feeds in one sole interface.

On a more strategic note, e-logistics has reached a turning point. It should no longer be simply a necessity for online sales, but start being a key strategy component; a vector for growth. How can delivery offers attract new clients? How can delivery experience improve with customer loyalty? How can I offer the most appropriate and most qualitative delivery service?
For a longtime, other European B2C delivery markets have lagged behind the British and German equivalents. However, this is changing. The market is developing, and now retailers can ship all over Europe, or even the world, without sacrificing the quality of logistics. The question these days is how to build the science of e-logistics, with its own metrics, KPIs and best practice. This will be one of the goals of the E-Logistics Convention, which will take place in Paris on 22nd June.
With that in mind, e-logistics should no longer evoke lorries, warehouses and shipping bays. These days, e-logistics is much more exciting. It means you can order your favourite meal from your favourite restaurant to your door step within half an hour, and track your orders interactively. In short, it is now truly a qualitative and personalised experience.