Tomorrow, the 4th annual Lengow Ecommerce Day will be taking place in Paris. To mark the occasion, we've asked Jaydeep Jadav, Senior Manager at Flipkart and a speaker at Lengow Ecommerce Day, to share his views about cross-border e-commerce.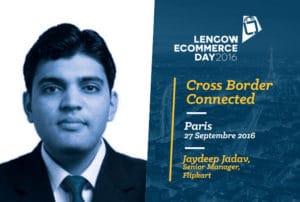 What do you think are the main obstacles cross-border e-commerce will face in the future?
There are several different challenges that will probably be faced in coming years. First, international brands will have to adopt a more local approach in their acquisition strategy. Payment solutions will have to be innovative enough to respond to future developments in consumer buying behaviour. For example, delivery services will have to keep their customers updated in real time, whilst being as transparent as possible. On top of this, an analysis of further information will be needed to give more personalised offers to consumers. Finally, the ecommerce regulations of each country will also need to be redeveloped to standardise and stimulate world trade.
In your opinion, which markets are the ones to watch in terms of cross-border e-commerce?
In recent years, a number of countries have emerged in the ecommerce industry, providing new development opportunities for retailers. India, China, Latin America, the United Arab Emirates and Africa have become players who now contribute a great amount to the growth of global e-commerce. Online retailers must think globally in their development strategy, as e-commerce is no longer limited to the domestic market.
What do you think are the main problems that must be tackled when trying to launch in India?
When it comes to internationalising a business, it is important to be aware of the trends and customs of the market. If a retailer wants to branch out to the Indian market, they will need, for example, to select the products that best meet the expectations of Indian consumers, adopt specific pricing strategies for the market, and take logistics into consideration. A respect for local regulations and providing the most used payment solutions, is equally important. For instance, in countries like India, it's good to note that people prefer to pay upon delivery.

For more on the internationalisation of e-commerce, find Jaydeep Jadav at Lengow Ecommerce Day on Tuesday, 27th September, where he will be discussing the major trends of cross-border e-commerce at a round table called "China, India, Africa: The New El Dorados of E-commerce?"