The 4th edition of Lengow Ecommerce Day will take place on 27th September. For the occasion, we have invited Ben Greenaway, Senior Omni-channel Manager at Adidas to speak about his vision of international omni-channel commerce.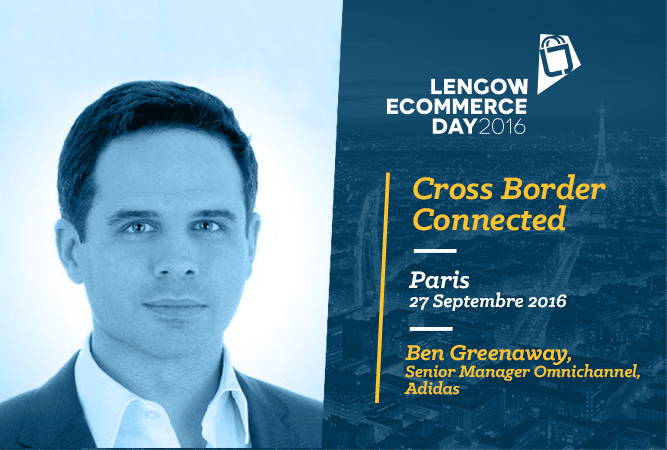 1) In your opinion, which is the most strategic marketing channel to develop your international activity on and why?
Digital is important, but let's not forget that most shopping still happens in stores. Successful strategies will leverage the strengths of both the online and more traditional channels, and understand that they influence each other.
2) Which omni-channel strategy would you apply, to reduce the barriers between offline and online trading?
Three things come to mind: The first is to get a clear view of your inventory both in your DCs but also in your stores. That can be a real challenge, but it enables you to start thinking about how you can serve consumers with multiple inventory sources. The second is to bring the accuracy of that inventory so that it is reliable enough to start making faster promises to the consumer, for example that the item could be picked up in an hour, or delivered next day. The third item is more about internal organisational change; you need to consider the impacts new processes have on the old ways of doing things. Stores need incentives to handle processes that were traditionally exclusive to the e-commerce team. Additionally there are teams hidden throughout your organization that need to understand the shift, from finance to profit protection. Get these three building blocks right and you lay a strong foundation to launch new initiatives from.
3) What does the future hold for omni-channel?
Speed. Speed is one of the areas where we'll see a lot of innovation and creativity in the coming 2-3 years. We already see a race of sorts to see who can serve the consumer the fastest, whether it's with real-time store inventory, or same day delivery in major cities, or even drone delivery. Another growing area will be partnerships between channels. Zalando is doing a lot in this space, learning how to leverage the stores and inventory of other retailers to better serve consumers.
Find out more about omni-channel commerce at Lengow Ecommerce Day on 27th September, when Ben Greenaway will explore the major omni-channel at a round table: Which digital channel is the most efficient for e-tailers?