Big Data has established itself as an essential component of e-commerce, helping facilitate predictive marketing. Data lets retailers personalise the purchasing process, and has many other advantages for online retailers and their clientele alike.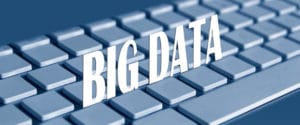 Retailers have long dreamt of being able to anticipate customers' needs. However, thanks to data customers provide over the Internet, you can know gauge what they are going to buy, before they even know. Browsing patterns, order history, registration forms and lots more analysed information all help you know more about the profiles of your users, as well as their wants and needs.
In a world where predictive marketing has become a key e-commerce trend, data is invaluable. Big data has a range of benefits for any online retailer, and a recent McKinsey study revealed that retailers leveraging the full power of big data can increase margins by up to 60%.
Analysis and application lets you create a precise target audience, and lets you implement actions in real-time. For example, you can customise your online shop according to each user, and set up a recommendation engine system. Thus, you are able to anticipate your clients' future behaviour, and create offers tailor-based to their profile. Doing so will have a positive impact on your sales figures, because when a customer cannot find what they are looking for straightaway, they tend to turn to another website. Offering the right product at the right moment and simplifying the search process makes potential customers happy, and keeps them on your online store. Furthermore, a satisfied customer is normally a returning customer. Online shoppers are increasingly disloyal, so it is important to do as much as you can to ensure high customer satisfaction and strengthen customer loyalty.
The use of customer data is thus a strategy which is becoming increasingly indispensable, and more data has been created in the past two years than in the entire previous history of the human race. Analysing data is a complex process: it requires rapidly cross-referencing a range of information, because data has a limited lifetime. In fact, less than 0.5 if data is ever analysed. Consumers' wants and needs change regularly.
When using predictive marketing, it is crucial that you are vigilant when it comes to usage rights and data security.
Worried consumers face the prospect of their data being used without their permission
However, big data comes with drawbacks and many consumers struggle with the notion that their personal data is being used. In fact, in some places, customers are starting to regain control. Take the example of France: in 2015 only 15% of French consumers authorised the use of geolocation, compared with 37% in 2013. This ties in with figures from Internet Retailing which confirm that 73% of shoppers feel that shopping online is riskier than shopping in store.
As confidence drops, so does customer investment. However, in spite of this, the ecommerce trend continues to grow, and internet users often fill in forms with personal details, which suggests this notion of mistrust has little impact on consumer habits. However, it is important to be transparent and reassure your customers when using their data. You should also respect the principle of permission marketing, which involves asking consumers if they authorise the use of their data using an opt-in or opt-out scheme. Another solution to encourage customers to provide personal information and agree to companies using this information is by offering compensation. What's more, a promotional code/ discount voucher can be a great way to make your clients accept their data being used.
Want to know more about a particular e-commerce topic?
Download one of our guides now.