On September 27th, come and join us for the 4th annual Lengow Ecommerce Day. Over the course of the day, we will be focusing on four main themes: Cross-Border, Cross-Channel, Cross-Device and Cross-Data. Take a look at the programme: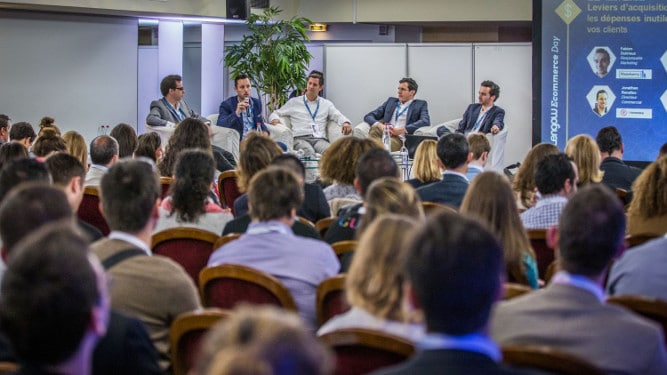 As is tradition, Mickael Froger, the CEO of Lengow, will be starting off with a keynote speech dedicated to current and future trends in e-commerce that will be addressed throughout the course of the day.
Cross-border, Becoming an International Player
Are China, India and Africa the New Eldorados of Ecommerce?
After many failed attempts to conquer American turf, companies are starting to turn to the likes of China and Africa. Are these developing countries the new lands to be conquered in the e-commerce race?
Host: Jérôme Bouteiller (Independent journalist), with Jean-Philippe Bruneau (World First), Ammin Youssouf (Afrobytes), Marpo Wang (Dolphin Supply Chain), and Alexandra Chiaramonti (Criteo)
Keynote: JD Worldwide, the Number 1 Chinese B2C Marketplace
Tony Qiu, General Manager at JD Worldwide, will be giving us tips on how to sucessfully sell in China. JD.worldwide is JD.COM's cross-border marketplace. JD Worldwide is the largest B2C cross-border ecommerce site in China, selling to over 40 countries.
With Tony Qiu (JD.com)
Round Table: What are the Winning Strategies for Successfully Developing your Business in Europe?
Faced with global giants such as Amazon and Alibaba, e-tailers can no longer confine themselves to their domestic markets. What steps do you need to take to break the borders and establish yourself in Southern Europe, Great Britain, Northern Europe and even Eastern Europe? Europe presents online retailers with many opportunities as well as numerous problems to solve. Where should you head first and which mistakes should you avoid making at all costs?
Host: Jérôme Bouteiller (Independent journalist), with Dominik Johnson (Yandex), Marc Menasé (Menlook), Roger Grael (Mango)
Cross-Channel: Increase your Points of Contact with Customers
Cdiscount Success Story: A Real Cross-Border Experience
Established in 1998 and a subsidiary of the Casino group, Cdiscount is one of the French e-commerce leaders with 11m unique visitors every month. Launched in 2011, its marketplace has become an essential exchange platform in France. Our marketplace is open to everyone, we offer our services and our French market expertise to find suitable solutions for your logistics, visibility and integration problems in order to boost your sales.
With Maxime Zablot (CDiscount)
Round Table: How to Switch from Cross-Channel Strategy to Omni-Channel Logic
With the logistics revolution and the ability to deliver to customers within hours of receiving an order, traditional outlets have become a strategic asset for online retailers. How do you break the mould and swing easily between cross-channel and omni-channel logic?
Host: Hervé Bloch (Digilinx), with Pingki Houang (Stuart)
What is the Most Effective Digital Channel for E-tailers?
Search engines, comparison shopping engines, marketplaces, social networks, messaging apps, etc. The list of possible points of contact with online shoppers is endless. Which channels are the most effective for online retailers? What developments can be expected? Four international experts are ready to share the strategies which have worked well for them.
Host: Chris Dawson (Tamebay), with Ben Greenaway (Adidas), Steve Borges (Biglight), and David Maso (Promofarma) 
Cross-Device: Adapt to New Consumer Habits
How do you Create a "Mobile First" Strategy?
After years of broken promises, mobile has finally become an entire generation's number 1 screen. But are e-tailers making the most of this? Are we entering a post-cookie era and should mobile be your top priority? Should you have an app or even an API first approach; or head straight to instant messaging apps? And beyond the text, should you start looking at new medians such as voice, image or even virtual reality?
Host: Jérôme Bouteiller (Independent journalist), with Maxime Baumard (iAdvize), Olivier Javier K'Danet (Facebook), Alexandre Ali (Rad), and Julien Henri Maurice (Bazarchic)
Aircall Success Story: Taking Care of your Customer Support When You're Fast Growing
During this workshop, you'll find out how Aircall has managed to adapt and improve the productivity of its customer support in a hyper-growth situation:
– Management practices applicable to fast growing customer service
– Key tools for each customer channel and benefits from a solution like Aircall to deliver Computer-Telephony integration and collaboration
– Lessons and improvement plans for the future
With Olivier Pailhes (Aircall), and Damien Morin (Save)
 Cross-Data: Use Your Data to Enhance Customer Experience
Round Table: How Can You Intelligently Diffuse and Exploit Your Data?
In the era of Big Data, social networks, and the Internet of Things, data is circulating between e-tailers, digital advertising firms and CRM players and expanding at a rate of knots. What is the best way to manage this data and adopt a data driven-strategy? How can you ensure you are reaching the right audience? And finally, how can you ensure you are not the victim of fraudulent activity and that the data you've collected is beneficial to your e-store's performance?
Host: Benoît Gaillat (Skeelbox), with Gulnaz Khusainova (EasySize), and François Ziserman (Target2sell)
Moebel Success Story: Why do Sector-Specialised Shopping Portals like Moebel.de Deliver More Traffic than Google, Bing, and Other General Search Engines?
Online retailers and marketers are constantly looking for alternative and qualified traffic sources to reach their goals. Learn how moebel.de, Germany's leading interior design portal for furniture, generates large volume, highly-qualified, and sustainable traffic for online retailers in Germany and France. Using the case of the French-based furniture company Tikamoon, we show how moving cross-border and partnering with moebel.de was successful to establish Tikamoon in the German market.
With Eldek Tuncay (Moebel.de), and Thibault Deslorieux (Tikamoon.com)
Workshop: How to Use Google to Speed Up the International Growth of Your Business
Today, international markets represent a real growth driver for brands. With market digitalisation, it has become even easier to export your business. Discover the different solutions and resources that Google provides, to help brands go international. An International Development Consultant will share international expansion tips and solutions to companies looking to expand abroad.
With Rozenn L'Helgoualc'h (Google), Claudine Devenyns (H3O)
In addition to these workshops, the Lengow Ecommerce Day will also include participatory round tables entitled "Exchange Expertise" (limited to 10 people per session). Based on the exchange, the new format allows retailers to compare their points of view around similar issues. These roundtables will be led by experts in their industry: Microsoft, Be2bill, iAdvize, Verified Reviews, Cubyn and Akanoo.
 Find the entire programme and more information on the Lengow Ecommerce Day website!
Follow all the news from the event on our blog and on Twitter with the hashtag #LengowDay