As we enter April, and the days get longer, wedding season is upon us! With the average UK couple spending over £30,000 on their special day, there is no room for second best, which is why in the lead-up, nearly 1/5 of brides-to-be spend about 10 hours a week planning. Nowadays, social media is a key component of everyday life, so it is only natural that fiancés use this platform to help them organise the perfect day. Therefore, for those selling wedding-related products, social media is an invaluable opportunity to improve visibility, and subsequently sales. Read on to find out how brides-to-be use social media, and how retailers can profit from this.
Youtube
Along with the well-wishes that couples receive after they get engaged, they also face two inevitable questions: when and where. When usually depends on personal preference, but the question of where is rather more complicated. Travelling to venues can be time consuming and costly, and to prevent wasted hours and money, brides-to-be often resort to Youtube. It is crucial that potential venues have a video tour on this channel. What's more, one of the main things people consider when it comes to picking a venue is the logistics element. So, if you rent/sell wedding equipment, and are accustomed to dealing with a certain venue, why not strike up a partnership with them and feature on the video? It's a win-win: you get added visibility, and the venue answers potential customers' logistical issues.
Instagram and Pinterest
Another easy way for fiancés to check out wedding venues is via Instagram. Thanks to its check-in feature, Instagram users can easily scroll through authentic photos taken at a given location, instead of the photoshopped, optimised photos found in a professional brochure. Instagram also affords a great opportunity for any retailer; thanks to its hashtag system, it is a simple and free way to showcase products.
Retailers can also showcase products for free on Pinterest. Research has shown that 1/5 of brides-to-be use Pinterest to show to their wedding planners . Pinterest is a social network that lets users share and discover new interests by 'pinning' images or videos to their own or others' boards, and many brides-to-be choose to create a wedding board, with everything from dresses to table decorations. If you deal with wedding-related items, it is crucial that you have a Pinterest account to generate sales. It is also a great way for retailers to gauge the latest trends and adapt their products accordingly.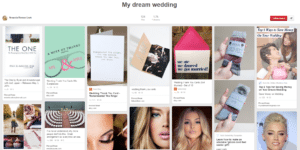 Read Reviews
Engaged couples do not just use social media to scout out the best venue or products. They also read reviews. Facebook and Twitter are easy platforms to discover the truth about something they are about to invest in from previous customers. Make sure to stay up to date with your Twitter mentions, retweeting when appropriate, and add a review section to your Facebook page, as it will instil trust in potential clients (provided your reviews are good, of course!).
Facebook pages can be fruitful for retailers, for several reasons. Firstly, they increase customer loyalty; if a customer likes your page, you will often feature in their homepage. Thus, it is also a great way of showcasing new products. What's more, they are also a way to provide direct customer service. Unlike Twitter with its 140-character limit, customers can contact you directly in as much detail as they want. Facebook also has a feature which documents how responsive retailers are, so make sure you stay on top of responding, or risk turning customers away.

Blogs and Forums
As mentioned beforehand, people planning their wedding love to hear reviews from previous customers. As well as Facebook and Twitter, they also consult blogs and forums to read about other people's experience and recommendations. Thus, as a retailer, try and get endorsed by influential wedding bloggers, and join these forums to gauge what newlyweds liked and did not like about their wedding.
As well as joining the 'wedding-planning community', you should try and get in touch with retailers selling other wedding-related items, and establish an affiliate marketing structure, whereby you reward your affiliate for each customer you gain from their site. Say for example that you sell wedding decorations. Get in touch with a cake provider, and see if you can establish a partnership. This can also help you with retargeting campaigns, as you can target their clients, and vice versa. What's more, shared expertise can be really helpful: for example, which events were useful to attend.
Added bonus: M-commerce
Only last week we told you about the rise of mobile retail, and mobile social media can be beneficial here too. Facebook Dynamic Product Ads can be adapted to suit any device: smartphone, tablet or computer. Facebook Dynamic Product Ads appear on the newsfeeds of Facebook users with a similar profile to your target customer, and can also be used for retargeting. A study has revealed that smartphone users check Facebook 14 times a day on average, so Facebook Dynamic Product Ads are an invaluable way of reaching mobile social media users. Furthermore, to adapt to the m-commerce trend, make sure your website is mobile-friendly, and with 61% of brides-to-be using apps to plan with their wedding, why not jump on the bandwagon and develop one?
To find out all you need to know about Facebook Product Ads,
download our partner guide now.