A marketing channel with significant added value, email campaigning is a must this Christmas. A pillar of your customer relationship building techniques, it will help attract traffic to your online store and significantly increase your turnover.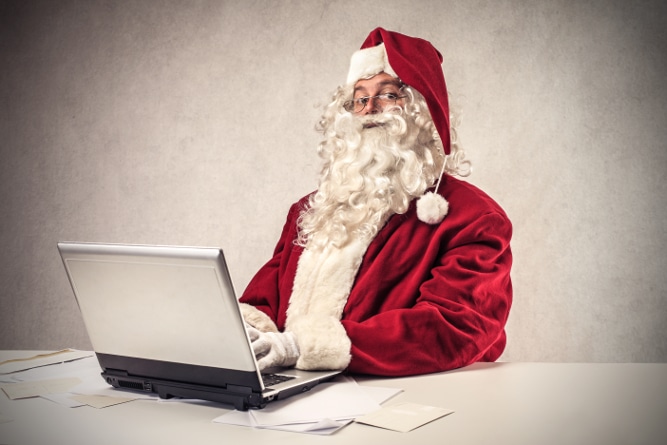 Less than two months away from the day itself, there is no time to lose to start preparing your end-of-year email campaign. Especially as e-shoppers are increasingly starting their Christmas shopping in November.
Here are our 5 tips for a successful email campaign this Christmas:
1. Qualify your Customer File
A successful email marketing campaign is not possible without a qualified, regularly updated customer database. For the festive period, it is a good idea to segment your customer database in terms of a number of predetermined criteria: age, gender, purchase history, average basket… This will allow you to best target your customers and offer them the most suitable deals according to their needs. If you do not have a customer list, the alternatives are: using a partnership, purchasing or leasing one.
2. Make you Campaign Festive
Over the Christmas period, opt for a festive template, without losing your corporate identity or hiding your message. It is therefore important to structure your emailing evenly, with a relatively balanced image/text ratio. Notably, the email marketing solution, Mailjet, recommends a 50/50 ratio. You also need to ensure that you guide the way in which your recipients read your email, by adopting a coherent format. Finally, your Call-to-Action button must be clearly identifiable in order to redirect your customers on to your online store.
3. Attractive Content is Imperative
The holiday season is a great opportunity for you to increase the amount of contact you have with your customers and an excuse to get their attention by offering gift ideas for Christmas. In this vein, help shoppers who are lacking inspiration this Christmas, by showing them your latest products and best sellers. You should also take this opportunity to offer them limited time offers to please them and gain their loyalty: free delivery once they've spent a certain amount, promotional codes, a free gift wrapping service…
4. Personalise  your Message
With the prolific rise of email campaigns, internet users will now only accord a few seconds to glance at an email. Therefore, in order to grab their attention and increase your open rate, be sure to tailor your message by personalising your email subject line and the name of the sender, which must be clearly identifiable. Among the best known examples include Boden, who use the alias Johnnie B. to inform customers of their current offers. To push your message customisation a step further, you can even add the recipient's first name in the subject and body of your message, using merge fields.
5. Test your campaign
To optimise your chances of success, don't hesitate to carry out a spot of A/B testing on a handful of recipients before sending your campaign. This test will help you identify the best message, from the subject line, to the contents of your offer, in order to maximize open rates, clicks and sales.
Once the email campaign has been sent, it is essential to take the time to analyze the results (success and failure indicators) and to update your database if you have received requests to unsubscribe.
If you are on the lookout for email campaigns solutions, visit the Lengow Hub!