Projected to reach a global value of $7 billion by 2020, the B2B ecommerce market is bursting with potential. ¾ of B2B sellers are yet to make the transition to online sales which provides immense room for growth in the B2B e-commerce industry. Today we're diving into the world of B2B marketplaces, giving you the lowdown on B2B marketplaces and how to reach a new audience of B2B buyers with Lengow.
27% Global e-commerce market share
According to Frost & Sullivan, online B2B sales could account for a third of the global ecommerce market within the next three years. Forrester Research also projects that in the next five years, the product categories that will see the greatest growth will be manufactured parts (such as spare parts), electronics, tools and office furniture.
Conscientious B2B Buyers
While B2B sellers are struggling to go digital, B2B buyers are already familiar with online shopping and are therefore looking for similar levels of convenience in their B2B purchases as their personal shopping. However, in contrast to the impulsive nature of B2C sales, B2B buyers are much more scrupulous when it comes to buying habits. These buyers have different expectations for price, payment methods and delivery. Generally B2B buyers also prove to be more loyal as customers, as they tend to make repeat orders with companies in order to create lasting business relationships with the sellers.
Marketplaces: A driving force for B2B e-commerce
Similar to the B2C e-commerce market, the B2B market is driven by marketplaces where manufacturers, distributors and exporters can trade with businesses looking for raw materials, finished products or services. Global retail giants, Amazon and Alibaba were the first marketplaces to offer a B2B option. According to iResearch, Alibaba accounts for more than 40% of the Chinese B2B market share. Other players are now following suit, like the French marketplaces Outiz and more recently Cdiscount.
There are numerous advantages for sellers who distribute their products on these B2B platforms, such as wholesale prices, payment terms, tax exemptions and quotation management.
Distribute your products on B2B marketplaces with Lengow

To add Amazon Business (UK and Germany) and Cdiscount Pro (France) as distribution channels for your product catalogues, you first need to create a seller account with the platforms and add them to your distributors list. You then need to inform them that you would like to activate B2B sales. If you already sell your products on these marketplaces, you simply need to let them know that you would like to add B2B sales. To find out more information about the steps that you need to take to activate B2B sales, head over to our Help Center.
To find out more about B2B e-commerce, download our sector guide!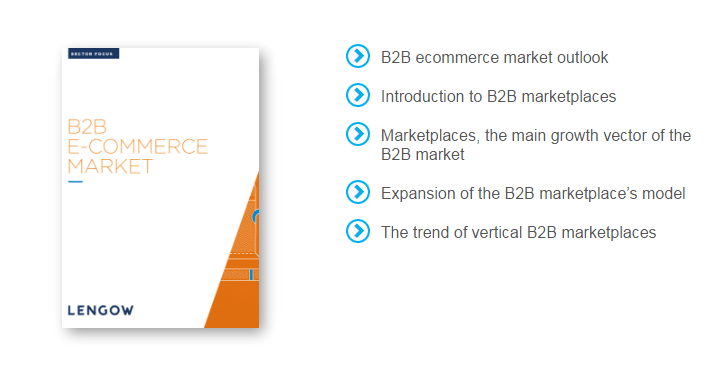 Not yet a client at Lengow? Ask us for a free demo!