Tomorrow, 5th May, there is a Bank Holiday in France and Germany, whereas the UK enjoyed a day off on Monday. It is important to know the Bank Holidays for every country you sell in, because holidays can impact retail figures significantly.
Bank Holidays by Country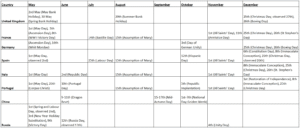 As you can see, each country has their own national holidays, although there are some that are shared. It is important to note that if the national holiday falls on a Saturday or Sunday, France, Germany, Italy and Portugal do not observe the day on the following working day, like we do in the UK. So, although Germans have a Bank Holiday on Christmas Day and Boxing Day, if these days fall on a Saturday and Sunday, the majority of Germans will have no holiday for Christmas.
How do Bank Holidays affect retailers?
If you compare studies on popular retail periods, you can see a clear trend: there are noticeable spikes around bank holiday periods. According to research from eBay, consumer spending habits change in the build-up to a bank holiday. For example, the website reported an increase of 16% in sporting good sales in the lead-up to Easter 2014, and DIY sales grew by 10%.
It is perhaps not surprising that in the weeks before Easter, more of these products were sold, because many people use bank holidays to partake in leisure activities and/or get things done around the house. Indeed, research from Amazon proves that this is not just an Easter trend, but is true for all standard bank holidays: the online giant reported a 73% increase in sledgehammer sales in the week leading up to the 2014 Spring Bank Holiday (end of May). Similarly, sales of plastering tools rose by 37%, and chainsaws 19%.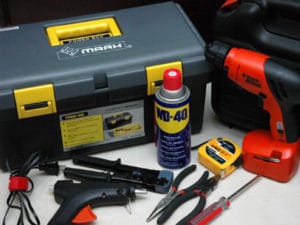 Delivery Delays
Bank holidays also affect delivery times. These days, most retailers offer next-day delivery, and some retailers even offer this service on Saturdays. Thus, online consumers are accustomed to receiving products in next-to-no time.
However, there are still few delivery firms that operate over bank holiday weekend, as the majority choose to close over these periods. Most shoppers will expect a delay over bank holidays, but make sure you keep customers informed to avoid causing disappointment. You should mention the final date and time at which customers can order and receive their items before a bank holiday. Most retailers already do this for Christmas, but it can be useful for other Bank Holidays, when people may be planning to do some DIY and need to buy the appropriate tools.
Promotions
Bank Holidays can also be a great opportunity for retailers to connect with customers. You could send a mass email to customers wishing them well over the long weekend, and in the email, mention new products. Some retailers even choose to run flash Bank Holiday promotions to boost sales. Here are some of best Bank Holiday promotions from the 2015 Spring Bank Holiday.
• Debenhams. 60% off all furniture, and 50% off fashion
• Very.co.uk. 50% off all furniture
• Tesco. A variety of electricals were half price, and 40% off of BBQs.
• John Lewis. A sale on electricals, and 25% off some fashion.
Want to know more about key e-commerce dates?