Bots have been around for a while, but recently, they have been subject to new experiments by a number of key players such as Microsoft, Telegram, Slack, WeChat and even Facebook.
Bots: a new middle-man?
Often depicted as the future of the Web, bots, or robots, are computer programmes configured to carry out tasks automatically. Thanks to their semi-autonomy, they can speak and respond to a range of requests in just a few seconds.
One of the most famous bots created was the personal assistant Clippy, which Microsoft launched for Microsoft Office at the end of the 90s. Since then, there have been countless technological improvements. One such example is the integration of artificial intelligence, which makes it easier for bots to deliver relevant responses to complex requests.
Whether it's to learn about the weather, follow the news, use a service or even find a product, bots are often considered to be the online shoppers of tomorrow's personal assistants, and they mark the start of a new era for the ecommerce sector.
Social networks are also jumping on the bot bandwagon. The messaging service WeChat has its own payment service, WeChat, and Facebook announced its F8 feature at the beginning of April, which adds a conversational element to the platform by integrating bots into the Messenger application.
Facebook, the latest to develop bots
As the largest social network in the world, Facebook has the most active users. With over 900 million montly active users on its Messenger app, Facebook has decided to add another string to its bow. They have given retailers the possibility to chat with Facebook users (and thus potential customers) directly thanks to 'chatbot', an interactive robot system to the messaging system.
Wall Street Journal, CNN, Dropbox, KLM, and Axa are just some of the bots already installed on Messenger, along with Poncho for the weather and Spring for online shopping.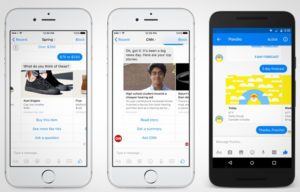 This new exchange dimension is an another attempt by Facebook to increase their role in the e-commerce sector, following the launch of the 'Buy Button' and also 'Facebook Dynamic Product Ads'. What's more, this shows that it is just as important to use messenger applications in your community management strategy as it is to use more traditional social networks.
Facebook plans to go even further in terms of artificial intelligence, because the company has developing a virtual shopping personal assistant for a few months. The bot is called 'M', and will aim to centralise the use of all bots and interact with Facebook users in a more humane manner, using algorithms and machine learning.
To coincide with the opening of its 'Bot store', Facebook has also announced that it will be possible for retailers to develop their own 'bot' themselves for the Messenger application.
If you want to integrate your own bot into the Messenger platform, you have to have the following things at your disposal:
A Facebook application: you will configure your webhook (or real-time requests) within the application. You will also retrieve your 'token' in the app, as well submit your request for approval.
A Facebook page: this will be used to create your bot's identity. When Facebook users interact with your bot, they will encounter your page's profile picture.
A Webhook URL: Facebook uses secure reminders to send you messenger service events which will be sent to your webhook.
To know more about integrating your bot into the Messenger platform, click here.
Finally, even though the economic model has not been unveiled yet by the social network, it is highly likely that Facebook will use advertising to monetise this new service.
What difference can bots make?
With the number of bots increasing, and all with different functions, what is their added value?
The idea behind virtual assistants is to improve client experience. They let brands develop an interactive relationship with their clients, by offering customer service before, during and after buying. They also aim to help users find the information that they were looking for quickly and easily. It is an adequate way to increase customer loyalty, because you are at customer's disposal to deal with any request.
Integrating bots into messaging platforms can also increase visibility and help you reach a new audience because the bots feature in messaging services available on mobile devices. This could act as a substitute as an app, which means you would not have to develop your own and prevents a potentially costly process.
Bots also let internet users get in touch with brands in just a few clicks, without leaving the platform they found the brand on. What's more, as people are already familiar with the platform, they will be more willing to chat with the brands.
Finally, using bots in private messaging services means you can centralise conversations in one place, which satisfies customers as they can see their previous interactions easily.
A man-machine relationship
Currently, virtual assistants are still in the experimentation phase; bots are not yet developed enough to interact optimally and completely autonomously with users. With these limitations in mind, Facebook and other market players are continually developing bots to make brand's work as easy as possible.
"You have to be wary of the endless rumours which surround the subject of bots and artificial intelligence. One such example is the theory that bots are not as effective as humans, but the reality is quite the opposite. It is important that users specify the precise scenario and use the bot accordingly. For bots to be effective, retailers have to be interested in them and prepare ahead. Nonetheless, bots will never fully replace human capital, or expert communities, which still provide internet users with the best help," adds Simon Robic.
That is why for the now, a hybrid approach is the best option, combining artificial intelligence with human expertise; automate basic actions, but use human for more complex actions. However, who knows that the future holds: bot and by using humans for more complex actions. And who knows, maybe bots will be the retailers of tomorrow.
If you are not a Lengow client, ask for a free demo now.