Ecommerce Europe has just published its B2C Ecommerce Report for the year 2017. How is the market doing? What are the buying habits of European e-shoppers? What are the forecasts for this year? Let's discover the latest market trends together.
Western Europe, the driving force behind e-commerce in Europe
With close to 810 million inhabitants, Europe should have no less than 83% of Internet users within its territory by the end of 2018. As more and more people go on the Internet, they are quick to use their smartphone, tablet, or computer to conduct research, but also to make online purchases. As a result, in 2017 European e-commerce generated total sales of 534 billion euros. With an increase of 11% in 2017, for the most part electronic e-commerce in Europe remains dominated by Western Europe. This area alone accounts for 68% of the total turnover of e-commerce in Europe, with the United Kingdom, France, and Germany at the top of the list. With 81%, 67%, and 77% of e-shoppers, respectively, together these countries make up more than two thirds of turnover in European e-commerce.
Marketplaces stimulate the European market
The dynamic nature of the European market can partly be explained by the large number of marketplaces present on the continent. With no less than 200 marketplaces across Europe, Amazon and eBay attract the most e-shoppers. The Chinese giant Alibaba is progressively gaining ground in Europe by arriving through Eastern countries. Real springboards for merchants who seek to be more international, marketplaces now account for more than half of cross-border e-commerce.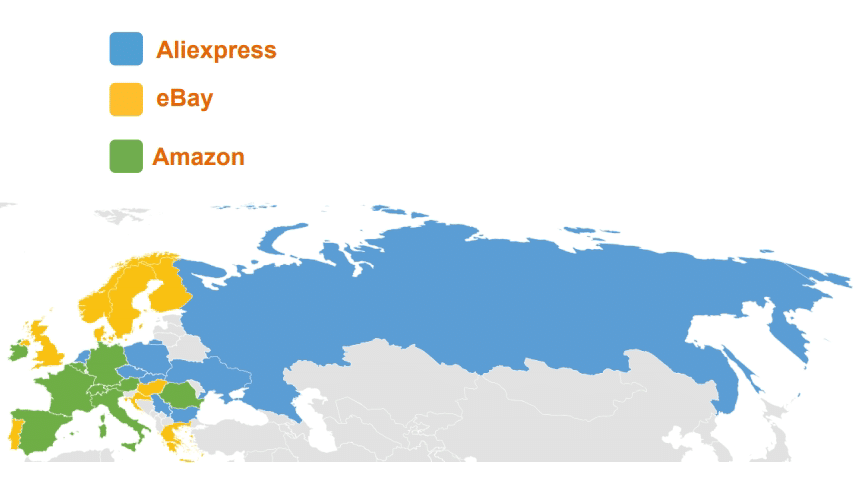 Almost one in every two e-shoppers buys from abroad
As for cyberconsumers, close to 40% of European e-shoppers ordered from abroad last year, according to Eurostat. Moreover, half of them bought goods/services online from countries that are not part of the European Union. Their purchases were mainly made on Amazon (1 in 4), followed by Alibaba/Aliexpress (14%), eBay (8%), and finally Wish (8%). Amazon's influence is such that in America, the American giant will account for half of the country's e-commerce by 2020.
With expenses mainly estimated at between 100 and 500 euros per buyer (over the last three months), for the most part e-consumers go online to buy products from the "Clothing and Sports" (36%) and "Tourism" (31%) categories.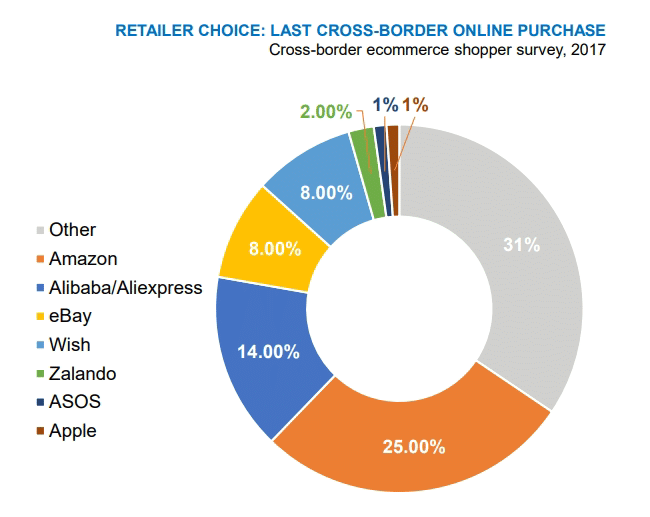 Although cross-border e-commerce offers many opportunities for both merchants and buyers, there are still challenges to be met to have an equal impact on both the domestic and international markets. For example, the report shows that cross-border e-commerce still faces a number of obstacles, such as longer than expected delivery times (17%) and non-compliant or damaged products or services (9%).
Will European e-commerce surpass 600 billion euros in 2018?
In 2018, European e-commerce could rise by 13%, according to Ecommerce Europe. The B2C market could then reach more than 600 billion euros by the end of the year, i.e. double the turnover of 2013.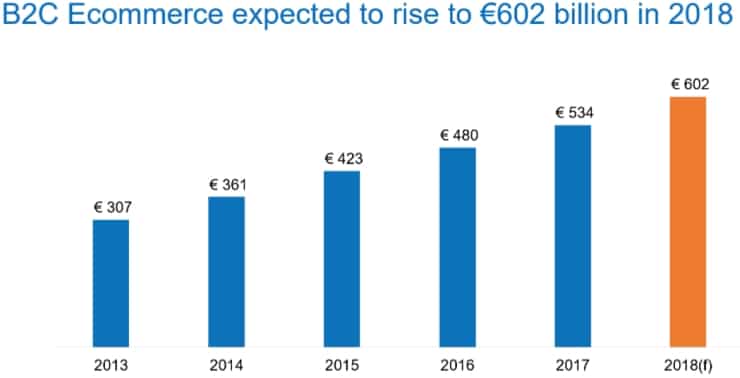 To find out more about the European e-commerce market, take part in the 6th Lengow Day, which will take place on 27 September 2018 at Pavillon Gabriel.