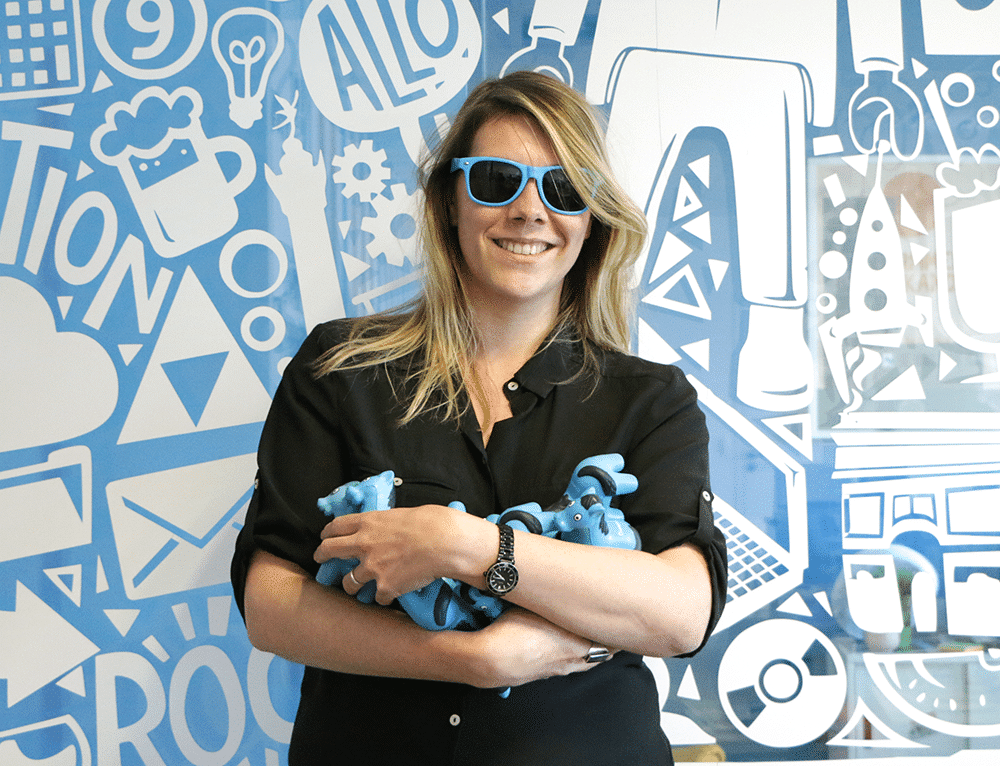 Hi Floriane, could you introduce yourself in a few words?
I'm originally from Breton, lived in London for a year at the end of my studies then lived in Paris for 6 years. In 2015, like many 30-somethings in Paris, I decided to leave the capital and move to Nantes to be closer to the sea and my hometown (and live somewhere bigger than 25m²). Nowadays, I make it a priority to live a healthy and happy life. To be my best self with the help of exercise, travel, friends, family and stimulating work!
Tell us about your professional journey
I've had a pretty unusual professional journey. I changed roles at every company I've worked in! After studying physical education at university and a masters in sporting event planning, I worked on the Tour de France for 2 years in an agency that organised the 'caravane publicitaire' (the vans that precede the race and hand out promotional materials). I then worked in an association for a year that promotes the value of sport as a universal tool for education and community building. After that I worked as a press agent for sports brands and events in a Parisian agency for 4 years.
What made you want to join Lengow?
Lengow met many of my expectations. I wasn't just looking for a job. I wanted to find somewhere with a real community and positive work environment. But also a company that would understand my unusual profile and would give me the chance to prove myself. The job advert for Internal Communications Manager had me convinced straight away when it said: 'Be creative, surprise us!' 4 words that I took to mean that the company had a great positive attitude. Add that to being in Nantes with the occasional opportunity to go back to Paris as well as the numerous nationalities that would enable me to keep working in English and here I am!
Tell us about the job itself.
I'm lucky to have a job that lets me work with a lot of different people. I get to work with the HR team helping with the settling in of new employees, the Communications team when coming up with our overall strategy for our Employer Brand, and also with the office managers in both offices coordinating all the well-being efforts and internal events. I meet each new arrival and I'm a master at remembering every single first and last name at Lengow! Otherwise, I moderate our internal social network (Workplace) to keep the team up to date on all company news. And lastly, I head up the organisation of our annual seminar.
What are you up to at the moment?
I'm currently hosting an internal challenge: the 'Défi tic tac'. I offered employees the chance to participate in a team challenge during lunch breaks with an Escape Game in our offices. 12 teams, 2 months of challenges and a lot of good laughs. A format that allows them to collaborate in a different setting. It's a great tool for building a close-knit environment.
In your opinion, what's the role of internal communications in a business?
It's hard to concretely define the role as it crosses into so many aspects of the company. I think the best way to explain internal communications is 2 words: facilitating and boosting. Facilitating the arrival of a new arrival, for example, but also facilitating access to and distribution of information within the company. And boosting company spirit. A company's spirit is created by its employees. Internal communications perpetuates this with events (sport-based, after work get togethers, masterclasses, seminars, well-being) and employees bring it to life by participating in such events.
How would you sum up your experience at Lengow since your arrival?
I've been at lengow for almost three years. I'm an oldie now! A lot of things have been accomplished and I myself have evolved alongside the company. I have learned an enormous amount from the different teams and I have a lot of independence when it comes to managing my projects. I decide what I do day-to-day and that's exactly what I was looking for.
Any final words?
This year, the seminar will take place in_______________ *
*Honestly, I don't know yet, but it's too late because now they'll never believe me and they'll all be questioning me to find out where it's happening.