Ecommerce is more than just selling products, it is an experience, and telling a great story is essential to any ecommerce experience. Brands that can leverage the power of storytelling can create an emotional connection with their customers and increase loyalty and sales. However, when running an online store it is easy to get lost in the mechanics of all of the technical elements of the site and to neglect storytelling. Here are some top tips to help bring your brand and products to life online via story telling.
Telling your brand's story
Chances are that you've probably got more than a few competitors in your sector, perhaps even selling articles which are almost identical to yours. So how can you convince consumers to buy your products as opposed to your competitors? Yes, you guessed it, through telling the story behind your brand. Explain how you started, why this is your passion and what values your company stands for. All of this needs to be told with authenticity, consumers need to believe you and position you an expert within your domain. You could even sub categorise the "about us" section of your website into your history, your values, your team, etc. Check out Burt's Bees website for a great example of this. A picture speaks a thousand words, so make sure you add some engaging and inspiring ones to illustrate your company's journey. You could even consider a video.
Through sharing this information you humanise your brand, enabling consumers to relate to it and forge a connection. Keep your story consistent and share it on all channels, online and off, to reinforce it.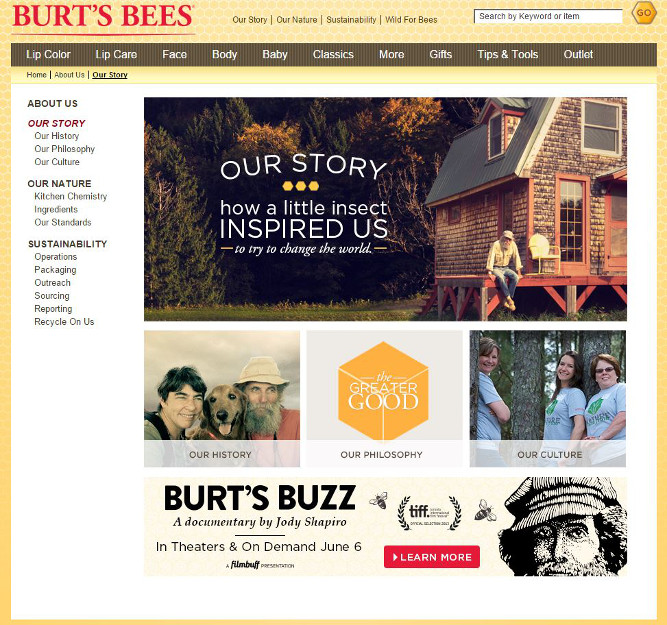 Inspiring product descriptions
Product descriptions are the bread and butter of any ecommerce site. Tell a story when describing your product to capture the visitor's imagination and to help facilitate a connection between them and the product. Was the product made through using any unusual techniques? Is there are story, a reason behind or anything special about the material(s) used to make the product?
Great examples of storytelling via product descritpions can be found on Zady's website. The ethical fashion retailer also includes a link to their brands story on ever product page, to inform visitors of their missions and values.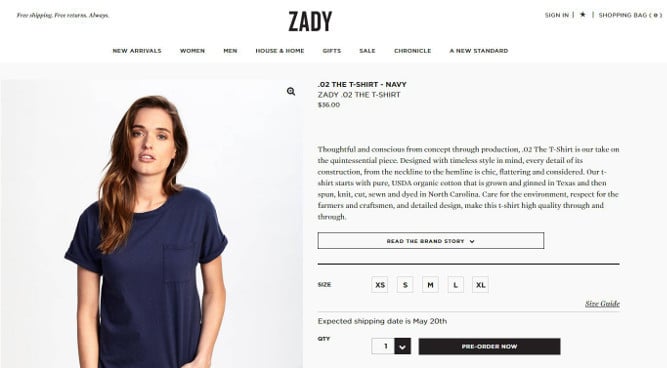 Engaging story telling descriptions may be easier to create this with certain items more than others. Unfortunately some products just aren't as inspiring as others (apologies fridge freezer retailers ;)). In this case you need to focus on what the product will be used for, as opposed to the details of the product itself: how will it improve the lives of the customer? For example, does the fridge freezer you're selling have enough space for food for the whole family? An automatic alarm in case one of the kids forgets to close the door?
User generated content adds authenticity
Your brand's and products' stories should not only be created and told by you, your customers should also be involved. Thanks to mobile devices fitted with cameras, social media, forums, etc, every consumer can be a content creator. Through effectively incorporating user generated content, retailers can add to the authenticity of their story telling. What does the brand mean to the customers? How do they interpret it? How do they use the product? How has it helped them? How has it improved their lives?
Make content contributing and sharing as easy as possible on your site and on other networks you're present on: create relevant hashtags, clear sharing buttons, etc. Be sure to connect the content on all the networks you are present on, this will reinforce the messages and increase participation. Offering prizes, discounts or exclusive offers are great ways of encouraging consumers to post and spread content relating to the brand and their experience with it.
Social media is a great way for users to share content about the brand, however, the information on these sites tends to have a very short lifecycle ie: it disappears from the newsfeed quickly. Therefore, think about how you can incorporate it onto other channels, for example: company blog posts, a dedicated page on your site. You could also consider detailed client testimonials or posting pictures taken by people using the product. Handmade soap company Emma's Soap does a great job of sharing user generated content on their site.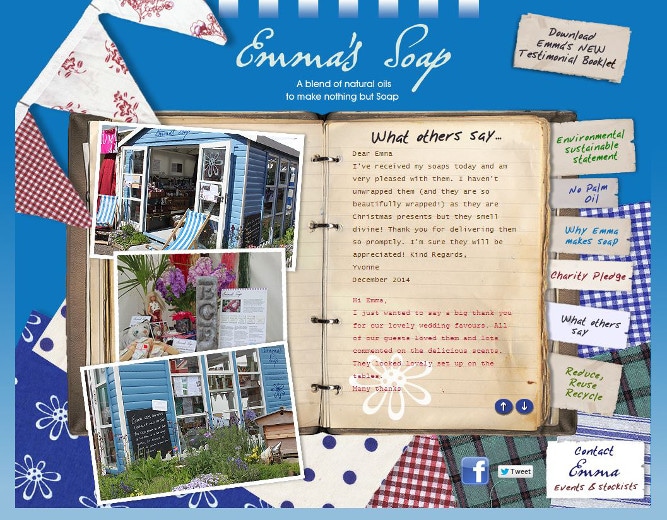 Note: You should always get the permission of the content creator to re-use the content.
Read also: Why customer reviews are important for ecommerce and how to get them
A great story sells
Through storytelling, brands can differentiate themselves from the competition and create an emotional connection with the consumer. This in turn should create greater brand loyalty and increase sales. Today we have the tools, technology and channels to tell the stories surrounding our company in an interactive and inspiring way and to encourage our community to contribute. Remember, a great story sells :).