March hails several dates for celebrating the women in our lives, with Mother's day on 6th and International Women's Day on 8th. As Mother's Day is just round the corner, and with the average Brit spending £30 on a present for their mum, here are a few tips to make the most of the major ecommerce event.
Make Shopping Quick and Easy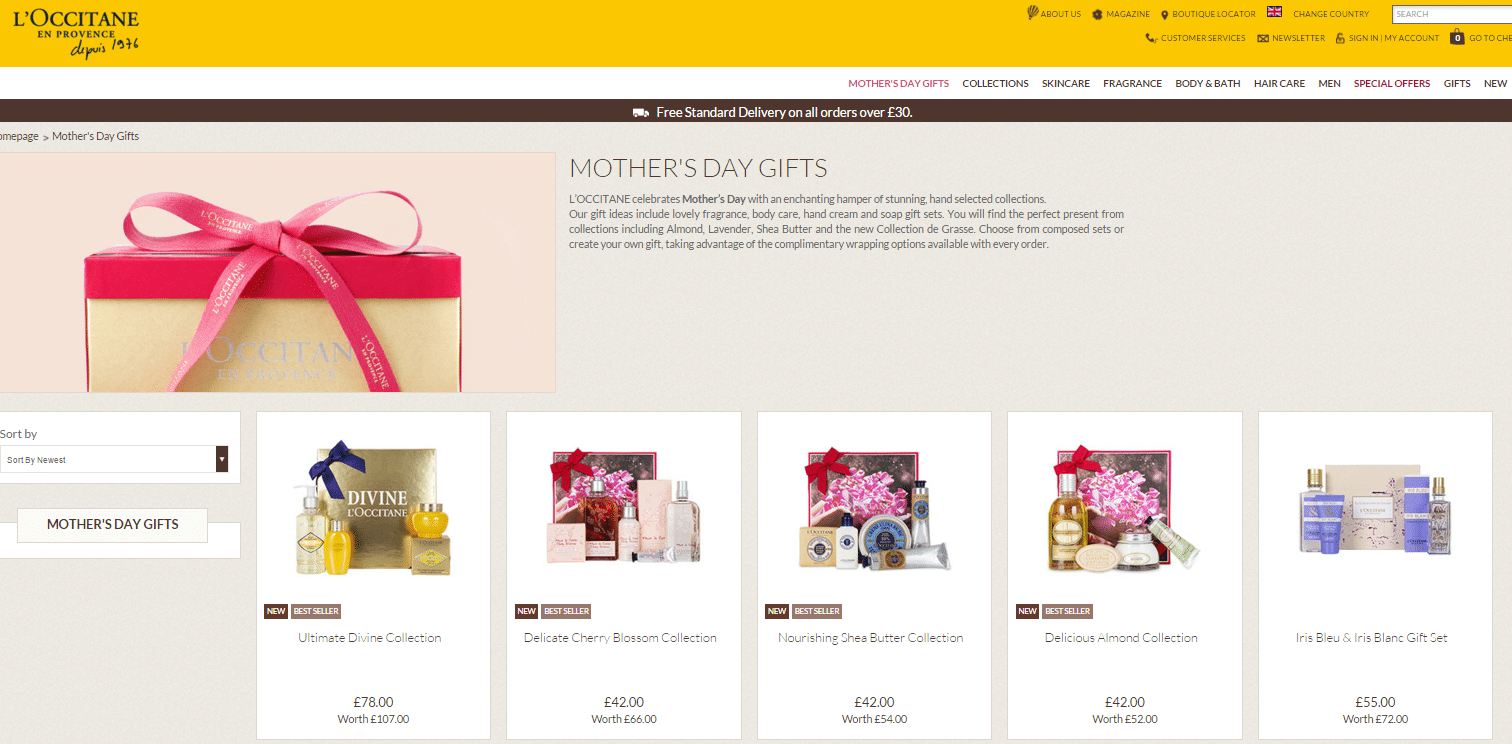 Highlight the products you think are most suited as Mother's Day gifts, by tagging them and creating a section dedicated to Mother's Day on your website. This year, L'Occitaine has gone one step further. Instead of pushing single items, they have made up pink, purple and gold gift sets, full of goodies to not only sell more, but to help their shoppers find nice looking presents quickly. They have coupled this tactic with a flash sale, which creates a sense of urgency and can encourage potential buyers to make a decision. All of this is fantastic, but it is also worth sending out a Mother's Day email, to remind people of the date and to get them coming on to your site.
Push Traffic to your Website
Engaging your social media community for strategic events throughout the year is not only a good way to drive customers to your site, but it is also a way to strengthen your relationship with them, and to remind them you are there and what your brand stands for. Mother's Day is the perfect occasion to show that you care about your female clients and also to give your client base a voice, perhaps by creating a competition. For example, this year Notonthehighstreet have created #MaverickMum, encouraging mums to be honest about their experiences, which is relatively unique as an idea and also a nice way to get mums to empathise with one another. The point being that they are likely to feel by osmosis, that the brand understands them, and thus be simultaneously clicking through to the site and checking out any products Notonthehighstreet have advertised on Twitter. This in turn, will no doubt be fed back via their husbands to their little gift buyers, so that they end up getting something they fancy for Mother's Day, but if not – rest assured they will probably get it for themselves at a later date!
Convenience is Key

Last minute delivery is a great asset for any online shop and couldn't be more helpful on a day like Mother's Day. Whereas mums are pretty organised, this is one of the only days in the year where kids are in charge, so things may be left a little last minute. That aside, there are 2 other very good reasons why same-day delivery is a great offer on this occasion. Firstly, not all "kids" still live at home and may not be able to be with their mums on this special day. In order for their gift to arrive and be a surprise, same-day delivery is the perfect solution. Finally, flowers being perishable, it is essential that they are able to arrive on the day, to be opened and popped in water in as short a time as possible.
Mother's Day is one of the largest retail holidays in the UK. If you'd like to find out about other key e-commerce dates,