As we enter 2016, we thought it would be a good idea to list the key dates merchants need to know about. Whether they are events that happen just in the UK, or all around the world, it is essential to consider these dates when it comes planning your e-commerce strategy throughout the year.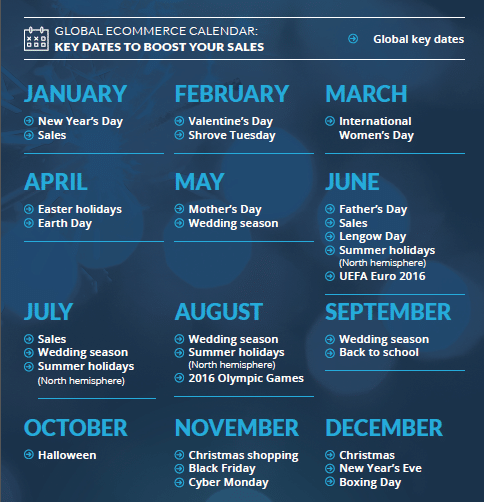 January
The January sales represent a key period for online sales. Different companies have different sale periods – some start on Boxing Day, others start in January – but either way, this time allows sellers to start the year by boosting sales and offloading old stock.
February
When retailers think of February, the first thing that comes to mind is Valentine's Day on 14th. In 2014, UK consumers spent over £1.3 billion on gifts for their other halves for Valentine's day. This holiday presents the perfect excuse for online retailers to use the theme of love when they market their products.
However, Valentine's Day is not the only holiday in February. February 8th marks Chinese New Year, when families give each other gifts, and thus ecommerce could see a slight sales boost. There is also London Fashion Week from 19th to 23rd, so clothes merchants can expect added interest.
March
This year, Easter falls at the end of March, with Good Friday beginning the festivities on the 25th. For e-tailers with items related to chocolate or rabbits, Easter provides an ideal opportunity to attract visitors to your product.
Two events which always happen in March are Wales's and Ireland's national days; St David's Day on 1st and St Patrick's Day on 17th. These celebrations are taken very seriously in their respective countries (and indeed increasingly around the world), and merchants can use this holiday to brand their items with the Welsh dragon for St David's Day, and shamrocks for St Patrick's.
What's more, unlike other countries, the UK celebrates Mothering Sunday in March, and this year the holiday falls on 6th. This holiday is a major event in the e-commerce calendar, with the average Brit spending £30 on a present for their mum. Two days later, on 8th March, there is another event for the women in your life – International Women's Day.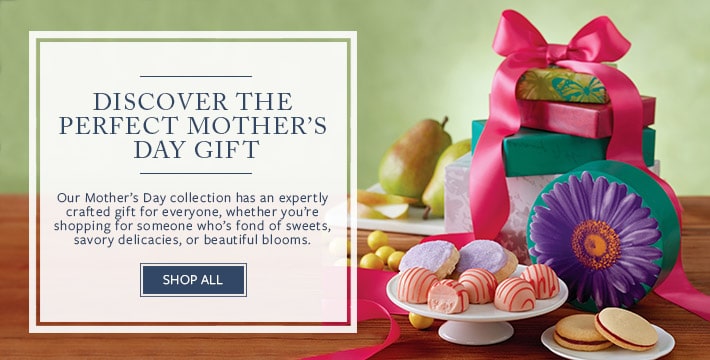 April
With Easter falling in March this year, the main event in April is St George's Day on the 23rd. Retailers can cash in on England's national day by using St George's cross on their sites or on their products.
June
As well as marking the beginning of the summer sales, the month of June also includes Father's Day, which falls on 19th. In 2015, UK consumers spent just under £500 million on gifts for Father's Day, so retailers are often keen to mark their items as potential presents for dads.
June also marks the beginning of the UK festival season, with Glastonbury taking place from 22nd to 26th. As one of the most documented events of the year, clothing retailers can expect an increase in interest, due to people desperate to copy the festival chic look.
September
Another e-commerce highlight, the beginning of the school year is synonymous with a new wardrobe and new school supplies. This 'back-to-school' period has a particular effect on online sales, as more and more busy parents resort to the internet to save time when buying the essentials.
October
Halloween, on 31st, has just overtaken Valentine's Day, becoming the third biggest event for UK retailers (behind Christmas and Easter). During this period, shoppers are keen to find the best costume, and also look to purchase sweets to give to trick or treaters. The sales of pumpkins and alcohol also see a boost as revelers span out the event to last the entire weekend.
November
The main UK retail event in November is Black Friday. Once a purely American matter, it has recently become an event in its own right in the UK, thanks to retailers with origins in the United States (such as Amazon). The date falls the day after Thanksgiving, with Black Friday 2016 taking place on 25th November. On this day, retailers use massive discounts to try and entice Christmas shoppers. Black Friday has become synonymous with crowds and panic, and so 2015 saw a shift to e-commerce in an attempt to avoid the mayhem.
December
The main retail event of the year, Christmas is the time when most of the population buy presents for their loved ones. The average British family will spend £800 during the Christmas season, and in 2014, online shopping accounted for nearly a quarter of Christmas sales; over £17billion, up from £14 billion the previous year. As Christmas gifts range vastly, the period presents an unparalleled opportunity for retailers to boost sales. Following Christmas is Boxing Day on 26th, where brands offer discounts in an attempt to sell unsold Christmas stock.
This year, Hannukah falls at the same time as Christmas, with the Jewish holiday starting on 24th December, and ending on 1st. One of the Hannukah traditions is to exchange presents every night, so 2016 provides retailers with the perfect opportunity to market products for the two holidays.