Expansion into international markets is initially challenging but can also be a very effective way for companies to increase revenue and stimulate growth. The great advantage for the ecommerce sector is of course, that merchants no longer need to install brick and mortar stores around the globe in order to reach international customers. This year, European ecommerce global revenue will be in the realms of $ 2.251 billion. The enormous success of e-commerce in China and all the business opportunities which are attached to it shouldn't be ignored by e-merchants. By 2018, China's ecommerce market is expected to be worth 871 billion euros, thus an incredible 40% of the global ecommerce market.
China in figures
Chinese ecommerce growth can no longer be ignored, especially as China is now the leading ecommerce market in the world. In 2014, the Chinese ecommerce market generated a 405 billion euro turnover, despite the fact that internet penetration currently remains below 50 %. In other words, 500 million Chinese are not yet online, the equivalent of the entire European population. Imagine what could happen when the other half of the Chinese population gets internet access. By 2020, it is predicted, that 70 % of Chinese internet users (891 million people) will shop online.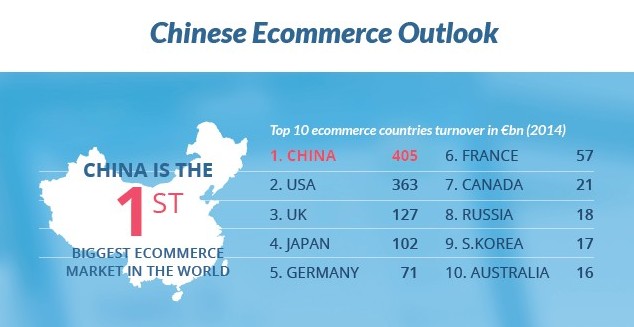 A Market Abunant With Opportunites for Emerchants!
Read more: Lengow Wins Best Cross-Border Ecommerce Solution Award
Marketplaces in China
Dominating 80% of the entire Chinese market, Alibaba is China's leading e-commerce company. The most popular and largest marketplaces are Taobao and Tmall, but platforms such as JD.com (17.1%), are starting to take more and more market share. To offer a bit of perspective, the international marketplace giant Amazon, only has a 2.2% market share in China.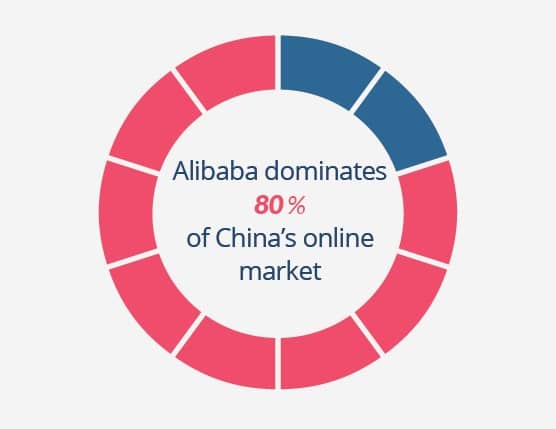 With Alibaba, etailers have the advantage of being able to benefit from a central webpage which already has a huge amount of qualified traffic.
M-commerce
As we reported in M-Commerce is Big in China, China has over 700 million mobile phone users, so make sure your store is mobile-friendly and that payments via mobile are possible. Sales via mobile phones are expected to triple by 2018 and 50% of online purchase in China have already been made via mobile devices so far this year. Foreign companies need to develop a strong M -commerce strategy to remain competitive in the market. 
Shopping trends in China
The most important decision factors for online shoppers in China are quality (47.7%) and price (46.9%), followed by site security (35.9%) and website reputation (35.4%), so it is imperative to pitch high-quality products at a fair price.Lengow's Chinese Business Developer, Buqing Wang, explains what's important to online shoppers in China: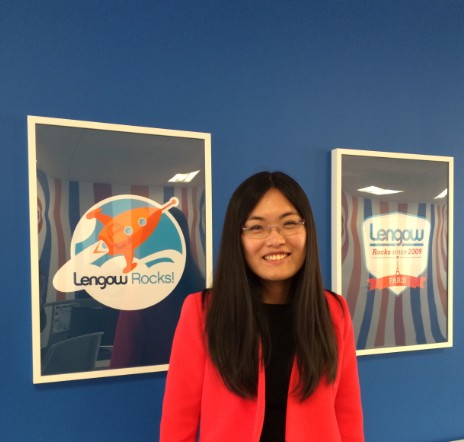 The Chinese like to buy European products as it is often seen as prestigious and associated with high quality. In addition, Chinese eshoppers focus on content, so using lots of images and providing detailed product descriptions in highly recommended. For example, for each image a French shopper looks at, there Chinese counterpart will have looked on average at 8. In addition, 20% of eshoppers in China, take longer than European shoppers before they click.
According to a study conducted by Ecommerce Europe, 31% of Chinese consumers shopped for products internationally in 2014. At 43%, clothing, accessories and handbags were the top categories for international purchases, closely followed by toiletries and cosmetics (41%) and baby products (30%). The luxury sector is also very popular among Chinese online shoppers.
A recent study by iResearch found that 60% of online shoppers in China use 2-3 Shopping Apps to conduct their online purchases. The more shopping apps that were used, the more online sales were made in total.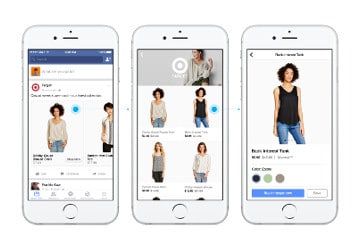 SOCIAL MEDIA
Social networks offer the ideal platform for merchants to create an online community around their products and brands. Networks like WeChat, QQ and Weibo enable users to recommend and review products, which are now the most important factors which contribute to online purchase decisions, according to a recent report in China Daily by McKinsey & Company.
Want to learn more about ecommerce in China? Download our free ecommerce guide – also available for 10 other countries including UK, Germany, France, Spain, the Netherlands, Russia USA and Brazi!
[button url=http://www.lengow.com/resources/guides/?utm_source=blog&utm_medium=article&utm_campaign=blog_uk_guides]Download our Country Guides now![/button]