The race for voice assistants has officially started! 2017 saw the rise of the voice assistant market, and everyone wants their slice of the pie, faced with users in constant search of simple and easy to use products. To give you a better picture of the market's potential, here are 10 things to know about voice search.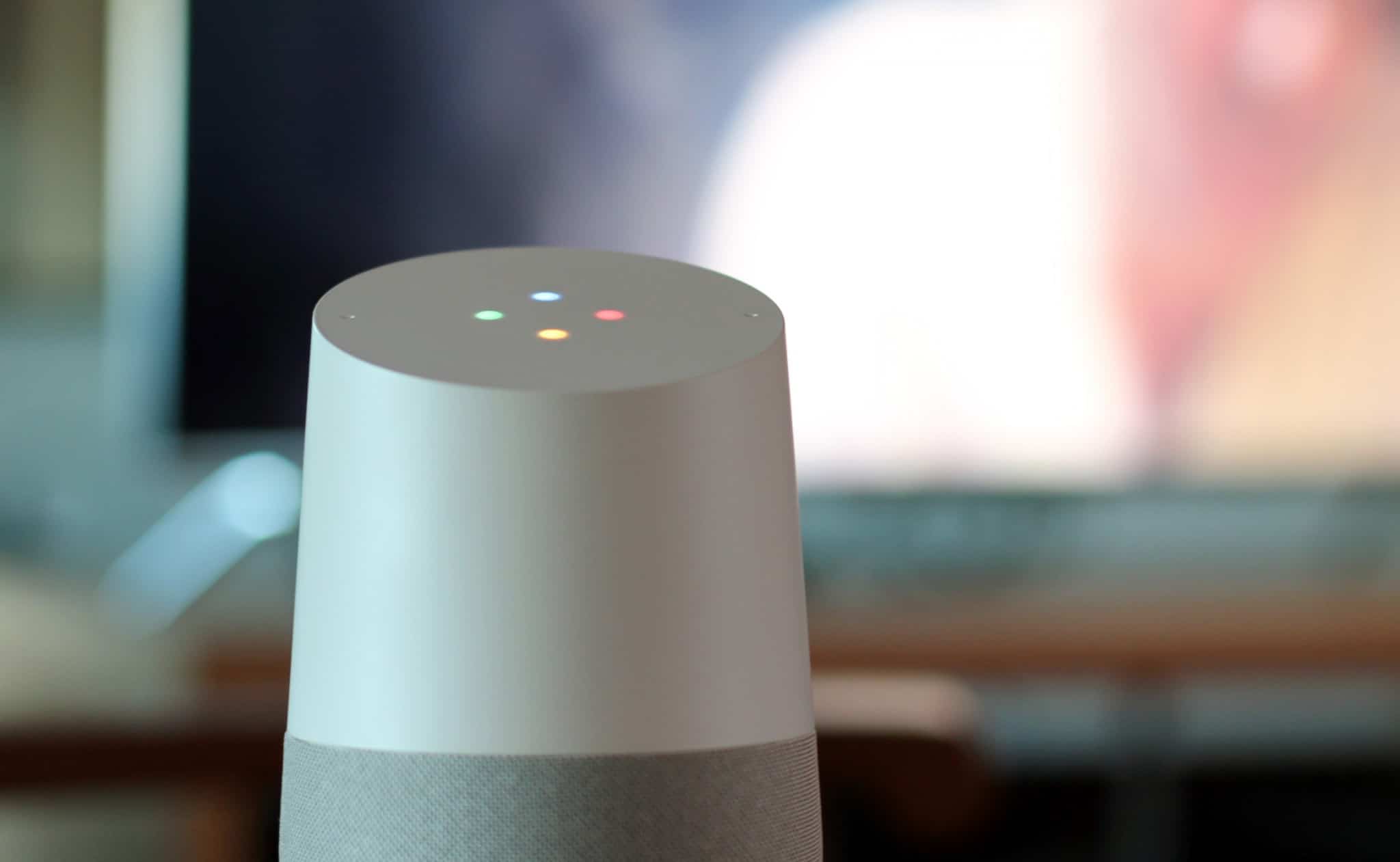 To read > 2018 Online Retail Trends to follow
1/ 50% of searches done with voice in 2020
Because of the explosion of voice assistants, voice is slowly gaining on text. This transition is making market players review their strategy to figure out how to respond to this new way of getting information and consuming.
According to a study by Google Trends, the amount of voice searches made on google multiplied by 35 between 2008 and 2016. Whenever and wherever they are, whether it's at  home, in the car, in the street, in a store…, users are increasingly using this search method. While it is not yet instinctual for the majority of users, ComScore revealed that 1 out of every 2 searches will be made by voice by 2020.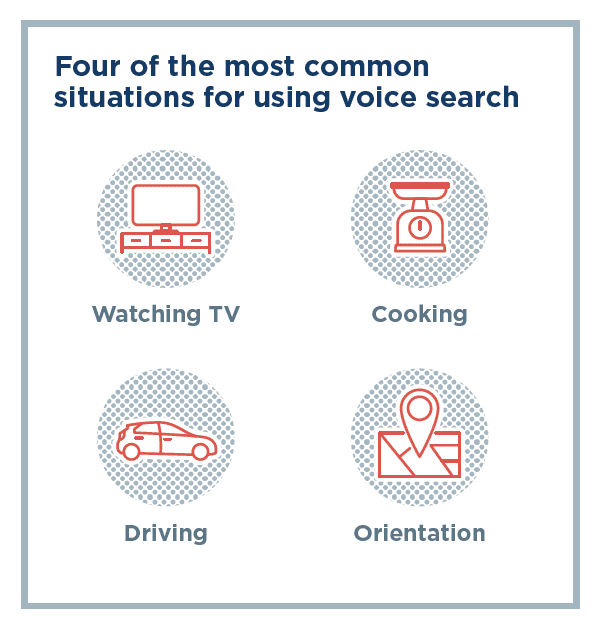 Download our new guide 'The impact of voice search on E-commerce'
2/ Voice assistants: a market dominated by Amazon and Google
The voice assistant market is dominated by Amazon (Alexa) and Google (Google Assistant) who made up 93.8% of the market in 2016. But that hasn't stopped other big players in the tech world like Apple (Siri), Microsoft (Cortana), Alibaba (Tmall Genie), Facebook (M), and Samsung (Bixby) from trying to carve out their place in this rapidly growing market.
In 3 years, 40% of buyers will use a voice assistant instead of a mobile app or a website.
3/ 25,000 Amazon Alexa 'skills'
There are currently 25,000 'skills' (voice apps) available on Amazon's voice assistant, Alexa. That means that Amazon is a few steps ahead of its main rival, Google, who only has 1,700 at this point.
4/ The explosion of smart speakers
In 2014, Amazon was the first to unveil its smart speaker to the public: the original Amazon Echo. Since then, the other internet giants have thrown their hats into the ring with Google (Google Home), Apple (Homepod), Microsoft (Microsoft Evoke) and Alibaba (Tmall Genie) all releasing smart speakers. And rumour has it that Facebook also is in the process of developing its own version.
5/ Shopping with voice search
A recent study by the Capgemini Digital Transformation Institute on voice assistants found that more than a third of those surveyed (35%) use voice assistants to purchase everyday goods, such as food, clothing, etc. While purchases made on voice assistants currently only amounts to 3% of total user spending, this number should multiply by 6 within 3 years.
A lot of brands chose to partner with Google and Amazon in 2017. While Walmart, Sephora, Monoprix and Tesco went with Google, others such as Ocado and Whirlpool chose Amazon.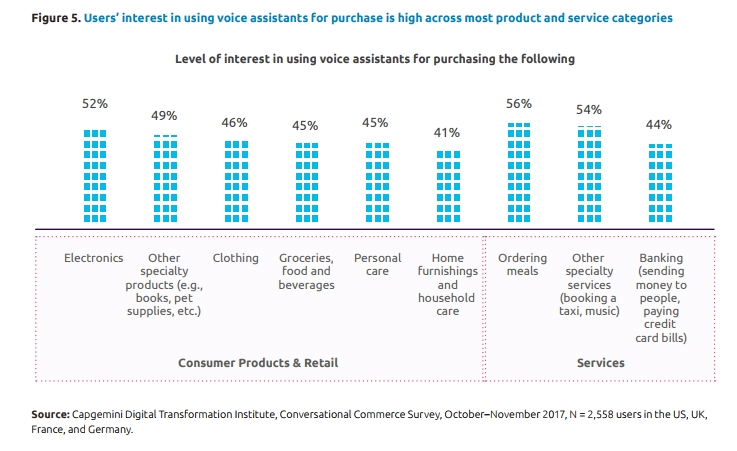 Note: for the moment, voice shopping is mainly linked to marketplaces via Google Home and Amazon Echo.
6/ Main Uses
81% of consumers who use voice assistants engage with them via their smartphone and 25% use a smart speaker. While actual purchasing is something that buyers do want to use their voice assistants for, it is not their most used feature. The top 3 features include: delivery status updates, making shopping lists and searching for products and services.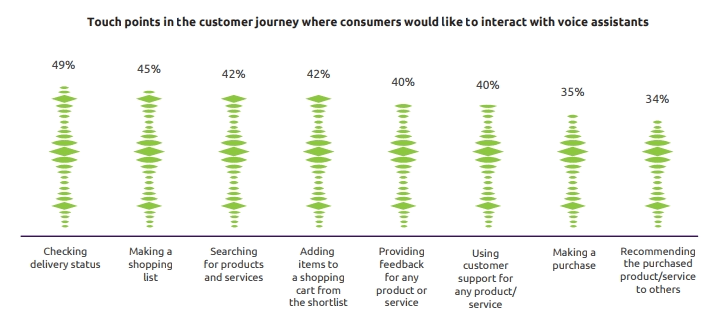 7/ From keywords to conversation
In this time of transition from text searches to voice searches, keywords are slowly being replaced by conversation. Complete and structured searches could therefore replace series of keywords. With the average number of words per search tending to increase year-on-year, voice search should have a further impact on this trend.
According to Gartner's estimates, brands that adapt their websites for voice and visual search will increase their e-commerce revenue by 30% by 2021.
8/ Investment is still restrained
While voice search has a positive future ahead of it, marketing investment has remained somewhat reserved. In fact, BrightEdge revealed that 62% of marketing teams have no plan for how to prepare for the increase in voice search.
Moreover, despite in the increase in voice searches , Digiday admits that we are still a ways away from an efficient monetisation model for advertisers. 'Google itself says it is still years away from being able to monetize voice searches in the same way it does search, apps, ads and online transactions.'
9/ What are the different types of voice search?
There are four categories of voice search: personal assistant (reminders, shopping…), entertainment (music, social media…), general information (news, recipes, banking…) and local information (restaurants, shops, weather, traffic…).
10/ Our advice on voice search
Firstly, it is important to adapt your content and to prioritise natural language to answer the five W's and one H: who, what, when, where, why and how? As mobile devices are the main way of using voice search, be sure to optimise this channel with the view of improving customer experience. This includes fast loading pages, removal of intrusive ads, and trustworthy content. Increase your chances of gaining traffic by creating and optimising your Google My Business page to take advantage of local searches.
If you want to know more about voice search, download our new guide on 'The impact of voice search on e-commerce'
Download our voice search guide!