The news of e-commerce leader Amazon's plans to grow even further with its own advertising network has been one of the biggest announcements in the past few days. The company's success, especially in the United States (where it led all e-commerce websites with $74.45 billion in net sales in 2013), has been noted for many years, but the implementation of its alternative to Google AdWords could take it to the next level.
Retail Renovation
2014 has been a year where Amazon has made moves to diversify its offerings to merchants  and customers with an inside-out strategy. The company seems determined to explore a wide variety of recipes to get the biggest piece of the global $1.2 trillion e-commerce pie possible. With the creation of its own ad system, it can simultaneously save on the costs of advertising with Google AdWords (where it invested $55.2 million in 2011) and steal some business from them at a time when Google has dominated with around $50 billion in annual ad revenue.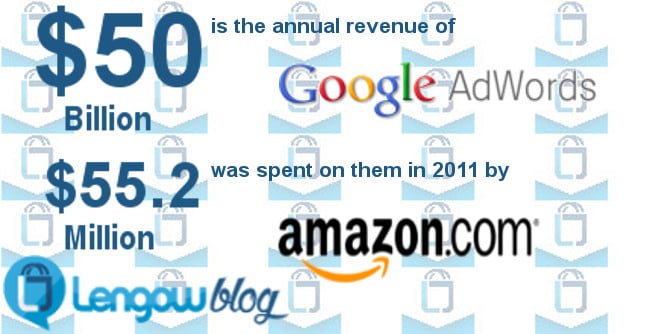 Caption: Amazon will be soon be able to redirect the millions of dollars it usually spends on Google AdWords into the costs of developing its own ad system.
What has been interesting about Amazon's strategy is the fact that they can even profit from purchases made outside of Amazon.com. The May 2014 launch of the #AmazonCart feature (which was covered on the Lengow Blog) that allows Twitter users to easily add items to their Amazon carts with a single tweet contrasts with the Amazon Product Ads offer that allows merchants to advertise their non-Amazon.com products and drive traffic to their own sites. $75 in free clicks is currently being offered to merchants who sign up for Amazon Product Ads, which are always clearly noted by headers such as "Also Available at External Websites," "Related Items from External Website,"  or "Similar Items Available at External."
Retail Rivalry
It remains to be seen what Google will do to respond to this challenge from Amazon. Given how the two tech giants have been competing in everything from same-day delivery (which was recently covered on the Lengow Blog) to smartphones, this latest sequel in their duel should be intriguing. And when taking into account that the most important time of the year for e-commerce is approaching with Black Friday (a huge United States November sales event that Amazon has historically done well in by matching or offering better sales promotions than those available at retail stores) and the overall holiday shopping season, the stakes will be even higher if Amazon is able to develop and launch its ad system in the next few months.
Caption: Google AdWords is at the core of Google's revenue and plays an important role in the success of e-merchants; assistance with AdWords campaigns is available from Lengow.
Amazon has proved to be successful when creating new features and products in the past (such as Prime) and it won't be surprising if it is able to build a highly targeted advertising system thanks in large part to all the data it has collected on its shoppers over the years. Most importantly, this is data that the internet's two main advertising heavy hitters, Google and Facebook, don't have access to.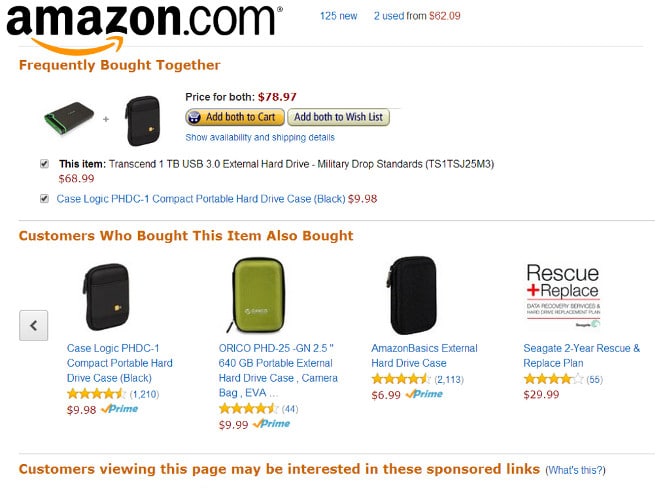 Caption: A big part of Amazon's success is thanks to how well it knows its shoppers. By suggesting cheaper complementary items like cases for hard drives (including its own AmazonBasics items) in the "Frequently Bought Together" section and books that are similar to those that shoppers have already bought, the Seattle-based company has excelled in subtly up-selling while also creating an enjoyable shopping experience.
---
source : Wordstream