As the day when Americans spend the most amount of money on online and offline shopping —Black Friday— approaches, now is the perfect time to take a close look at the world's largest e-commerce market this side of China (also previously featured on the Lengow blog).
Black Friday always takes place the day after Thanksgiving (usually on the third or fourth Friday of November), kicks off at retail stores as early as midnight and includes rare sales promotions and discounts that often hover around 50 percent. A big reason it works so well is it is one of the rare times in the year when people have a vacation and are with their families (often visiting from other cities), which facilitates a special family shopping experience. The numbers don't lie: a record 92 million Americans shopped on Black Friday in 2013 and spent $57.4 billion over the weekend.
If shoppers haven't found what they are looking for over the weekend, they can always wait until Cyber Monday, which features special offers online and a growing number of in-store exclusives in recent years. Even though the culture of consumerism is clearly strong in the United States and probably won't change soon, the interesting difference nowadays is where Americans are buying products from and their concerns with the backgrounds of products.
Friday Frenzy
As an American who has participated in Black Friday offline and online, I can attest to the hit-or-miss nature of it and to how it is constantly evolving. I have stood in a line for hours in the middle of the night around 10 years ago (only to find out the laptop I wanted was sold out) and I have also found an external hard drive with a 50 percent discount by shopping from the comfort of my home last year.
As Black Friday continues to grow online, it seems like it has endless potential; it already has expanded to the point where stores open on the night of Thanksgiving. According to a study published by Tableau Software (which offers data tracking software that is recommended by business development experts), Black Friday became more popular than Thanksgiving on search engines in 2011.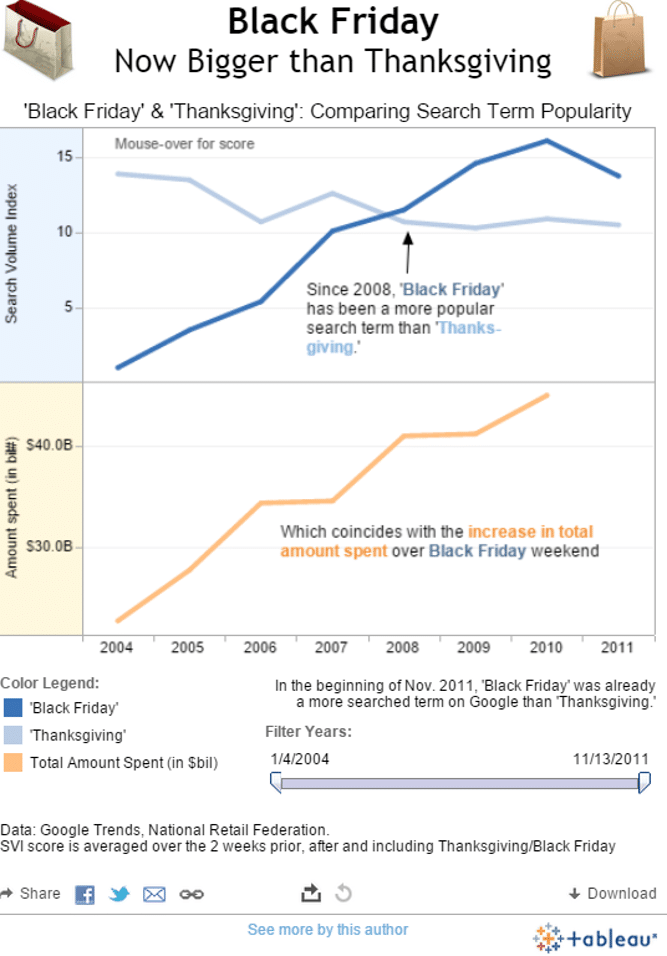 Lengow's UK, Ireland and USA Country Manager Yacine Merad previously lived in California and recently shared his observations of America's Black Friday shopping culture.
"I could tell that people are really enthusiastic and are even ready to wake up at 3 a.m. to get the best deals in stores. However, the stores are so packed that it makes the shopping experience annoying at some point. Ecommerce obviously don't have this type of issue, but many shoppers need to check products in stores before making purchases online," said Merad.
Thanks to engineers like Paris-based Pierre Yao, who competed in a Cdiscount.com hackathon last week that Lengow was involved in as a jury member, mobile technology's limits are constantly being pushed and we are nearing a day where shoppers can actually take photos of products in stores and be sent to an online checkout page in a matter of seconds.
Conscious Consumers
Another trend that has taken place in U.S. ecommerce is the increasing popularity of ecommerce sites which sell products that are either directly tied to causes or make donations to causes that shoppers want to support (AmazonSmile). In the former category, some of the highlights of recent years include completely causes-focused marketplaces and "One for One" models (via the Los Angeles-based companies Roozt and TOMS, respectively).
Another standout has been the New York City and Kigali-based Indego Africa, which sells products made by entrepreneurs in Rwanda online and in leading fashion stores thanks to partnerships. The award-winning social enterprise which gives back all sales proceeds to the Rwandan women that creates its products promoted its collection of products that give back via its Thanksgiving newsletter today.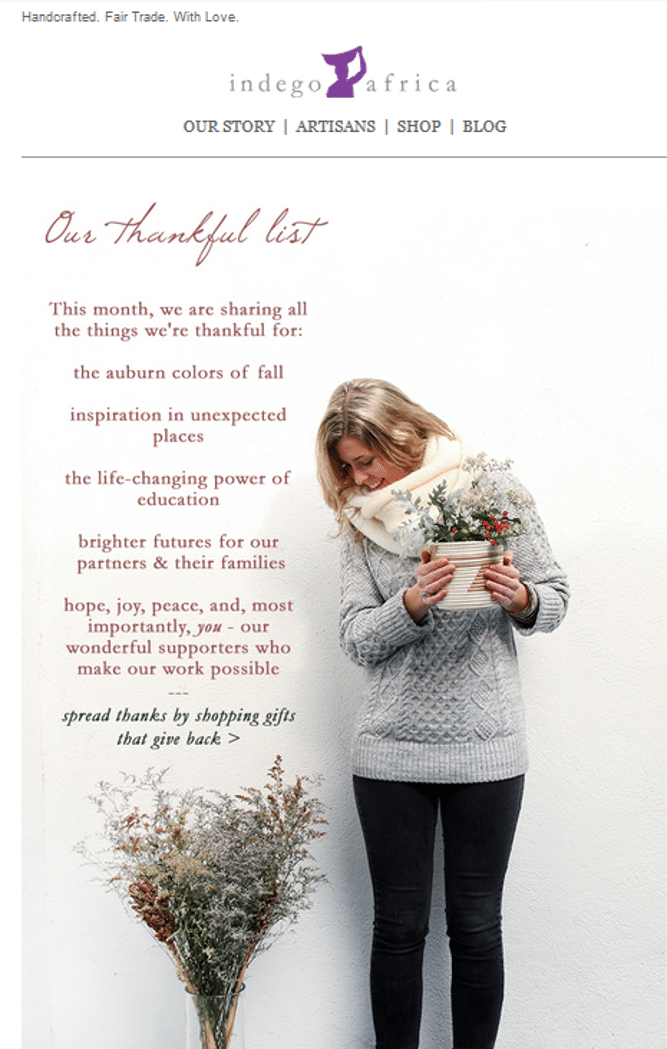 Some of the thought leaders in the U.S., such as the Los Angeles-based Simon Mainwaring and Keith Ferrazzi, have highlighted the importance of causes and giving back through their initiatives. The former is an advocate for sustainable branding and the latter encourages companies to remember that millennials (who will, as time goes on, account for a larger portion of the number of U.S. shoppers) are seeking products from companies who care.
When taking into account the success of the aforementioned companies and the wisdom from experts like Mainwaring and Ferrazzi, online merchants looking to sell cross-border and promote their products to U.S. consumers will likely want to learn about Cause Marketing and how to implement it in their strategies.
International imports
Along with the increasing sales of cause-related goods, something that is hard to ignore is the enthusiasm American shoppers have for buying products from other countries. This is no coincidence; many of the products that support causes are created by cooperatives and entrepreneurs based in developing countries. A perfect example would be the Los Angeles ecommerce startup TheBouqs.com, which sells flowers sourced from Ecuador.
When considering the statistics on global shoppers in the recent study below via Pitney Bowes (including a large number of U.S. shoppers buying products from Canada, Japan and the UK), it appears that Americans likely will continue looking outwards to find the products they want.

Feel free to let us know in the comments section below how you have introduced your products to shoppers in a foreign country and/or share any other cross-border thoughts.