Last Tuesday, 1st November, Instagram announced the launch of "shoppable tags", a  new way to buy products on the app through photo tags.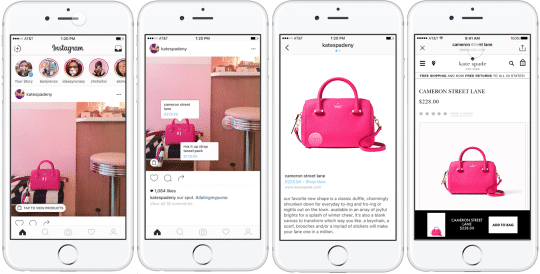 With an entirely mobile user experience, Instagram is now a strategic space for product searching. Consumers spend an increasing time on social media, and more than 1 in 3 use them to look for information about brands or products. 74% of consumers also consult social media to make a purchase decision. In short, online shopping is becoming more and more mobile, and it's now essential that online retailers adopt an m-commerce strategy to avoid missing out. It is with this in mind that Instagram decided to open new doors in the world of mobile commerce. After launching their Dynamic Ads, Instagram is now focusing on its product tags to facilitate transactions within the application.
Buy products from Instagram posts
Here's how it works. Each Instagram post will have a button that says "Tap to view products" at the bottom left of the photo. After clicking the button, the customer will initially see the product tags (5 maximum) along with their prices. Selecting the tag will open an in app product page, which will show the following: photo, title, price, URL of the online store, product description, and a "Shop Now" call to action. By clicking on the "Shop Now" button, the user will be taken directly to the brand's website to finalise their purchase. Customers will also have the opportunity to change their mind and return in a click to their news feed. This feature will both provide additional information to consumers early in their buying process, and give them the ability to quickly access the online store of the brand without having to leave the application.
Instagram: the first port of call in the customer buying process?
This update allows Instagram users to know more about products directly from the app. According to a study by Instagram, 60% of its members reported having discovered more about products and services within the application. Shoppable tags will also solve the issue of Instagram allowing only one URL in user's bios, and that no links in posts are accepted.
It will be some months before this update goes live worldwide. It will be available on iOS from next week in the US, on the Instagram accounts of 20 different brands, such as Abercrombie & Fitch, Hollister, Macy's, and Levi's.