Developed by Microsoft Search Advertising, Bing Shopping lets online retailers reach 615 million unique Bing users around the world.* The platform offers extensive business opportunities, because online shoppers on this network buy 80% more than those on Google. Discover how Bing shopping campaigns can help you win over new customers.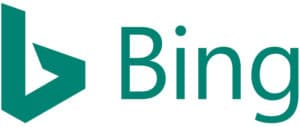 Characteristics of Bing Shopping campaigns
Available in the US, UK, Germany and France in a beta version, Bing Ads work in the same way as Google Shopping campaigns. Bing Ads include essential information such as the product name, image, price and URL, to try and encourage online shoppers to make an order.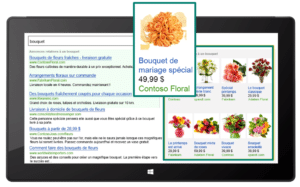 Like Google Shopping campaigns, Bing Shopping campaigns can be divided according to attribute. We recommend using custom labels to optimise the distribution of your catalogue, because they let you manage product adverts efficiently and effectively and in line with your commercial objectives.
NB: You can now display second-hand products in the Bing Merchant Center.
What are the benefits?
1. Reach new shoppers
With product ads, you appear in the search engine's results pages, which lets you attract the attention of Bing users and widen your scope. What's more, if you have set up text adverts, you can display them at the same time as your product ads, which strengthens your online presence.
[pullquote align=left]
"A relatively high CTR and a weaker CPC than other comparison shopping engines"
[/pullquote]
2. Monitor targeting
Bing Shopping campaigns let you target products in your feed with precision, which can help you master the distribution of your products, both in terms of bids but also when organising your campaigns if you have several of them.
3. Manage detailed reports
You will be able to identify and analyse performance data gathered from your campaigns by consulting the 'Share of Voice' report. This gives you access to information about each product listing: number of impressions, clicks, average CTR and CPC.
4. Import your product catalogue from Google Shopping easily
If you already have Google Shopping campaigns, take note: it is possible to import Google Shopping campaigns into your Bing Ads account, because the structure and configuration of the two feeds are similar, which helps you save time.
Post your Bing Shopping campaigns
Before posting your product catalogue on Bing Shopping, you must have a Bing Merchant Center account, and follow a number of steps.
Claim ownership of your online store on Bing Webmaster Tools
You can either post a XML file on your web server, or copy and paste a tag into your e-commerce site, or even add a CNAME record into your domain name.
Create a Bing Merchant Center Store
Before posting products on Bing, you have to create a Bing Merchant Store, which can take up to 5 days to validate. To create a store within Bing Ads, click on 'Tools', then select 'Bing Merchant Center.' When creating your store, make sure that all the information provided is correct. You should also know that you can create several Bing Merchant Stores at one time, as long as you do not display the same products.
Create your product catalogue
Attributes play a key role in providing your customers with as much information as possible about your products, which is why it is strongly recommended to fill in all recommended attributes, and not just the obligatory ones.
Some obligatory attributes are: product ID, product Title, price, description, image URL (should be an HD image, at least 220 x 220 pixels), and shipment (Germany only).
As for recommended attributes: Manufacturer Part Number (MPN), GTIN codes, brand, colour, size, availability, product condition, product category, product type… Visit Bing Help Center to find out about all voluntary attributes.
2 figures to remember :
> 6 hours: the maximum time it takes to update price and availability
> 3 working days: the maximum time it can take to update the following fields: 'title', 'link', 'image_link', 'brand'.
Send your product catalogue via Lengow
If you would like to post your products on Bing Shopping via Lengow, two types of integration are possible: either by sending feeds or via the Bing API.
If you send your product catalogue using the feed method, you can download your feed directly into the Bing Merchant Center. Thus, you can monitor the status of your feed, as well as its indexing on the Bing platform and the possible validations/rejections.
When you send products via Bing's API, the API is integrated into Lengow and lets you create, update and delete products automatically into the platform, but also lets you trigger Bing indexations. Each product sent from the Lengow solution is monitored, so that you can follow it throughout the sales process, and its status (accepted/refused), which lets you know how much of your catalogue has been distributed.
Not a Lengow client?
Why wait any longer? Ask for a free demo now.