As bitcoin continues to make a global impact on how online financial transactions are taking place, people in the e-commerce world have to think about how much of an impact it will have on selling products online in the near future.
This international, decentralized form of currency that was introduced to the public in 2009 is starting to be used by more retailers, who are attracted to it largely because of the absence of processing fees that usually come with card payment transactions. The removal of the middle-man (a bank) has made this change possible. 
With the news this summer that companies like Baltic Air are offering incentives to consumers by not charging them processing fees if they use bitcoin to book flights (as this tweet by American bitcoin startup BitPay pointed out) and Rakuten's CEO Hiroshi Mikitani July 2014 announcement that the Japanese e-commerce giant will accept bitcoin "sooner or later," it appears that bitcoin's stock will continue to rise this fall.
As of August 2014, Rakuten's U.S. shipping subsidiary Rakuten Super Logistics is already accepting bitcoin payments and BitPay has encouraged other companies to do the same with its recent announcement to never charge merchants processing fees for bitcoin transactions. More information on BitPay's Free Unlimited Processing offer is available in the video below which was published on BitPay's YouTube page on August 13, 2014. 
After Overstock.com became the first major retailer to accept bitcoin and promptly net $1 million in bitcoin transactions in less than two months, Dell recently became the largest company in the world to start accepting bitcoin payments in July. The California-based online-only electronics retailer NewEgg.com also started accepting bitcoin in July and is even offering a temporary offer (until September 1) for customers to save 10% off their bill (up to $100) if they use bitcoin.
Currency Controversy
Despite the good news for bitcoin during the first half of this year, merchants have to make sure to look at the whole picture before entering this new world of transactions. One of the biggest concerns is the Wall Street-esque volatility of bitcoin's price. It was once sold for $1000 during its early days but as of August 25, 2014 its price is hovering around $501.
Honestly speaking, this means that a product a merchant sold for 500 bitcoins could be worth 400 bitcoins or 600 bitcoins just hours, or minutes, later. Product returns and refunds are naturally a huge factor in the long-distance nature of e-commerce, and they can become complicated when transactions are made with a currency that has a constantly fluctuating value. Merchants should keep in mind both the rewards (bypassing the 2 to 5 percent fees that come with credit cards) and the risks (the unpredictable nature of bitcoin's value at any given moment) when thinking about entering bitcoin territory and should consider if transactions in bitcoin work for the types of products they are selling.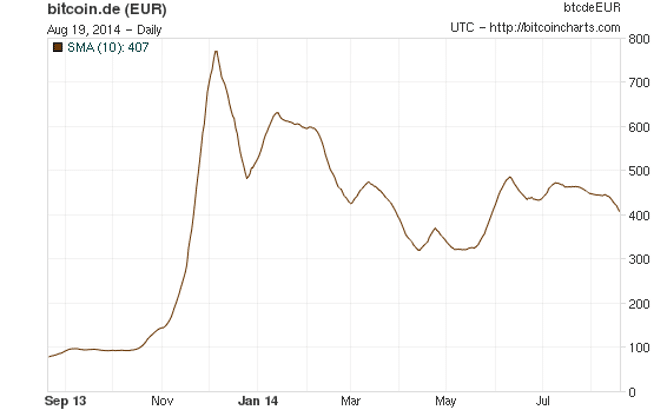 Bitcoincharts.com provides constantly updated charts which illustrate the price of bitcoin compared to currencies around the world.
Fortunately, CoinDesk.com provides a frequently updated price index chart to keep people aware of the value of bitcoin compared to global currencies.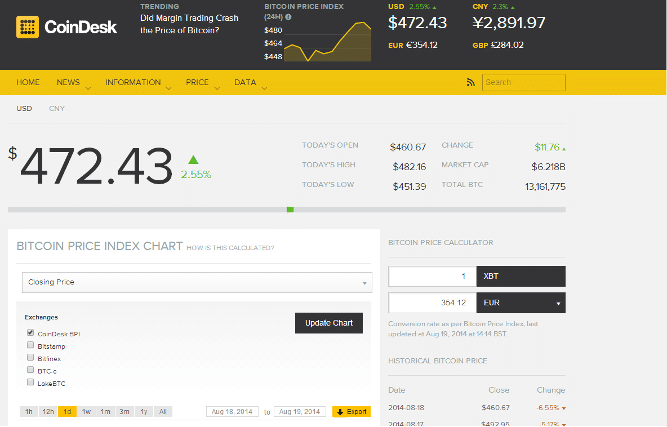 CoinDesk.com provides real-time updates on bitcoin's price and allows visitors to subscribe for updates via an RSS feed.
There are also have been attempts to create safe bitcoin "wallets" (created by companies like BlockExchange), which will become more and more crucial after incidents like the loss of $440 million by now-bankrupt Japanese bitcoin exchange MtGox caused by an attack by hackers.
Bitcoin Basics for merchants
Several resources are already available for merchants who are considering integrating bitcoin payments into their e-commerce websites. Companies featured on the Lengow Hub such as PrestaShop, Magento and WooCommerce have already created open-source bitcoin plugins, which are available along with a SaaS solution created by the Lengow Hub-featured company Shopify on a list on BitPay's website.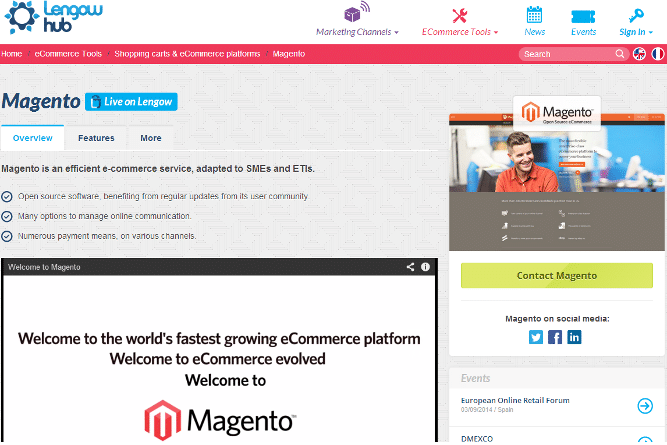 Magento serves over 30,000 merchants with its open source platform and also offers a bitcoin plugin. More information about Magento is available on its Lengow Hub profile page.
BTCKan also provides updates of bitcoin markets in the United States and China that are updated every 15 seconds and can even be subscribed to via email notifications (http://btckan.com/price).
The California-based Coinbase, which handles bitcoin transactions for Dell and Overstock.com, also provides a guide and API information for merchants (https://coinbase.com/merchants).
CoinMap serves as a useful visual guide to where merchants that engage in bitcoin transactions can be found worldwide thanks to information that is crowdsourced.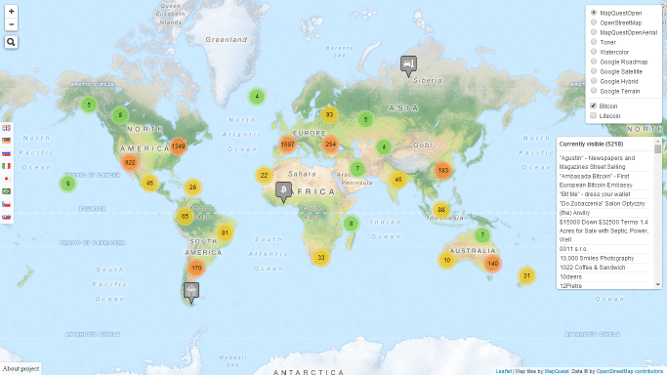 5258 merchants dealing in bitcoin have been listed worldwide on CoinMap.org as of August 25, 2014.
In addition to all of these online resources, conferences and events will be held in the next couple of months. These include the Euro Bitcoin Conference in Paris on October 8 and the Inside Bitcoins conference from November 20-21, also in Paris. Lastly, bitcoin centers have been established in New York City, Prague and near Lengow's Paris office in the Silicon Sentier neighborhood (La Maison du Bitcoin). La Maison houses bitcoin startups and offers a free meetup every one to two months to inform people about bitcoin developments and welcomes visitors who have questions.
It is not easy to predict what bitcoin's future will be like. However, keeping an eye during the upcoming holiday shopping season on the merchants mentioned in this story that have embraced it should indicate what role the currency can play in e-commerce.
---
* Header image courtesy of Cryptocables.com