We continue our series dedicated to presenting the wide variety of applications available on Lengow's "App Store". Today, we're showcasing apps that help online retailers highlight their brand content, which can be impactful in the consumer decision-making process. 
[This article is the fourth in a series dedicated to introducing our partners for the Lengow "App Store".]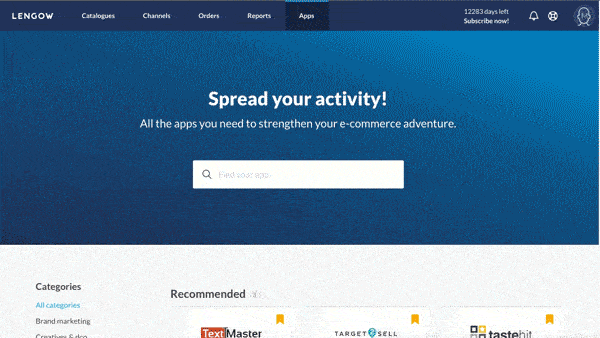 Whether created by the brand itself, or by its customers, content is an invaluable addition to an ecommerce business. It allows online shoppers to find out additional information about your products, resulting in an increased conversion rate while also enabling your ecommerce site to gain better organic visibility on search engines.
To make the most of their content potential and ensure that their products are visible to online shoppers, online retailers need to complete their product pages with detailed descriptions, customer reviews, packshots and videos. Consumers are increasingly relying on word-of-mouth which is now represented by social media as over 70% of social media users share their buying experiences on these platforms and on the internet as a whole.
To enable your brand content to reach potential customers, industry players such as Olapic, Headoo, Bazaarvoice, Verified Reviews and DemoUP give online retailers the opportunity to showcase their content through communication tools.
Read Again > Online-To-Offline: Open Your Ecommerce Doors to Physical Commerce
Olapic
Olapic enables online retailers to collect photos and videos of their products that their customers have posted on their social media accounts: Instagram, Facebook, Twitter, Pinterest… The platform then identifies the images and videos that are likely to be the best performing content, allowing marketing teams to then contact their customers to request authorisation to use the content in their campaigns. The brands are then able to publish this content on their ecommerce site, advertising campaigns, newsletters…
Headoo
Similar to Olapic, Headoo allows brands to collect visual content posted online by their customers, mainly on Instagram. After getting consent from their customers, the content is then fed into the retailer's online store, newsletter and banner ads.
Bazaarvoice
Bazaarvoice allows brands to collect reviews, customer feedback, questions/answers and photos posted by their customers on social media. Bazaarvoice then retrieves this content and distributes it to online shoppers using the ecommerce site, social media and also Goolgle Shopping.

Verified Reviews
Verified Reviews collects customer reviews to add them onto the retailer's online store, giving them the option to also integrate the reviews into their Google Shopping campaigns. Following a partnership with the Yellow Pages, in France, the platform now also allows retailers to post store reviews for their physical shops.


Read Again > How Customer Reviews Influence the Buying Process 
DemoUP
Specialising in video content, the DemoUP platform allows online retailers to automatically embed videos that correspond to the product listings on their online shop. Adding product videos is a good strategy for increasing add-to-cart rates that result in increased conversions.

If you would like to integrate your solution with our "App store", don't hesitate to contact us : Click Here