Fashion is fast becoming one of the most popular sectors for online shoppers. In 2015, 68% of Internet users bought clothing and footwear online. Online fashion sales in the UK also reached £12.4 billion last year, up 14% from the year before. In such a booming industry, it's important to make sure your fashion site stands out from the crowd, and makes the buying process as simple as possible for customers.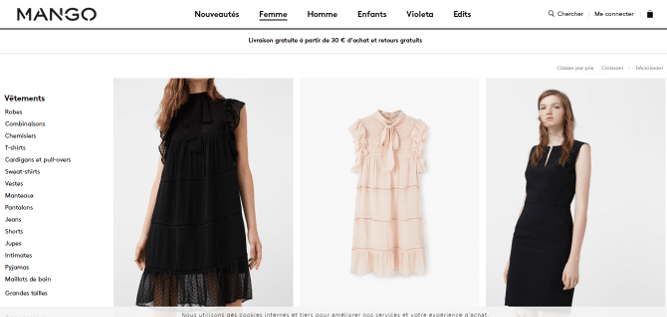 A variety of products, low prices, large stock, and saving time are just a few of the advantages of shopping online. However, despite the practicality it offers, a major obstacle remains – that is, being unable to touch, see, or try on the products.
Because of this problem, customers are more and more likely to be hesitant about buying a product. PwC's annual retail review showed that 53% of shoppers in the UK still preferred to make purchases in store, while only 25% preferred to do it online. To reduce the dropout rate and increase the conversion rate of your online store, it is essential to optimise your buying process and offer your customers a complete service that meets their needs.
Find out more about the trends and developments that will allow you to improve your customers' shopping experience:
Make the search process easy
During their visit to your site, the two things the customer will look out for are effectiveness and speed. If they can't find what they want, and fast, they may leave your shop to see if it's available elsewhere. Therefore, it's important to set up a search engine on your site, with a system of filters to help shoppers find what they're looking for, and keep shopping.
In addition to the essentials, (like size, price, or colour) you can also set up more detailed filters. For example, if a shopper were to search for dresses on the Asos site, they would then be able to filter their results by style, fit, type of dress, colour, and price range.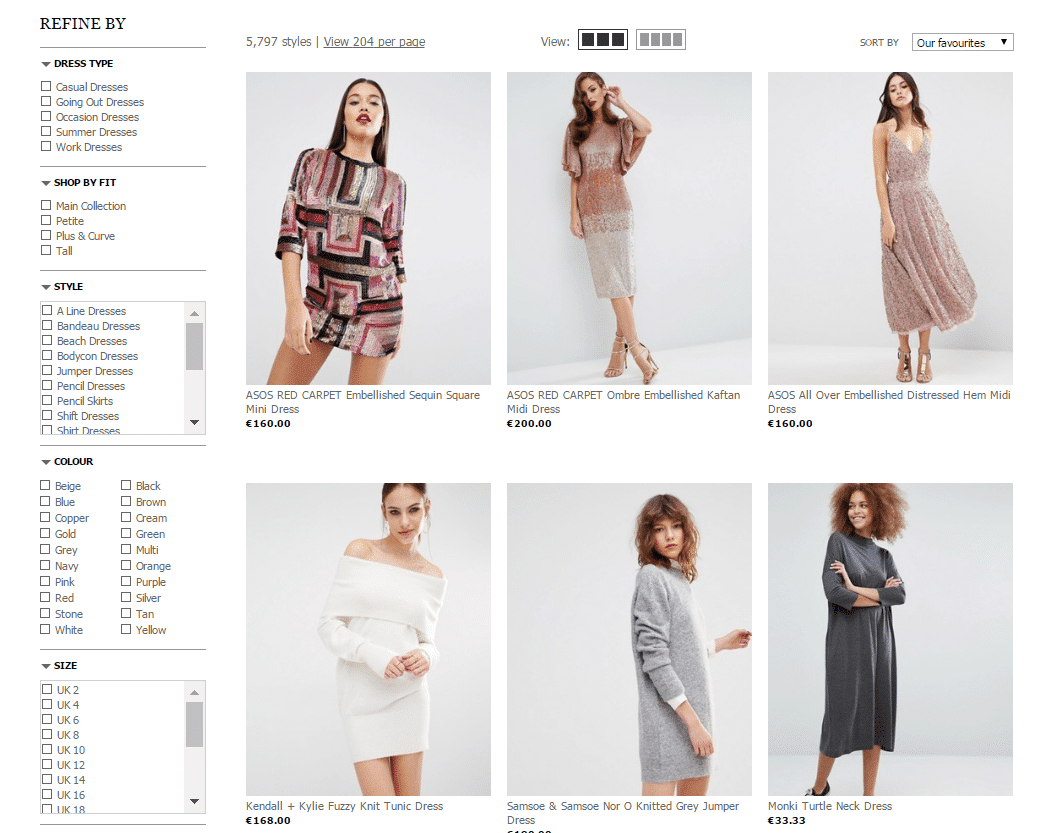 To simplify the search further, you can also set up personalised recommendations. With predictive marketing, you can provide your customers with offers tailored to their profile and needs. Receiving the right product at the right time, the shopper will be more satisfied and ready to buy.
Bombfell, a site specialising in menswear, has developed their own personalised styling service. Upon visiting the site, the shopper is prompted to provide a variety of information such as body shape, size, skin colour, style, and their favourite brands – and the site helps them find a selection of outfits. No more long hours of shopping to find the perfect product!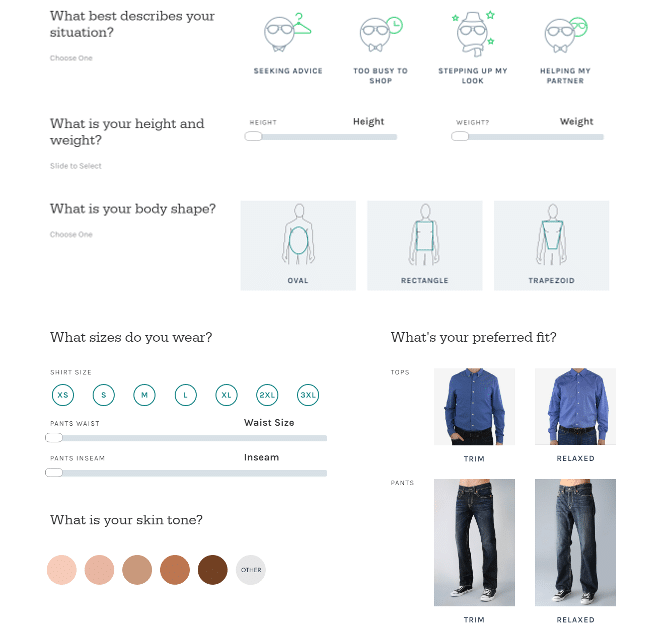 Make it as close to real life as possible
To make the selection process even easier for your customers, opt for photos of the clothing actually being worn, so the shopper gets a feel for the fit and the look. Don't hold back with the number of photos, the variety of shots, and the quality. To help them visualise the product even more, include ideas for looks or style advice, such as "how to wear high waisted denim". Furthermore, the use of 360° visualisation and 3D visuals is becoming increasingly popular. These features allow customers to see the product as if seeing it in reality.
The use of video is also a good way to attract and increase your sales. According to an infographic made by Hubspot, 90% of consumers find that videos are useful when making a purchase decision.
Describe your products in detail
To assist customers, it is imperative that you include a detailed description as well as images. In these descriptions, specify all the product information that might influence the shopper's decision to buy. Mention the length of a dress, a coat, a scarf, or if there's a zip, pockets, or a lining – this will allow the shopper to really visualise the product. In addition to this information, it's important to include what the item is made of, and how to care for it.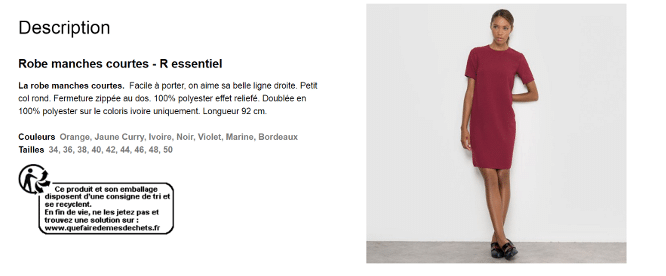 Also, if your product and its packaging are recyclable, be sure to include this information. More and more people are tending to prefer fair and/or organic products, even in the fashion industry. According to a report by the Soil Association, sales of organic textiles have gone up by 16% since last year, and the entire UK organic market is worth £1.95 billion. If your brand is ethical, do not hesitate to inform your customers. Certain labels such as GOTS (Global Organic Textile Standard) allow you to certify this. This investment towards the environment can improve your reputation, attract many people, and encourage them to shop with you.
Make your sizing guide clear
Once the customer is willing to buy the product without having seen or felt it, you need to reassure them that they don't need to try it on either. To do this, it's important you make a size guide available. With this, the shopper can check these measurements to make sure the product fits them. The guide can also be helpful if you sell products internationally, as sizes can vary between countries.
To learn more, check out our free guide to sizing.
On top of helping your clients choose the right size, you can also offer them full shopping assistance. Fitle also allows your customers to virtually try on clothes, through the creation of an avatar that then takes their measurements.
Reassure and advise
To be sure about their purchase, the customer needs to be advised and reassured in case of uncertainty. A customer review system allows you to provide expertise and advice, despite the absence of physical advisors. According to an infographic by Vendasta, 92% of Internet users now read online reviews before making a purchase, and on average they produce an uplift of 18% in sales.
If your community is well underway, you can also use the community chat system, so your most loyal customers can share their opinions and experiences in real time with future shoppers. This service combines the benefits of chat and customer reviews; however, it requires taking some precautions in the choice of customers who will speak on your behalf.
To learn more, download our free guide to the fashion sector.