At Lengow, automatic rules are one of the major features of our platform. Essential to the distribution of your product catalogue on marketing channels, these rules give you the ability to adapt and optimize your product data, so that you can comply with the marketing channel requirements. Let's discover today how to transform your catalogue values through the configuration of conversion lists within our platform.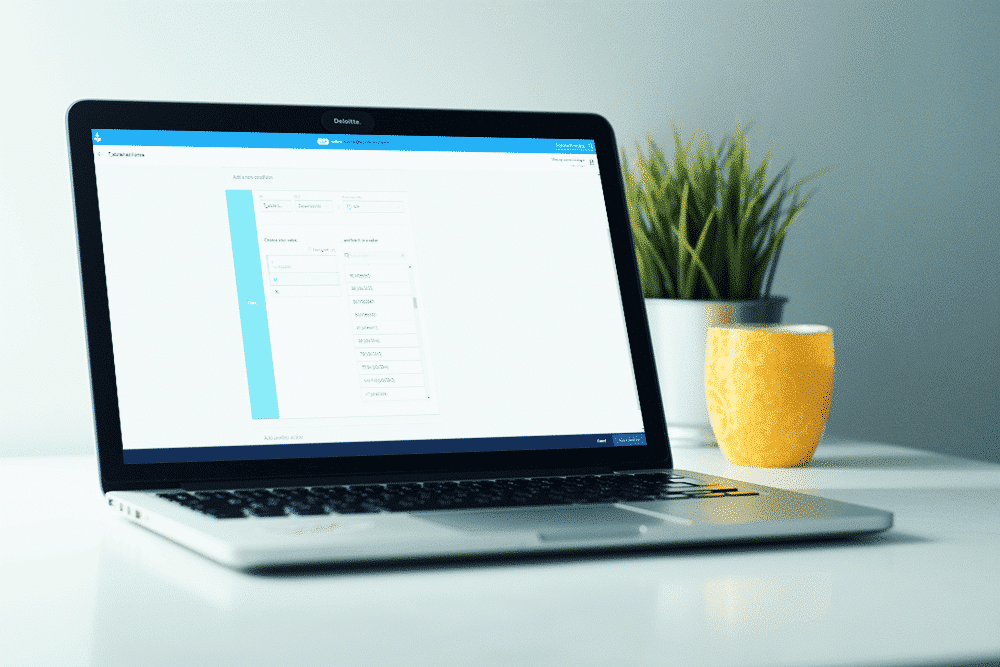 What is a conversion list?
If the values in your product catalogue are different from those expected by the marketing channels, then we strongly recommend that you use conversion lists.
By using this tool, you can, for example, change the sizes of your S, M and L products to 36, 38, 40, etc. by using the system and in this way you can easily comply with the requirements of some marketplaces.
When setting up your marketing channel, we indicate in certain fields the values required by the marketing channel. This is the data that is expected and will therefore be the only valid data. By associating your own data with the values expected by the marketing channel, you avoid errors and refusal to accept it by your feed.
In this way, you can adapt your product catalogue to the requirements of the marketing channels, without having to intervene directly in your source catalogue.
How to define your conversion list?
To determine the value to fill your field, you must:
1/ Choose the catalogue field whose values are to be modified (size, colour, brand, material…),
2/ Select a value from your catalogue that appears on the left,
3/ Match this value to those proposed by the marketing channel to perform the matching,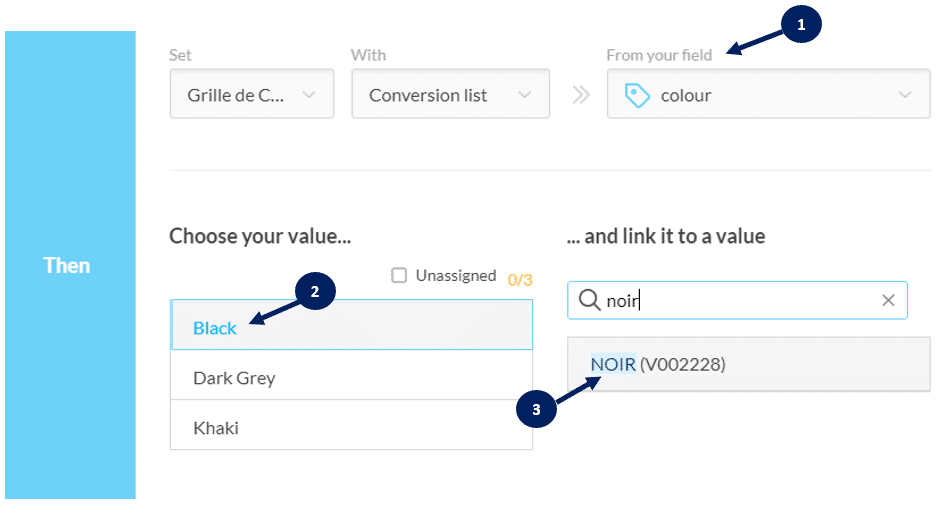 How to use the conversion lists?
When you have variations in product colour or size, the conversion rules allow you to associate your colours and sizes with those requested by the marketing channel.
Example 1: You want to send your products to Google Shopping, but the colours in your catalogue are "exotic". To help buyers find your products among the search filters, you want to normalize them. To do this, match the colours of your catalogue to the values required by the platform.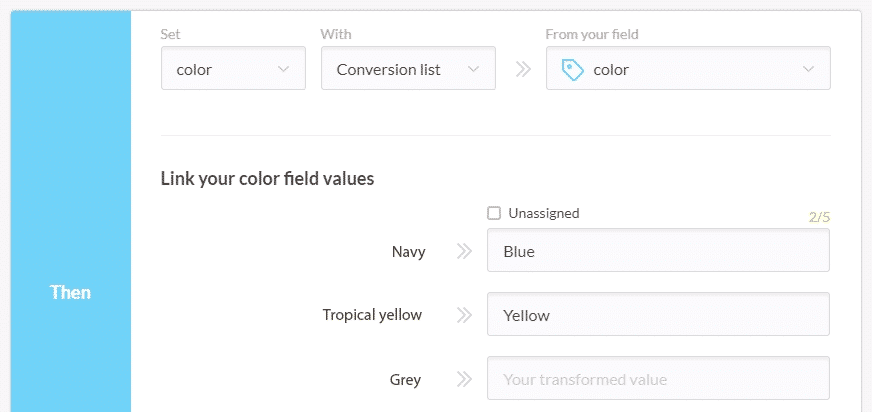 Example 2: you want to match your size fields with the size values allowed by the Secret Sales marketplace.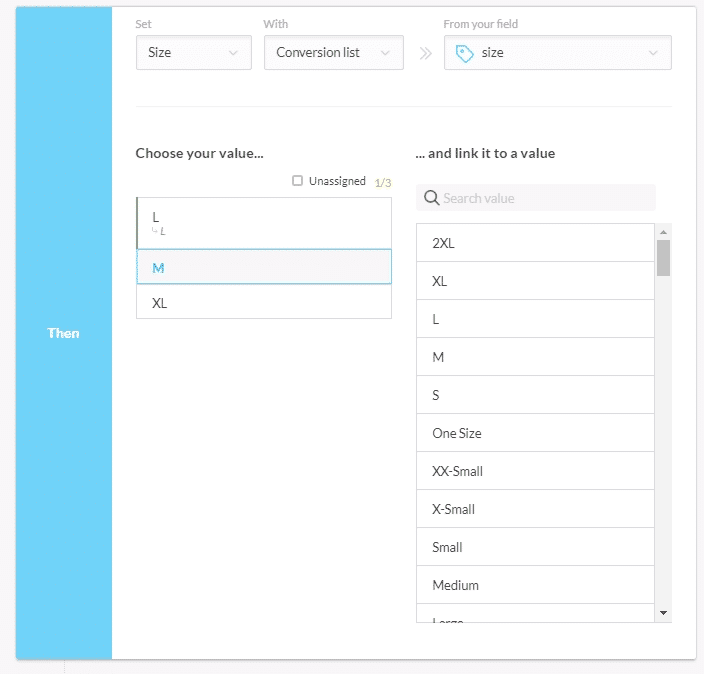 Example 3: You want to associate the colour values of your catalogue with those expected by Spartoo. Discover these values in the "Colour id" field.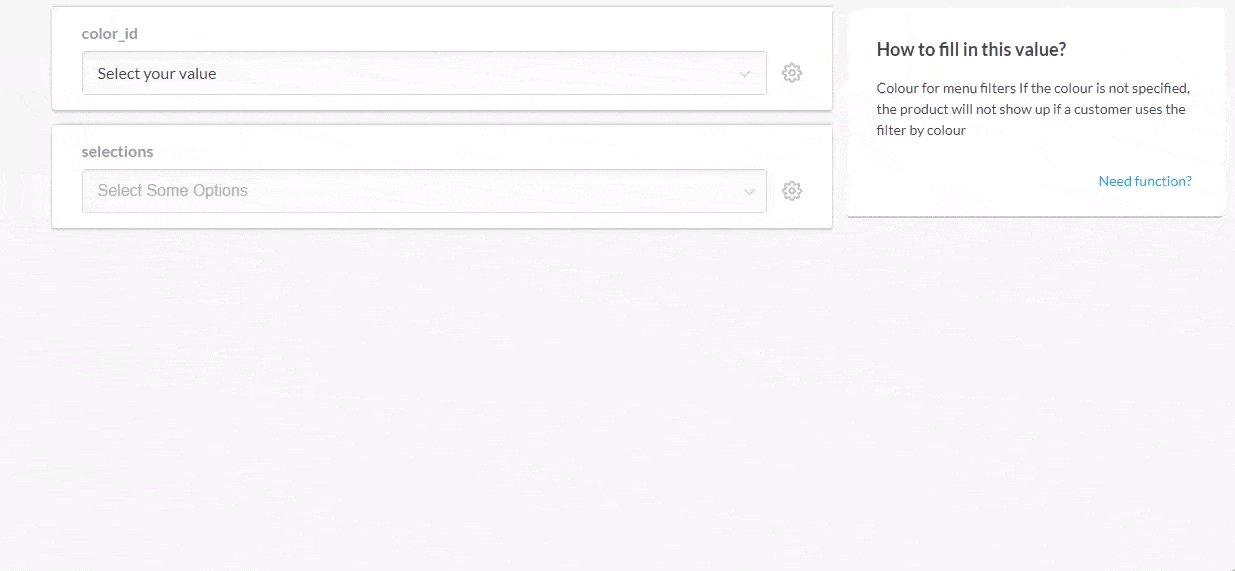 In addition to size and colour values, conversion rules also allow you to modify other field types.
Example 4: You are about to send a selection of computers to Fnac and you want your brand name to be changed because it is not written correctly in your catalogue.

Example 5: You want to choose the watch movement you propose for your watch to the Vidaxl marketplace.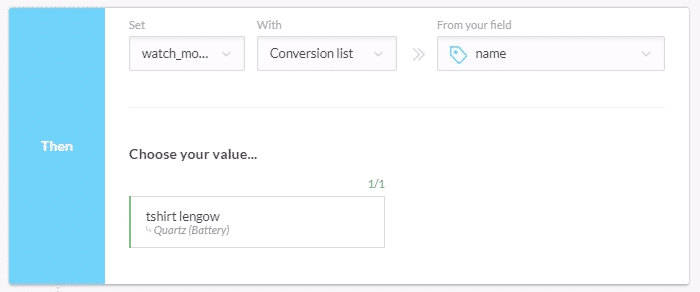 To learn more about our platform, contact our teams: