With 96% of e-shoppers having already made a purchase from a marketplace, these platforms occupy a place on the international e-commerce scene to grow your visibility, test your offer, reach new customers, increase sales or further reduce your costs. While marketplaces offer real business opportunities for e-merchants, they must however behave flawlessly to be able to keep their places on these platforms. This includes perfect management of their sales orders. Let's look at how to master your supply chain with our order management section available on the Lengow platform.
When you choose to sell your products on several marketplaces, you need to be aware that each marketplace has its own orders operation: status of orders, schedules and recovery of new orders, etc.*
To help online retailers orchestrate their sales, Lengow enables its users to view and manage all of their orders directly from marketplaces within its platform.
* For more information, visit our Help Center.
How does the "Orders" section work in Lengow?
The "Orders" tab on our platform gives you access to all of your orders placed from Lengow's partner marketplaces.
This area allows you to easily view all of your orders, and to also obtain a detailed view for each of them. You can view all products ordered, indicate the tracking URL, select the carrier and finally perform a number of actions on an order: accept / reject an order, make a refund, cancel an order, or confirm a shipment.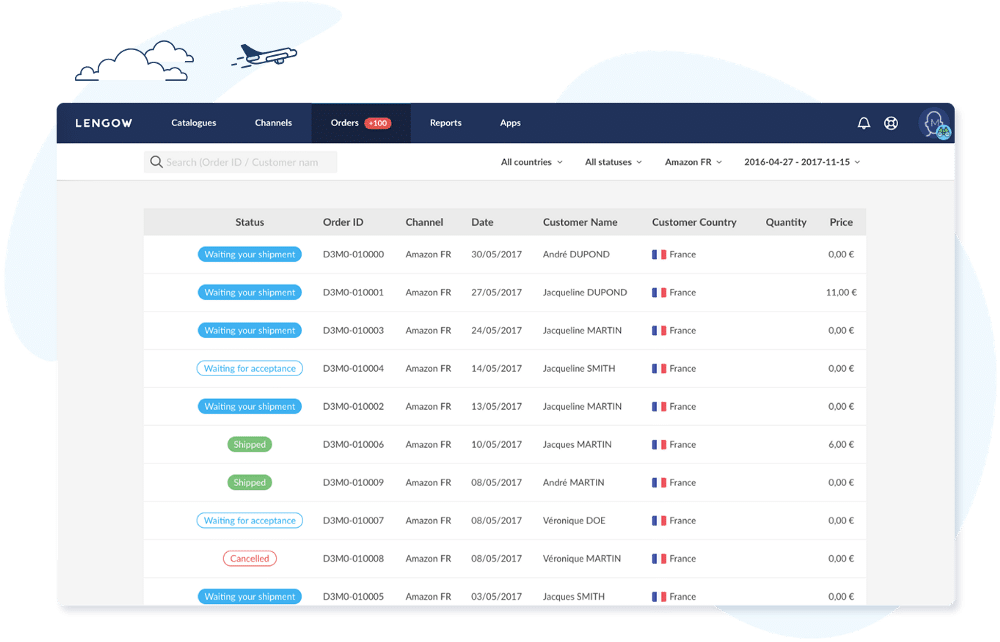 Note: If you sell your products on Amazon and you have subscribed to the FBA program, note that your orders are identified as FBA orders and they are loaded into Lengow with the status "Shipped".
Automating order acceptances
Regarding order acceptance, you can automate this action to save time in your daily tasks.
With automatic acceptance, you place your orders directly in the "Waiting your shipment" status. This allows you to import your orders into the back office of your online shop without taking any action in Lengow (provided you use one of our modules or our API.)
Note: If you enable this option, you must be sure to honour all of your orders. With respect to this, we advise that you set up a rule on our platform to define a minimal stock on the marketplaces with higher demands.
Refusing orders
If you wish to refuse orders, they are automatically cancelled, sent back to the marketplace and are thus "Cancelled" on the Lengow platform. You do not need to process this order and the buyer is informed by the marketplace that their order has been cancelled.
Managing multi-package and multi-address
This area also gives you the option to perform actions by block of addresses. This provides the opportunity to send several packages with various carriers.
To do this, you must first select the product to be shipped and then apply a personalised tracking number. Then take another product and repeat the same settings as the first step. Your products will then be grouped by carrier and tracking number, offering you more readability. Also note that this action is valid for several addresses within the same order.
Centralising your orders and synchronising your stocks from your e-commerce solutions
While you can manage your marketplaces orders from the Lengow platform, you can also do it directly from the back office of your e-commerce solution as mentioned earlier in this article. How? By using one of our plugins (Magento (1 and 2), PrestaShop, Shopware and Shopify), or our API. This allows you to perform all actions related to your orders by connecting them to your information system and your logistics partners. In addition, you can connect the Lengow data to your e-commerce back office to get your marketplace orders where you want them. For example, you can integrate Lengow orders from a Slack thread (via a notification) or a chatbot on Facebook Messenger.
With these connectors, the order management of the marketplace will be identical to that of your online shop. Your stocks will be updated automatically.
With good management of your stock you will be able to respond to increasingly flexible marketplace delivery policies. Enough to satisfy the customers of these platforms and ensure a good reputation in these marketplaces.
To know more about our platform, do not hesitate to contact our teams to discuss: