We continue our series dedicated to presenting the variety of applications available on Lengow's "App Store". Today, we're taking a look at apps that tackle Online-to-Offline strategies in a world where online and offline commerce are merging to become one. 
[This article is the third in a series of articles dedicated to introducing our partners for the Lengow "App Store".]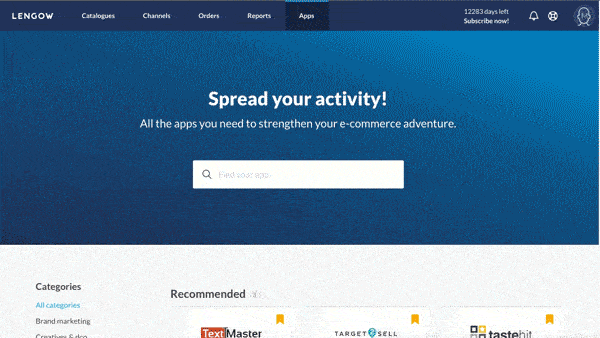 If you're an online retailer who also has a network of physical stores, you can't ignore the immense potential that an Online-to-Offline strategy can contribute towards the success and growth of your business. We have previously discussed how Google Local Inventory Ads allow retailers to promote both their online and in-store product catalogues to smartphone users, based on their geographical location.
It is crucial to be constantly present on all channels in order to offer consumers the most flexible shopping experiences as possible. A report conducted by Dyn found that in the UK, over 50% of consumers believe that online shopping would improve if retailers delivered consistency across all platforms, in-store and online.
As a result, companies such as SoCloz, Clic2Buy, Proximis and ADventori, offer retailers the opportunity to respond to evolving consumer buying behaviour by bringing together online and offline commerce.
Read again > Personalisation with Lengow's "App Store"
Build a bridge between online and offline worlds
SoCloz
SoCloz allows retailers to generate additional traffic to their physical shops by offering online reservation options such as Click&Reserve, Click&Collect and Express Click&Collect. Other services are also available to retailers, such as in-store product ordering, shop-floor payments, and unified online and offline stock updates.
Clic2Buy
With it's "But It Now" feature, Clic2Buy offers retailers two call-to-action buttons (Click2Find and Click2Buy) which can be added to communication material such as product sheets, website banners, Youtube videos etc. Through the Click2Buy button, customers can find products online and buy them either online or at the nearest physical shop.
Proximis
Proximis is an omnichannel platform that offers consumers a unified shopping experience whether online or offline, Online-to-Offline or Offline-to-Online. By bringing together online and offline commerce, Proximis allows industry players to have their entire product catalogue available in-store, combat stock shortages and also facilitate in-store returns…


ADventori
The platform makes it possible for users to optimise their digital ads (banners, mobile, video, landing pages, native ads…) while giving them the possibility to tailor them according to their marketing objectives : acquisition, Online-to-Offline and affiliation. ADventori's Online-to-Offline platform leverages real-time data for display campaigns and dynamic landing pages.

If you would like to integrate your solution with our "App store", don't hesitate to contact us : Click here.