While the process leading up to a purchase may be a vital part of the buying journey, online retailers must fulfill the customer's delivery expectations as they eagerly wait to receive their products. However, if the customer is dissatisfied with the product they receive, what are the returns options that you can offer to your customers?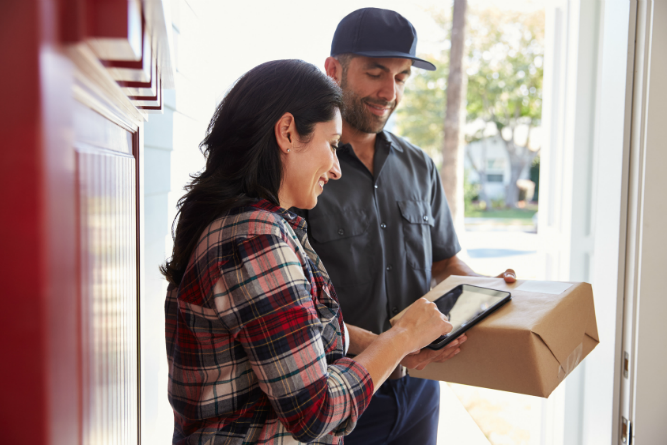 Reducing Delivery Times
In the ecommerce industry, it is now commonplace to deliver products at any time and anywhere at the customer's convenience. Customers expect a level of flexibility in regards to receiving their products, and many retailers offer a range of delivery options including home delivery, collection points or lockers, and Click & Collect. Customers want to instantly follow the route of their packages once they have been dispatched, and don't want to hear about their products being lost, or any delays in delivery.
The race between logistics providers to offer the most attractive delivery options, times and costs to their customers is intensifying. Certain players, such as Amazon and Tesco, are leading the way for speedy delivery options by proposing 1 hour delivery times, although there is still some progress to make for this option to be available to the entire ecommerce market. While delivery is often considered as the final step in the purchasing path, having seamless returns options and policies is part of the final barrier in the buying journey.
The Essential About Delivery Methods in Europe
Creating More Flexible Returns
According to the Google Consumer Barometer, 24% of costumers have concerns about product returns. In the UK, for example, 38% of returns were made because the product was not what they were expecting. While certain platforms continue to make customers pay for their returns, we are progressively seeing more players in the generalist market offer more flexibility to consumers through free returns options.
The returns process has become a decisive factor in the path to purchase, as customers want to be assured that the returns procedure will be as simple as the order process. Nearly 78% of consumers are likely to switch to an alternative retailer if they have a poor ordering experience, therefore flexible returns are a vital element for encouraging customer loyalty.
While returns are widely carried out through the Post Office, with limited opening times that often discourage consumers, retailers are now offering alternative returns services to facilitate the returns process.
Courier Collection Services
Couriers are expected to deliver products directly to the customer's door, so why not offer the same service for returns? Consumer buying habits are evolving and they now expect more flexibility for returning their products. Retailers are therefore looking for ways to simplify the returns process and are increasingly offering free courier collection services. In London, Zalando is collaborating with On the Dot to provide a free courier collection service for Londoners, who can book a collection slot within 60 minutes between 8am and 8pm, seven days a week. The only thing that customers have to do, is attach the Zalando return label and wait for the courier to collect the parcel from their chosen location (e.g. at home, at work, a friend's house…). Similarly, ASOS has a partnership with the Hermes courier service, offering next-day returns collection from Monday to Saturday at any chosen location.
In-Store Drop off
While retailers often offer in-store returns for their products, customers often find that retail stores are not in the vicinity of their homes or offices. To tackle this, many retailers work with parcel drop off services, such as CollectPlus, Doddle and Pass My Parcel. These services offer customers an easy solution by allowing them to drop off their products in easily accessible stores with longer opening hours, for example, 90% of people living in the UK are within one mile of a CollectPlus store. These services provide more flexibility in the returns process, and customers are able to relax knowing that they can drop off their parcels at any time without having to stick to limited Post Office hours.