Facebook advertisers can now enjoy a new Facebook advertising format, "Collection", which launched at the end of March. Mobile takes centre stage in this new format, which skilfully combines product discovery with conversions.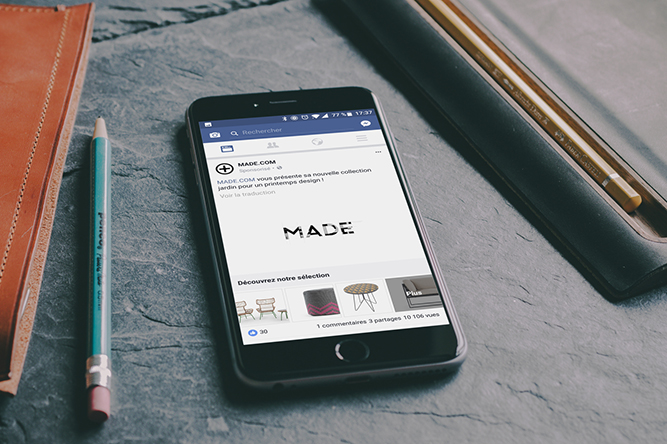 In 2016, mobile internet surpassed desktop for the first time in history. Consumers are gradually shifting from desktop to mobile, which is more convenient and allows consumers to make their online purchases while they are on the move. As a result, nearly half of purchases contain a mobile action.
Facebook is the perfect example of this, since the majority of the social network's community now opt for mobile when using it to communicate with friends or even to make purchases through Facebook's advertising formats.
Following the launch of Dynamic Ads, Facebook has since expanded its offer for advertisers in the ecommerce industry, with ad formats such as Canvas, Dynamic Ads For Retail and For Travel, the launch of its marketplace and its tagged products, or the more recent launch of "Collection".
Facebook "Collection", an ad format designed for mobile
Similar to the "Canvas" format, Facebook "Collection" offers Facebook users a highly visual and immersive experience, exclusively for mobile. More than just a tool for product discovery, this new advertising format facilitates navigation and ultimately the purchase of products.
From the Facebook news feed, members of the social network are presented with a brand and its products through a featured image or video, accompanied by 4 secondary images. Facebook states that "30% of mobile buyers think that video is the best way to discover new products" especially on social networks, adding that "three in four consumers say that watching videos on social media influences their purchasing decisions".
Once they come across the ad, smartphone users simply need to click on it without leaving Facebook, before being redirected to your product collection which can showcase up to 50 products at a time. Through the full-screen shopping experience, they discover your product with an image, product name and price. Once they have chosen a specific product, they will then finalise their purchase on your ecommerce website or app.
This new format combines both brand awareness and product performance by offering a wide range of products whilst also providing opportunity for cross-selling.
Note : There is also a call to action button that redirects the smartphone user to the advertiser's entire catalogue.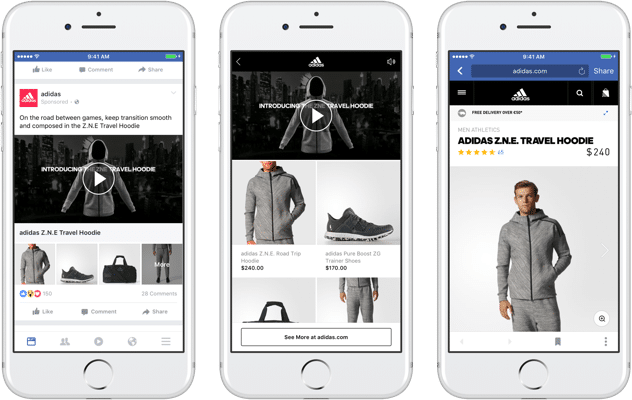 How do you create your "Collection" ads?
Head over to Ads Manager or Power Editor to create a new campaign.
Select either "Traffic" (e.g. increase the number of visitors on your site) or "Conversions" (e.g. increase the number of sales on your side) according to the marketing objective of your campaign. Facebook pixel is required if your marketing objective is "Conversions".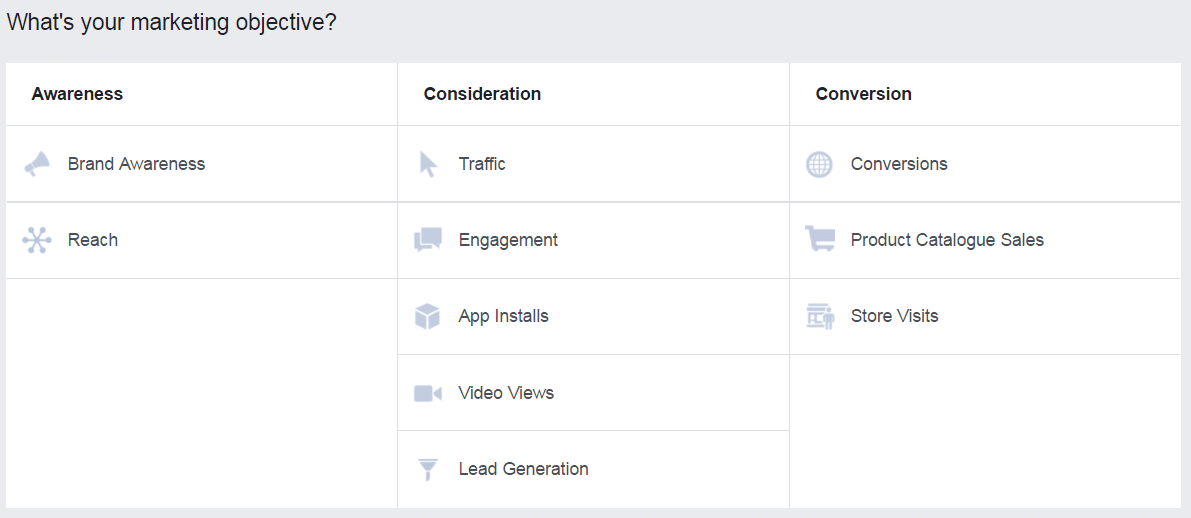 As for billing, if your objective is "Traffic", Facebook charges you according to the number of clicks made on the initial advert to access the product catalogue, whereas with "Conversions" as an objective, Facebook bills according to the number of times the ad appears on the news feed.
Note : You must indicate which platform you want to direct the smartphone users to, your ecommerce site or your app. 
The next step is defining your target audience (age, sex, geographical location, interests…), then indicating your budget before selecting the "Collection" format. 


If you would like to illustrate your add with a featured image, Facebook recommends using an image of 1200 x 628 pixel, to ensure that it is good quality and therefore more attractive. As for the video, the social network recommends a 16:9 or 1:1 format of up to 120 minutes that doesn't exceed 4GB. The social network discourages vertical formats, which are not adapted for "Collection". For more information, click here.
After this stage, select your Facebook page. Write an attractive and short ad title, being careful not to exceed the 25 characters recommended by the social network. 
At the same time, you should also add your catalogue in Business Manager (between 8 and 50 max) with the products that will appear in your ad. There are a number of required product catalogue fields to complete including: id, title, category, availability, product URL, image URL…It is worth noting that Lengow can help you optimise your product catalogue to increase your sales performance.
Once your ad has been uploaded, you'll be able to track the actions of smartphone users : ad clicks that direct them to products, then product clicks that direct them to your site or app.
Facebook's interest in the ecommerce industry extends to their Facebook pages as online retailers now have the capacity to add a shop to their page, allowing them to sell products directly from the social network. In the US, where this function is already available, customers even have the option to buy products directly from a page, paying via Stripe or PayPal. As for other countries, for the time being, the shop currently only directs users to your site where they can finalise their purchase or send you a message to find out more about your products.  
Are you a Lengow client and want to know more about Facebook? Consult our Help Center. 
Not yet a Lengow client? Wait no more, and request a free demo ! 
---
Source : Facebook