As the first signs of Spring begin to appear, consumers are starting to hunt for their ideal summer holiday destinations. With 2 billion active users visiting the social network every month, why not kick off the Spring season by taking advantage of Facebook's Dynamic Ads for Travel (DAT) to promote your travel deals and offers?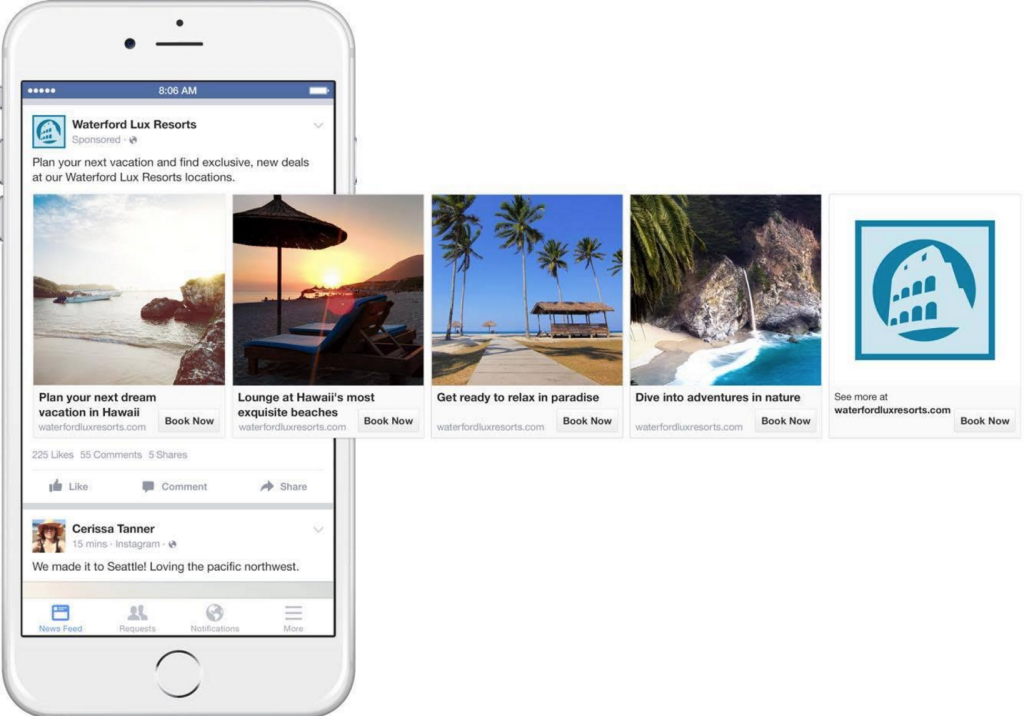 Dynamic Ads for Travel, Designed For Tourism
As a re-targeting solution for travel advertisers, Facebook Dynamic Ads for Travel promotes products to holiday-makers who have previously expressed an interest in your site or app, and are currently looking for a getaway. These dynamic ads are built specifically for holiday packages, giving you the opportunity to efficiently promote your products online. You can automatically show your tailored ads with up-to-date availability and pricing according to the consumer's specific date and destination requirements. You can therefore promote your hotels (through the API, Ads Manager and Power Editor), flights (currently available in the API but soon to be launched in Ads Manager and Power Editor) and destinations (available only in the API) in one place. To enhance your visibility and widen your audience, don't forget to also display your ads on Instagram.
Note : Dynamic ads for travel support any language and currency you enter in your catalogue .
What are the advantages?
The process for setting up Dynamic Ads for Travel is synonymous with Dynamics Ads, meaning that the settings, ad auction system, content distribution and even ad targeting are the same. To ensure that your ads are directed to the right clientele, you can choose between three audience types: Custom audiences, Lookalike audiences and Saved audiences. With DAT, you can reach people who have previously expressed interest on your website through custom targeting. You can use a number of sources for this, including;  customer files, Website traffic (using the Custom Combination option), App Activity and engagement on Facebook. Download our free white paper to find out more about this process!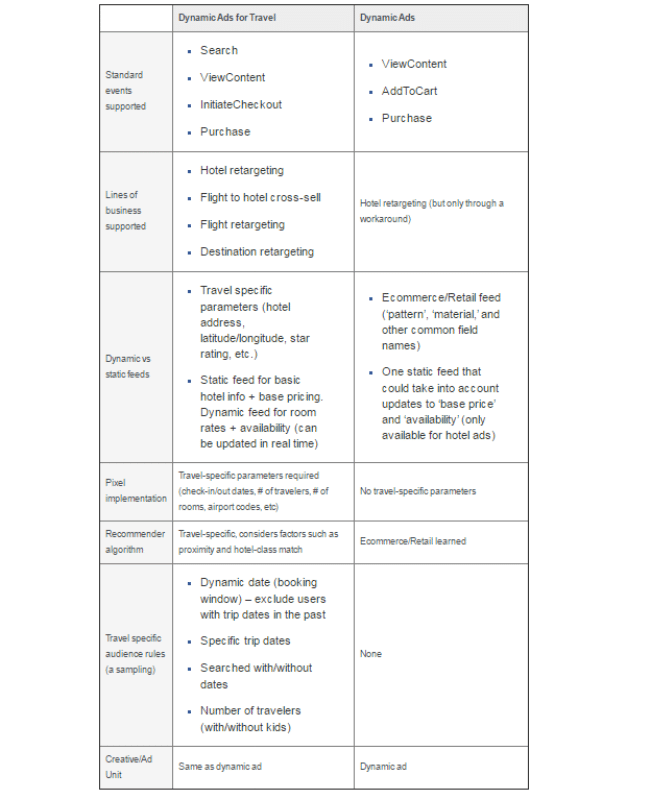 Compared to the format initially launched by Facebook in 2015, by optimising the solution for the travel industry, DAT allows advertisers to build ads that are much more powerful and relevant  for their consumers.
For transitions between high and low tourism seasons, you can adjust your dynamic ads and pricing according to the period that you are advertising. For example, you can set a date range filter for a destination using URL parameters in order to direct users to the most relevant landing pages based on their latest searches.
Not only can you adapt your ads according to tourism seasons, but with DAT you can also cross-sell and upsell to consumers who have recently researched or booked a flight. You can show them complementary reservations such as hotel options that correspond with their flight research.
Through your specific hotel suggestions, the consumer benefits from recommendations that include hotel location and star ratings, without having to conduct this research for themselves.
The ads shown to these potential consumers are tailored according to their profiles: whether they are traveling for the weekend or during the week, alone or in a group, whether they are looking to travel in a specific time period or are searching for a specific destination.
How You Can Use Dynamic Ads For Travel
Multi-Product Ad Options
Like Dynamic Ads, Dynamic Ads for Travel offers businesses the option to take advantage of the multi-product ads feature. With multi-product ads, Facebook enables you to produce a carousel of different products that highlight several aspects of a deal or promotion. For example, you can suggest a variety of rooms in different hotels based on the costumer's chosen holiday destination.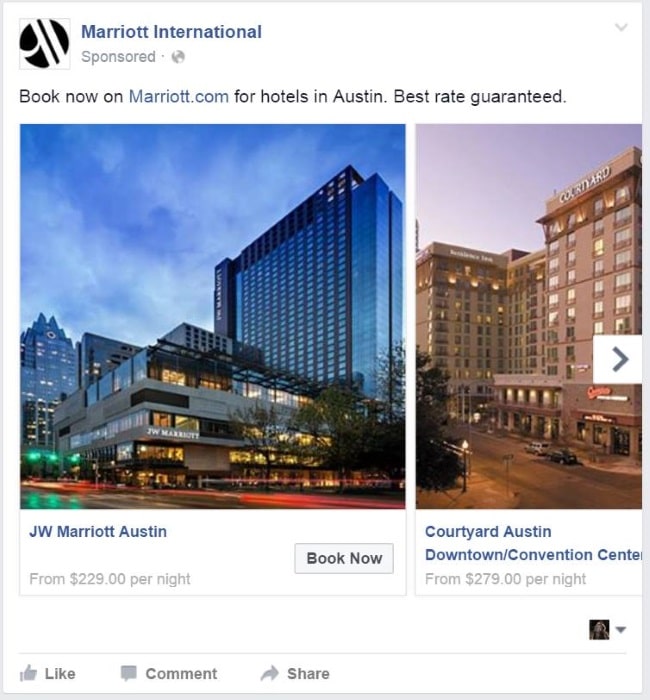 To produce the best quality ads, make sure that you follow Facebook's recommendations for creating your ads:
Image size : 600 x 600 pixels,
Ad text : 90 characters,
Ad link : 25 characters,
Description of each carousel image : 30 characters.
Adding Dynamic Fields
With Dynamic Ads for Travel you can add a number of dynamic fields which provide the Facebook community with as much information as possible about the hotel that you are promoting. This includes fields such as the hotel name, description, location (city, country), price, as well as the consumer's date of arrival and departure. For a complete list of dynamic fields > Click here.
Exclusion Targeting
Make sure that you use the exclusion targeting feature to prevent a particular audience type from seeing your ads. For example, this can include people whose holiday dates have already passed, or travelers going on day trips and therefore would not be looking for overnight accommodation suggestions.
Use Dynamic Ads For Travel With Lengow
In order to upload your inventory on Facebook, you need to have a Facebook Business Manager account and also ensure that the Facebook pixel is added into your website. Your inventory must be complete with a list of your hotels and additional information such as name, location, star rating, price and GPS coordinates that indicate the hotel location. You can then proceed to create your campaign with Facebook. To manage and adjust your lifecycle marketing campaign, you can use Lengow's statistic tool which enables you to create rules or exclusions and analyse the performance of your campaigns.
Download our Facebook Dynamic Ads for Travel Guide
Are you already a client at Lengow and want to know more about Facebook ? Consult our Help Center.
If you are not yet a client at Lengow, wait no more and request a free demo !