Facebook is always upping the game with their ecommerce features. As well as releasing their new in-store advertising format, Dynamic Ads for Retail, this month Facebook have also launched Marketplace, as well as bringing us product tags for all content published on the social network.

Marketplace, Facebook's new ecommerce platform
On Monday, 3rd October, Facebook announced the launch of a new ecommerce platform, simply called Marketplace. Similar to websites like ASOS Marketplace and eBay, this space will be devoted to buying and selling goods among members of the social network. This announcement is not entirely surprising, since Facebook has been developing ecommerce related features for several years now, and we were already using a similar feature in purchasing and sale groups.
In recent years, more and more people are using Facebook to sell items – Mary Ku, Marketplaces Project Manager
Despite a failed attempt in 2007, they persisted, and Facebook today unveiled a new space dedicated to bargaining between customers. The aim is for the social network to retain its members and compete with sites like eBay or Amazon.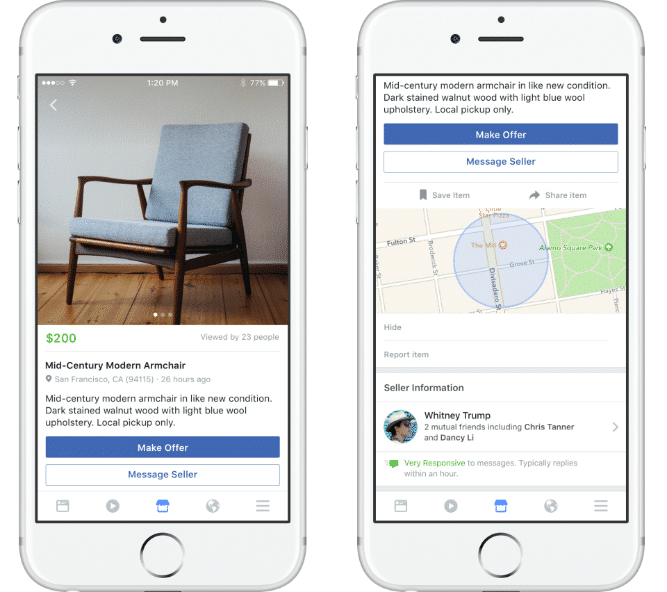 How does Marketplace work?
If someone wants to sell, for example, a sofa or a TV, they just need to photograph it well, then add a title and description to the listing, giving the price, location, and product category. The identity of the seller will be shown via their Facebook profile. The buyer is in turn offered a selection of products for sale close to their location. They can then search for products in the search engine, and filter the search by location, category, and price. Facebook also automatically suggests the most relevant ads based on the interests of the members of the platform. Once the customer has found what they're looking for, they can send a message to the seller to get in touch with them via Messenger, make an offer, and let them know their preferred method of delivery and payment.
Please note: you have to be over 18 to access this platform.
At the moment, it's only available in the United States, the United Kingdom, Australia and New Zealand, via Facebook mobile (iOS and Android). Desktop availability is expected in the next few months. Facebook will also be vigilant regarding the authenticity of sellers accounts, and of goods sold. The feature is reserved to individual sellers at the moment, but there's a safe bet that Marketplaces will expand to accomodate retailers in the near future.
Since August 2017, Marketplace is available in France, Austria, Belgium, the Czech Republic, Denmark, Finland, Germany, Hungary, Ireland, Italy, Luxembourg, Netherlands, Norway, Portugal, Spain, Sweden and Switzerland.
Product tags will invite customers to buy through Facebook posts
Although Facebook has not officially announced this new feature, certain media outlets such as Business Insider have had confirmation from people involved in development. The social network is about to add a feature to tag products on posts published by users, like photos, videos etc.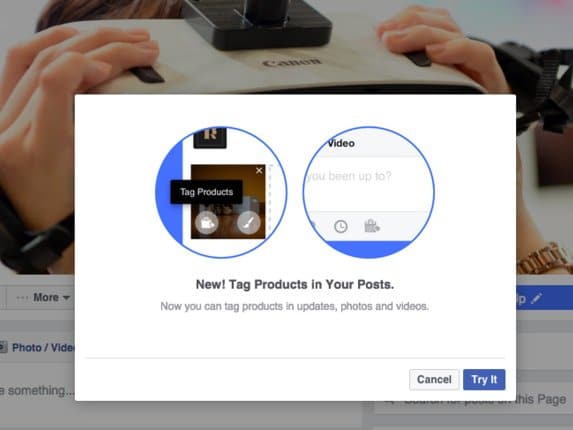 This is how it works: when a product is tagged in a publication, users can click on it and are then directed to a dedicated page displaying additional information. A Facebook representative has said that this new feature will initially be available to Facebook Page owners with a product catalogue or a "shop" section.
Watch this space!
To learn more about selling products on Facebook, take a look at our whitepaper: All you need to know about Facebook Dynamic Ads