Frédéric Clément has been working as Lengow's Marketing and Partnerships Director since September 2013.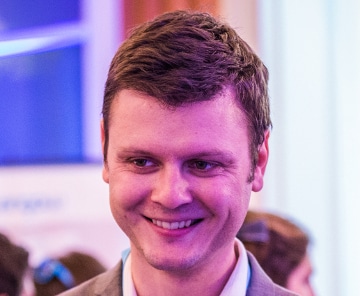 Hello Frédéric, please could you introduce yourself in a few words?
I grew up in Marseille, in the south of France. I moved to Paris for my studies at ESSEC Ventures and then stayed here for work. In my spare time I like walking, reading and making the most of those rare moments in Paris when the sun is shining. I also love to travel when I have the time.
Tell us about your professional background
I have worked for several years in the technology sector, at first for large companies such as Orange and Yahoo!, then I caught the startup bug!
What made you want to join Lengow?
Even before I started working for the company I had the chance to follow the Lengow adventure from the early days. I was able to appreciate its rapid development and internationalisation, with a unique product and a well-structured team. In 2013 an opportunity presented itself with the opening of a position to manage Lengow's (many) partners.
Tell us about your job at Lengow
I am in charge of marketing and creating partnerships at Lengow. I ensure that our business teams have all the resources they need to sign new customers.
This involves, on one hand, identifying, integrating and managing key business partners in each of the countries that we cover, and on the other, increasing Lengow's visibility using various marketing tools. It is a very rewarding role, especially as the two components (marketing and partnerships) are strongly linked.
I also created and launched (at Lengow Ecommerce Day, i.e. #LengowDay) the Lengow Hub (in English and French) to promote companies (including startups) that create products which help ecommerce merchants.
It is free to join and features technology companies from all over the world: you can find information on Twitter via the #LengowHub hashtag.
What conclusion can you draw about the Lengow experience since your arrival?
I try to be involved as early as possible with all the various different projects we have, I am always surprised by the speed at which things change. We are in an industry that is constantly evolving and being a smaller company enables us to move forward faster. If a few months ago I was told that we would be present in China and Russia, I would not have believed it!
What kind of companies does Lengow partner with? What advice would you give to a company wanting to become a Lengow partner?
Today we work with almost 2000 partners across European, South America and Asia. These partnerships are traditionally done with marketing channels (marketplaces, comparison shopping engines…), but more and more players are using our services. The fact that ecommerce is becoming increasingly personalised is very promising for Lengow because we are at the heart of the data exchange. Our partners are primarily there to help our customers (retailers, brands, agencies…) sell better, so any company that can do this is a potential partner for Lengow.
Any closing words?
Ecommerce is evolving rapidly and becoming increasingly international. Whether you're a potential client or partner, get in touch with Lengow to see how we can work together to improve ecommerce.
Bonus: Learn about the importance of Inbound Marketing in an article below (or at bit.ly/InboundMarketingTips) featuring Frédéric's insights which has been highly appreciated by startups